Editor's note: This is a personal essay by our editor-in-chief, Hannah Good, who starred as Dr. Frank-N-Furter in the Campus Activities Board's 2018 production of "The Rocky Horror Picture Show." You can see our coverage of previous years' shows here.
It was 8:30 p.m., and the yellow-lit green room of the Capitol Arts Center smelled like pizza and Aqua Net hairspray. Show tunes, '70s disco and modern pop music (notably Carly Rae Jepsen) alternated from the small, pink speaker I'd brought to soundtrack our evening. The all-female cast of the Campus Activity Board's Rocky Horror Picture Show fluttered around the dressing rooms dancing to the music, borrowing contour powder and lamenting flaws in our eyeliner.
"One hour until places," director Casey Hanrahan, a Nashville freshman, called out.
"Wait, what time is it? There's foundation on my phone, and I can't see the screen" someone called back.
Another Halloween showing of Rocky Horror was about to begin.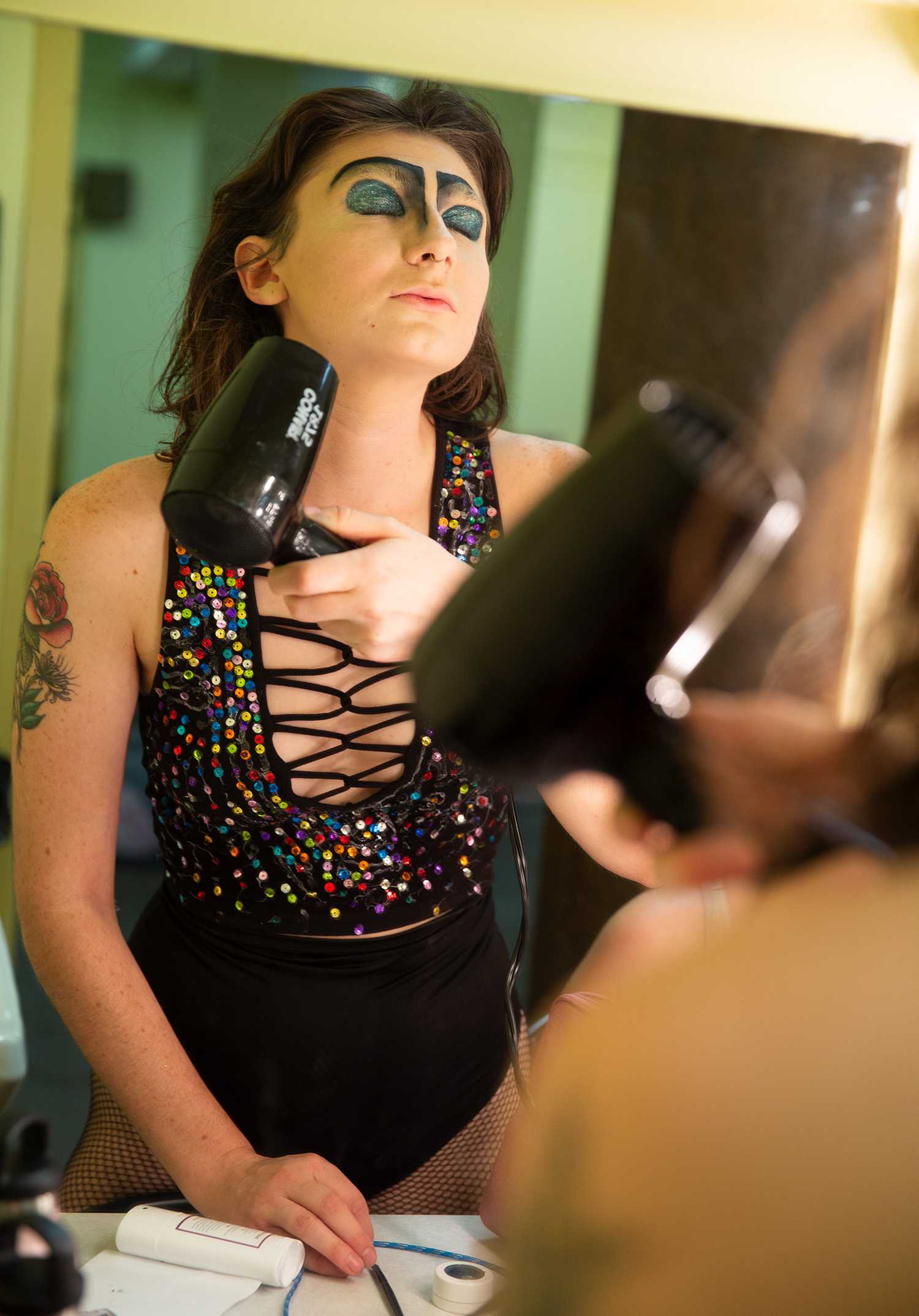 ---
The first time I saw "The Rocky Horror Picture Show" live was at Cincinnati's Esquire Theater when I was 15 years old. It wasn't a coincidence that we went on September 30, just a week after the premiere of the film adaption of "The Perks of Being a Wallflower" which features a Rocky Horror shadow cast.
My friends and I weren't old enough to see the show alone, so we got a friend's mom to take us at midnight on a Saturday. I dressed as Brad (after the Transylvanians strip him naked), complete with my real, jet black Ray-Ban frames, a plain white T-shirt and a pair of my mom's underwear over spandex. I put on a pair of jeans over the underwear, told my mom an incomplete truth about "going to see a movie" and went on my way to a radical, disorienting and life-defining event.
View this post on Instagram
As we stood outside the hundred year old theater just before midnight in the still warm September air, anything seemed possible. At one point, a girl dressed in black fishnets and a tulle skirt collapsed on the ground, and a crowd rushed to her aid.
"Does this happen often?" I remember asking. In this overstimulated environment, I could no longer tell the difference between theater and reality.
"If you have epilepsy, yeah," someone replied, rolling their eyes.
Minutes later, a cast member, who would later turn out to be Riff Raff, strutted across the street with a suitcase in tow and disappeared into the alley beside the theater. My mind went wild at the possibility of not just being in the presence of this magical and absurd production, but being in it.
---
The movie's main character, Dr. Frank-N-Furter, doesn't arrive until nearly a half hour into the show. I stood in the wings pacing and teetering in my silver heels from nerves. The backstage of the Capitol consisted of two narrow wings on either side of the stage lined with feather boas, corsets and other props. Behind the screen sat a film projector and a dark expanse of empty space where no one — no exceptions — was allowed to walk, lest they cast their shadow onto the screen.
On the opposite side of the wings, Leah Johnson, our Rocky Horror, stood clad in gold spandex and wrapped in toilet paper. We mimed our favorite callouts ("A long, long time ago in a galaxy far, far away, God said, 'Let there be lips'") and soundlessly danced "The Time Warp."
The bass line at the beginning of the next song, "Sweet Transvestite," was my queue to go on stage. As my moment to appear came closer, I could only think, "I'm so lucky to be Frank-N-Furter."
The feeling of being on stage is not novel or unique to Rocky Horror. There's always freedom in the vulnerability and the adrenaline from knowing you could mess up at any moment. It's exhilarating and disorienting and euphoric in dizzying intervals. But what is unique to Rocky is the unapologetic messiness. During our two weeks of rehearsals, we shouted callouts to mimic the audience participation, but it's hard to prepare for being nearly naked onstage as the audience throws toast at you and yells, "What'd you have for breakfast, Frank?"
"As a woman, I rarely give myself permission to be ugly and loud and to take up space — and I did all that and then some on my night as Frank-N-Furter."
This cast is also unique because many of us are not actors. I'm an English major. Rachel Peavler, who portrayed Brad Majors, is a speech disorders major, and Kayley Florea, who played Columbia, is a math major. Many of our cast and crew members — including our director — were freshmen or sophomores.
This didn't stop us from rehearsing nearly everyday for the past two weeks, and it didn't stop us from donning our fishnets and stepping onstage Halloween night.
I think so many people are drawn to Rocky Horror performances because they reminds us that rules and self-imposed cultural expectations are arbitrary, that we can truly choose who and what to be at any moment. The absurdity breaks down our expectations of what's normal. It's OK to be ugly and sweaty with blue eyeshadow running down my cheeks. As a woman, I rarely give myself permission to be ugly and loud and to take up space — and I did all that and then some on my night as Frank-N-Furter.
As I left the stage after my first number, I looked in the mirror and got self-conscious of my curls falling out and my makeup starting to melt. Regardless, I had to change my shoes, throw on a surgical gown (or rather, a granny nightgown that loosely resembled one) and get back on stage. Soon enough, I was running through the audience, chasing Rocky through the laps of audience members, and nothing else mattered.
Every time I dabbed my forehead with a paper towel or strapped on a pair of heels to my already sore feet, I thought about the final monologue from "American Beauty" after Kevin Spacey's character (I know, ew, but stay with me) is killed and is reflecting on the ugliest parts of his life.
"It's hard to stay mad, when there's so much beauty in the world," Lester Burnham, the film's main character says. "Sometimes, I feel like I'm seeing it all at once, and it's too much. My heart fills up like a balloon that's about to burst… and then I remember to relax, and stop trying to hold on to it, and then it flows through me like rain, and I can't feel anything but gratitude for every single moment of my stupid little life."
I thought about how grateful I was to be surrounded by so many talented people I love, and the sweat on my forehead and the aching in my feet became reminders of how acutely grateful I was to be alive in that moment — how grateful I was to be Frank-N-Furter.
---
Like everything, it came to an end. We grabbed hands and gave our final bows. We sang Rachel happy birthday at the stroke of midnight, packed up our heels and said our goodbyes, promising to hang out soon. We referenced the scene in "The Breakfast Club" where the cast ponders if they'll still be friends on Monday. We promised not to lose touch and pass each other in the hallway without saying hi.
"But it could be like the 'Breakfast Club,' in that we could all get breakfast," Kayley said.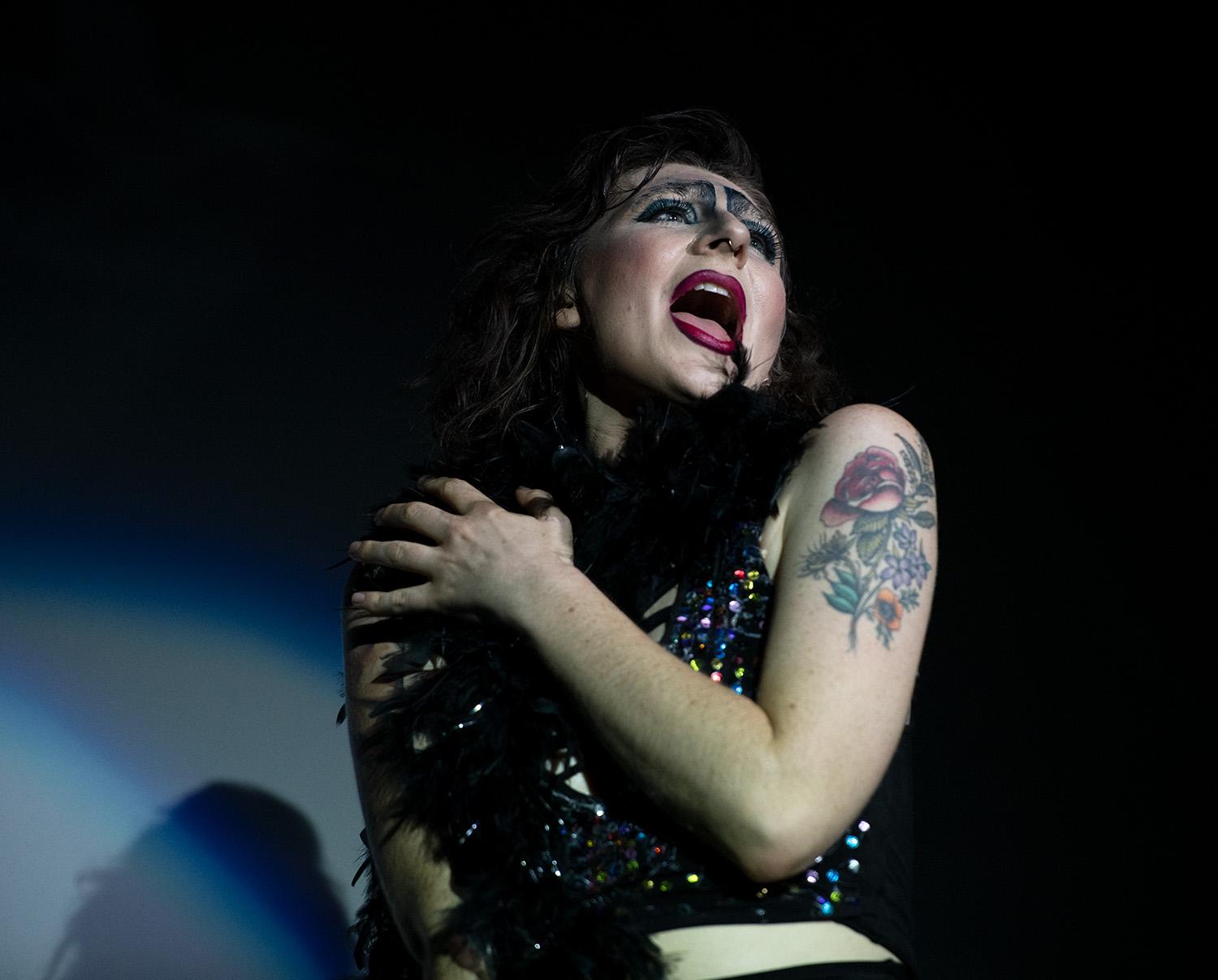 The next morning, I was back to being Hannah Good, stressed and sleep-deprived English major with too much dirty laundry on my floor and a too-long to-do list. The only remnants of the Frank-N-Furter I'd been the night before were the remnants of black eyeliner and blue glitter that clung to my lashline. But still, sitting in Spencer's typing an essay for my world literature class, I was still glowing. Because even though I was no longer Frank-N-Furter, I knew I could be. And if I could be Frank-N-Furter for a night, I could be anything.