Editor's note: When we heard President Timothy C. Caboni would be having an investiture on Friday, April 27, we were … well, we were a bit confused. What even is an investiture anyway? We had no idea. So, naturally, we sent one of our star writers, Rachel Phelps, to investigate. Her formal report follows.
---
Light chatter and laughter filled the air of a bright and sunny afternoon last Friday. Musicians warmed up and tuned their instruments. A hush fell over the crowd as the processional began, and all rose to their feet as the bride, President Timothy Christian Caboni, made his way down the aisle to begin the ceremony that would seal his marriage to Western Kentucky University.
I'd never been to an investiture before. When I was given this assignment, I Googled the word "investiture" and saw that it was defined as "the action of formally investing a person with honors or rank." That was no help at all. I was confused because I clearly remembered the battle that took place on South Lawn where President Caboni took the philosopher's stone from former President Gary Ransdell, swallowed it in a single gulp and was bestowed the power to summon Big Red at will and telepathically control the bell tower. Caboni was already president. I was sure of it. So why an investiture?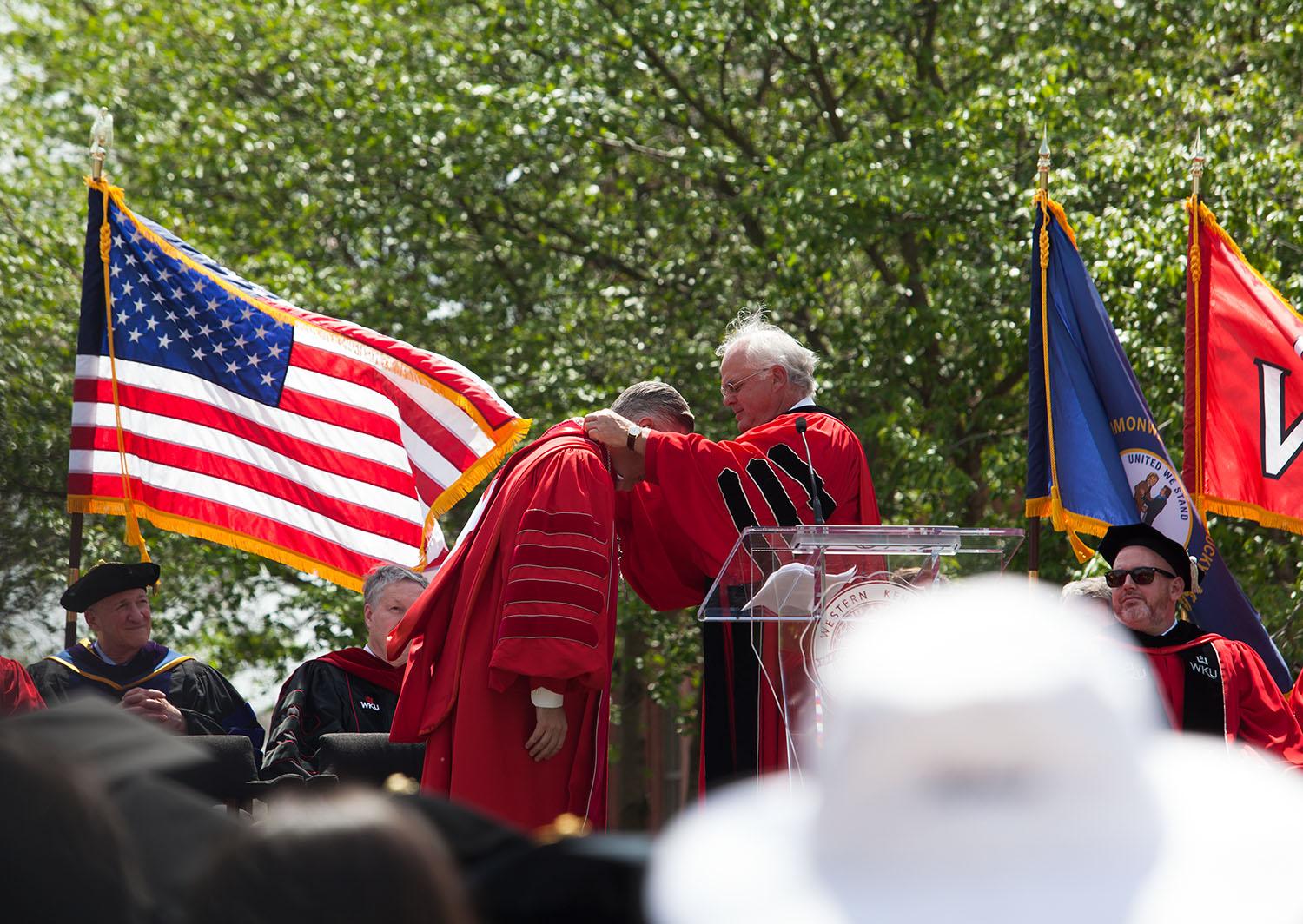 Apparently, investiture ceremonies are a Very Big Deal in the world of academia. As I learned in Provost David Lee's speech, this is a tradition that has gone on for generations. And given the fact that I saw many professors in funny-looking hats and robes, I knew this certainly was a Very Big Deal.
But as I took my seat and opened my very fancy program (which was given to me by a Spirit Master who, truthfully, looked more like a member of the Secret Service in her black pantsuit and dark sunglasses), I couldn't help but notice the similarities between the investiture and a royal wedding. For example, President Caboni wore an exact replica of Kate Middleton's iconic dress and the WKU fight song was beautifully sung by the WKU Chorale, as is the tradition for every wedding this side of the Barren River.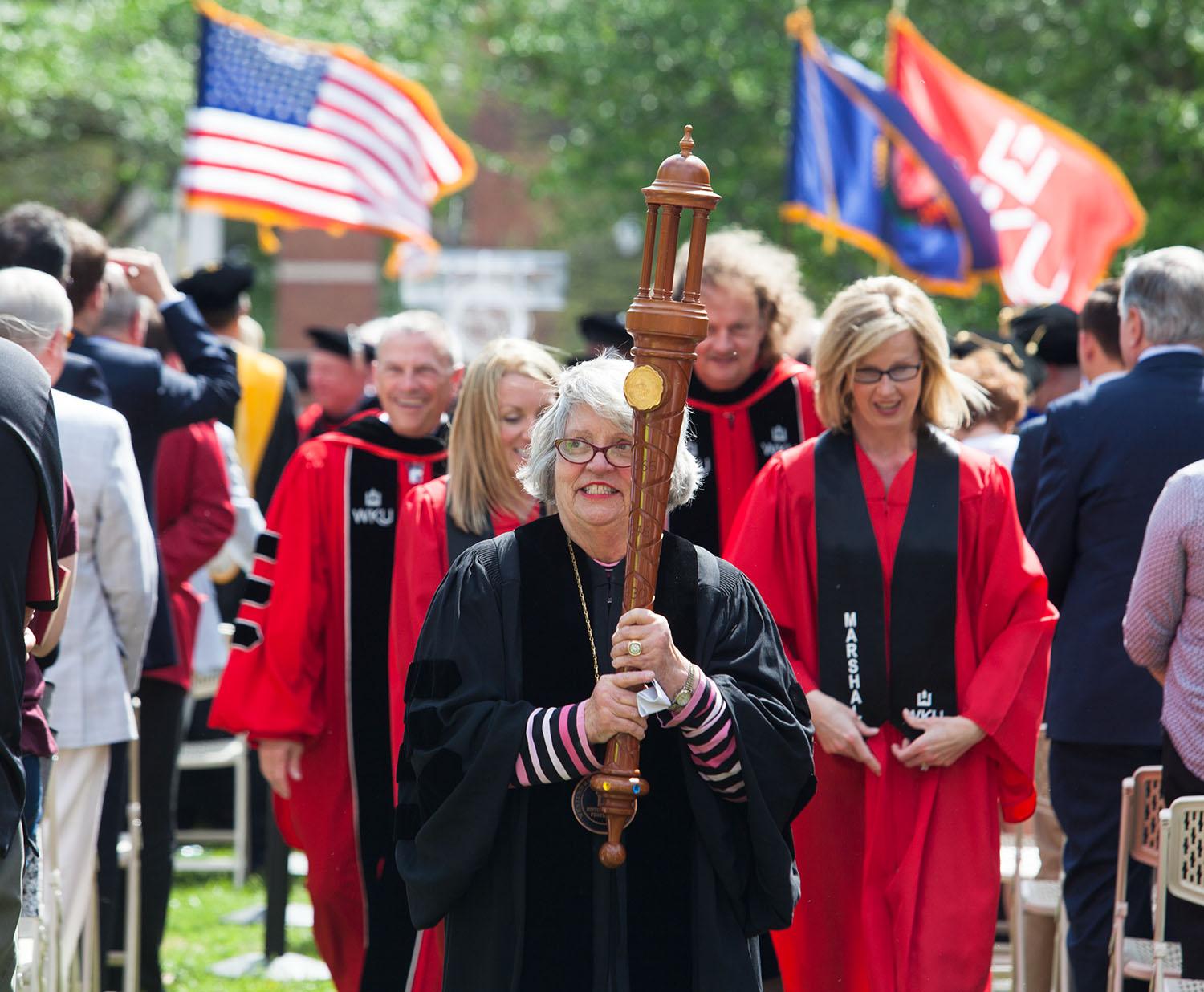 After several speeches by many very important and intelligent people in very funny-looking, WKU-branded robes and hats, President Caboni took the stand and began his vows. He talked about his journey through academia and how he first fell in love with WKU back in the '90s as a graduate student. He waxed poetic on the values of higher education and liberal arts degrees, despite what Matt Bevin some people might say. He promised to have and hold this campus all the days of his life, till death do they part. Or one of them retires.
Between the soft breeze, beautiful sunshine and well-dressed ladies and gentlemen, it was a lovely ceremony, though I admit it was a bit jarring when Provost Lee said, "You may now kiss the bride," and Big Red planted one on Caboni, but I'll let that slide.
Upon the conclusion of the ceremony, we were all invited to a reception thrown by the bride and groom's family, which took place in Centennial Mall. As I walked toward the reception, I pondered what exactly it was that I just witnessed. I still wasn't sure what an investiture was, and I sat through one for an entire hour. As I walked up the steps to Centennial Mall, I was handed a WKU-branded bottle of water, and it dawned on me: Maybe this means we're all invested. Maybe we should live every day like it's an investiture, as a formal reminder of all we're committed to.
I took a sip from my WKU-branded bottled water and felt more spirited. I grabbed a Big Red-shaped sugar cookie, bit his left arm off and went to join my friends.
And in that moment, I swear we were all invested.