The sounds of the Caribbean echoed throughout the Fine Arts Center's Recital Hall as the WKU Steelband played a concert at 7:30 p.m. on Wednesday.
The concert started with the group running around the recital hall and ended with the lead pan players throwing beach balls into the audience.
The Steelband is a group of 10 students and their instructor, Mark Berry. Chris Hindman, a sophomore from Burlington, said the ensemble meets as a class on Monday, Wednesday and Friday. He said it is required for percussion music majors.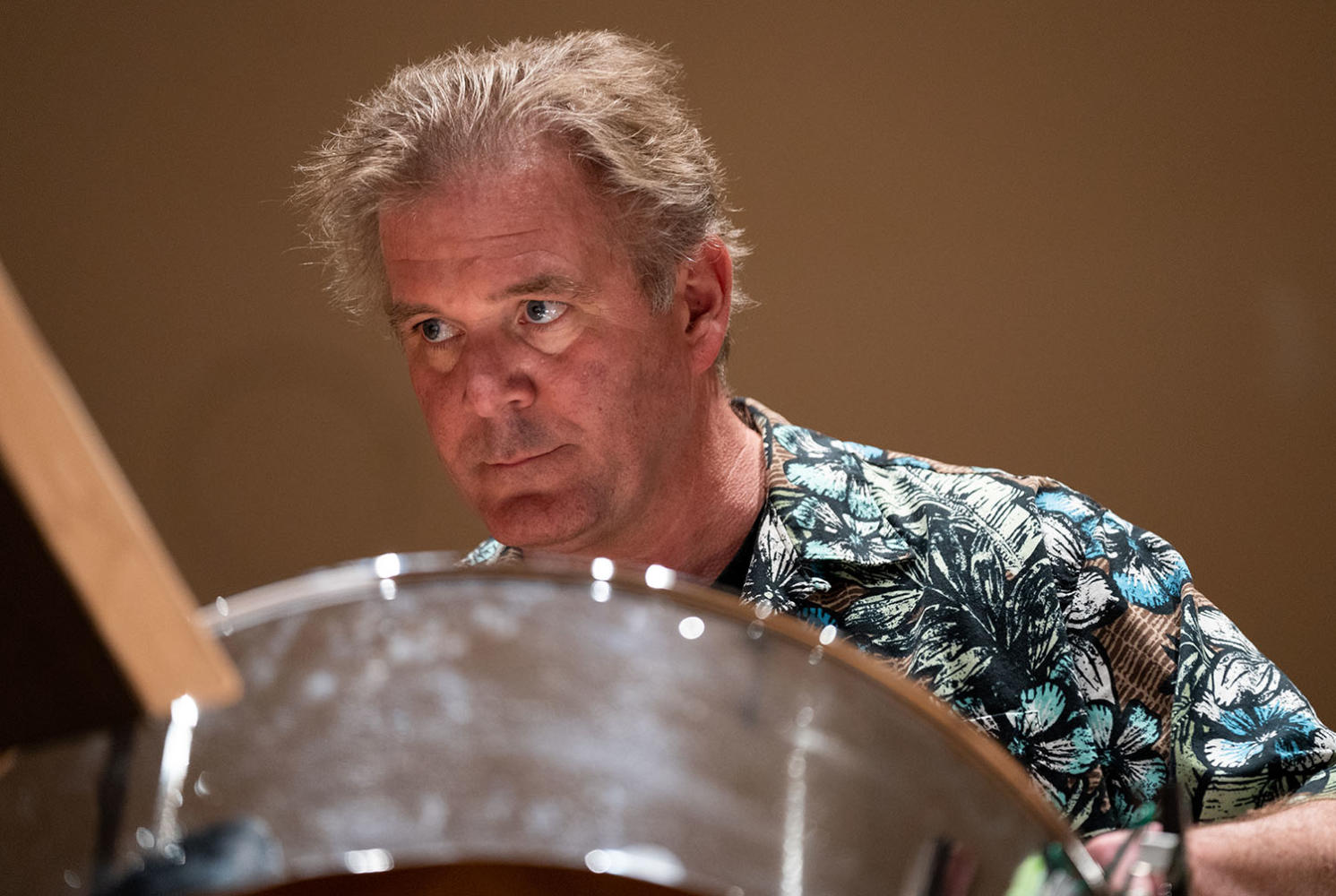 Hindman said he is studying music education and has been in the Steelband for three semesters, which was his first experience playing steel drums.
"It's a little confusing at the start because they're new drums – you're not used to Steelband drums," Hindman said. "But once you get the notes down, once you work through those, it's a lot of fun."
Hindman said for the first half of each semester, the ensemble plays percussion instruments such as marimba and drums. Their last concert was on Saturday, March 8, and since then, they have been practicing steel drums three days a week for this concert. In this concert, the Steelband played eight songs, ranging from calypso to reggae, Hindman said.
Hindman said he plays bass pan, a set of six oil drums that make the lowest notes in the ensemble.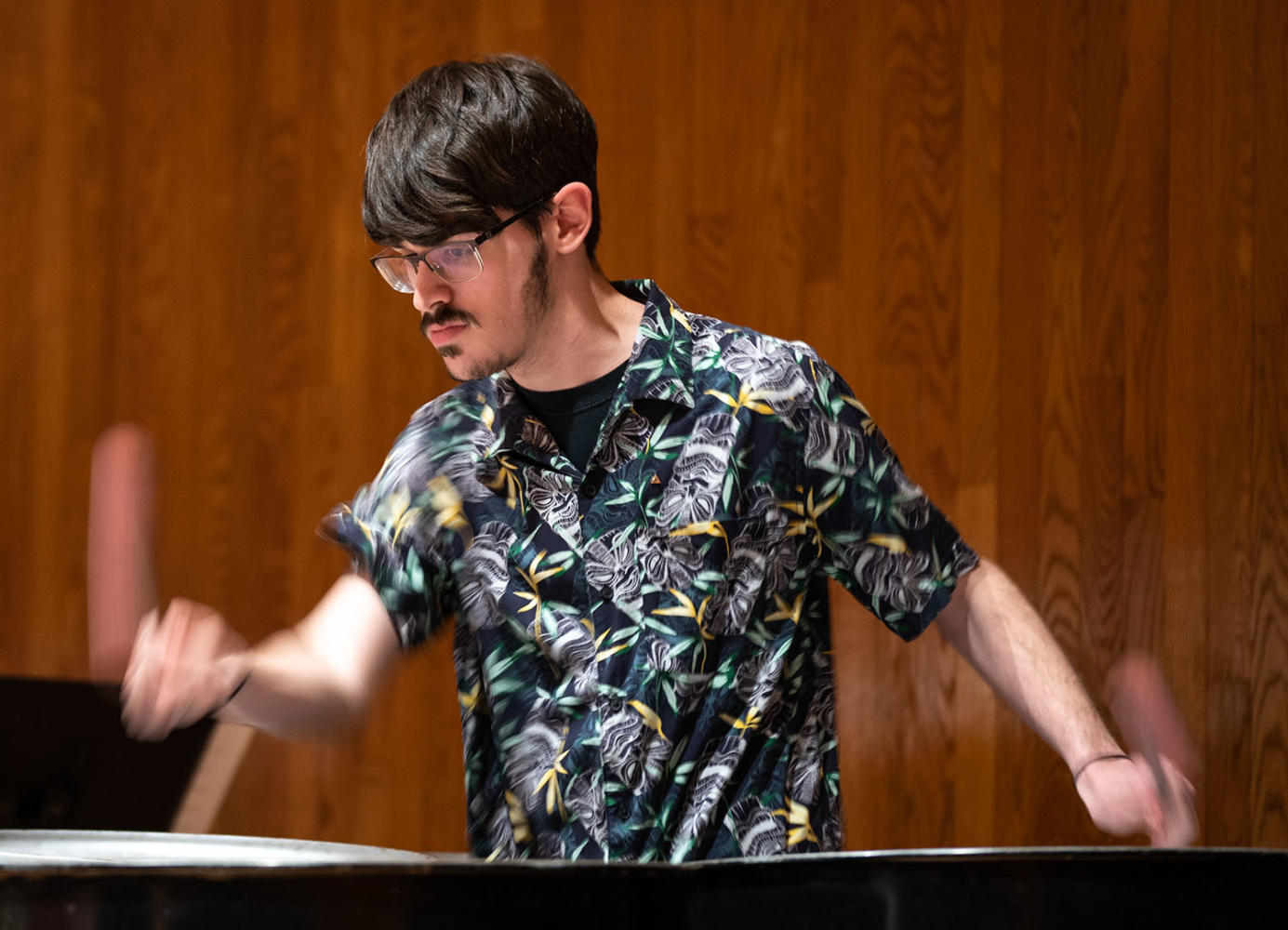 Mount Vernon, Indiana, freshman Sydney Friedman said she has been playing in percussion since eighth grade. She is an environmental sustainability major with a minor in music, and her primary instrument is the oboe. This is her first semester in the WKU Steelband, and she also plays xylophone and marimba in marching band.
"I knew that after marching band ended, I was going to miss percussion," she said. "I thought it'd be really fun, and it's a new instrument to learn that's still in the percussion range, and I just really wanted to learn it."
Friedman said that the drums are made from oil barrels, which is a technique that was invented in Trinidad and Tobago by hammering the barrels into playable instruments. She said that to play it, she lightly hits the pan with a mallet that has a thick rubber band at the end.
"Every note is round, and they're arranged kinda randomly, so that makes it challenging," Friedman said.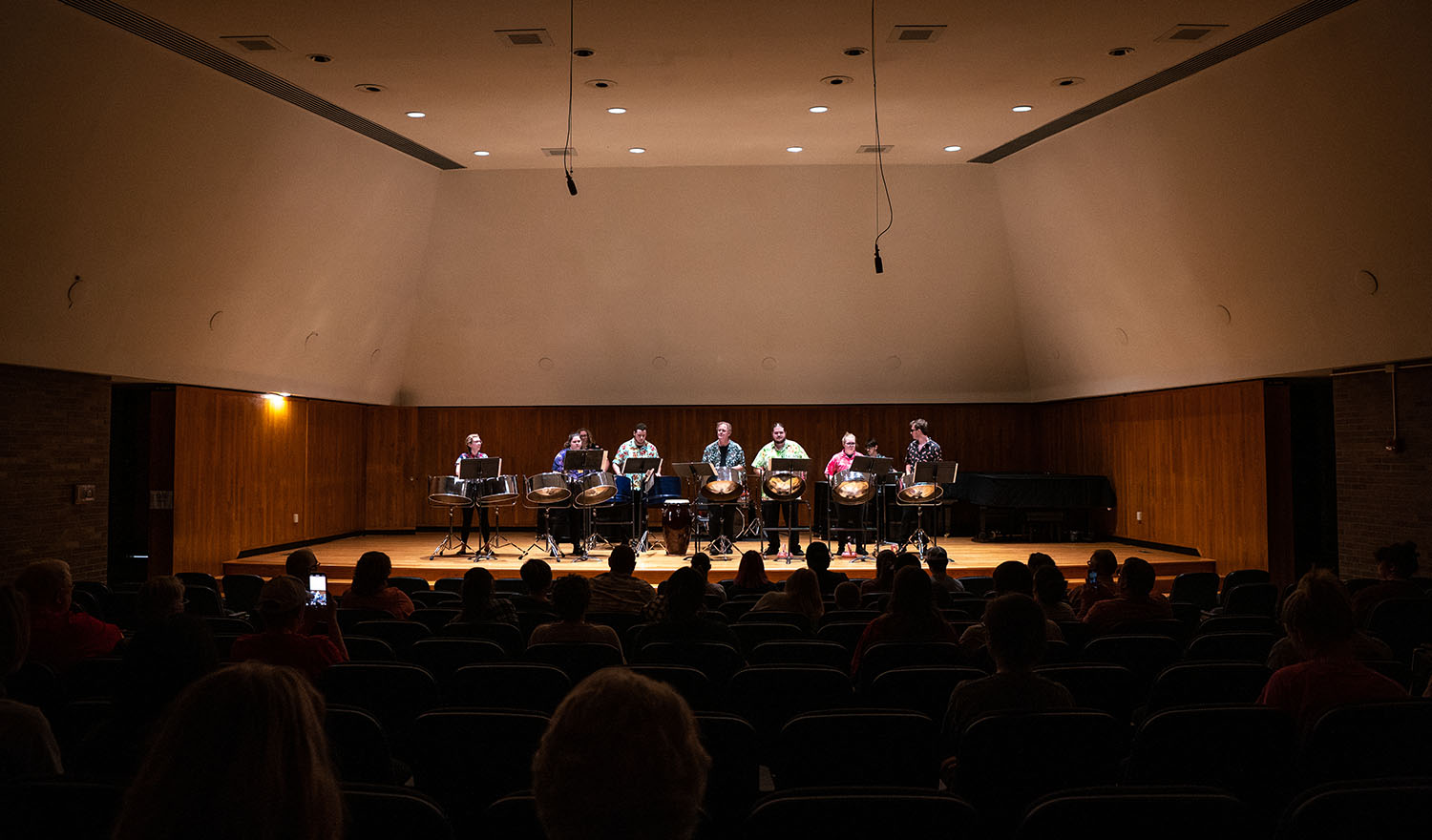 Before this semester, Friedman said she has never played a steel drum.
"It was definitely intimidating," she said. "I kind of picked up on it pretty well, and it's been a lot of fun."
Friedman said the Steelband is unique compared to other ensembles she has done, saying the performance style is similar to jazz.
"It's more focused on the groove and the feel of the music than having a certain technique and rhythm," Friedman said.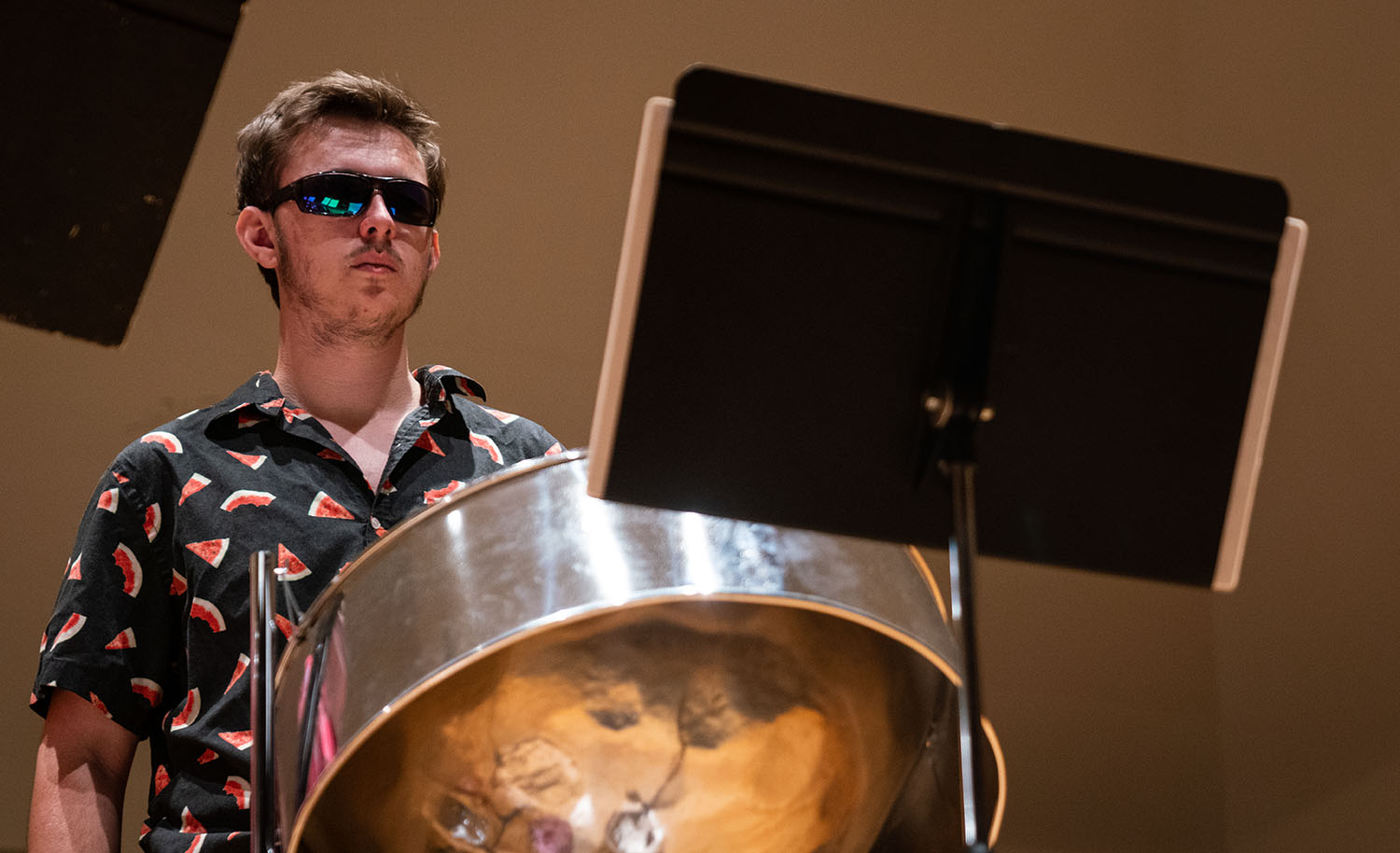 Bowling Green freshman Wyatt Edmonds is also new to the Steelband. He is a vocal music education major but has been playing percussion since the sixth grade. He plays "double guitars," a set of two lower pitched steel pans named because they provide chords like a guitar.
"It feels like you're on the beach in Jamaica," Edmonds said. "It's pretty fun, pretty vibey. It's always a good time."
Freshman Spencer Winterbottom from Murfreesboro, Tennessee, attended the concert to support his friends and said he noticed the tropical sound of the performance.
"I liked that concert, it was very nice. I like the sounds of the steel pans, very Caribbean," Winterbottom said.
Edmonds said he likes playing in the Steelband because of the small size of the ensemble.
"You can say 'Hey, you're wrong,' and they'll say, 'OK, my bad, I'll fix it,'" Edmonds said. "You're held accountable for your part."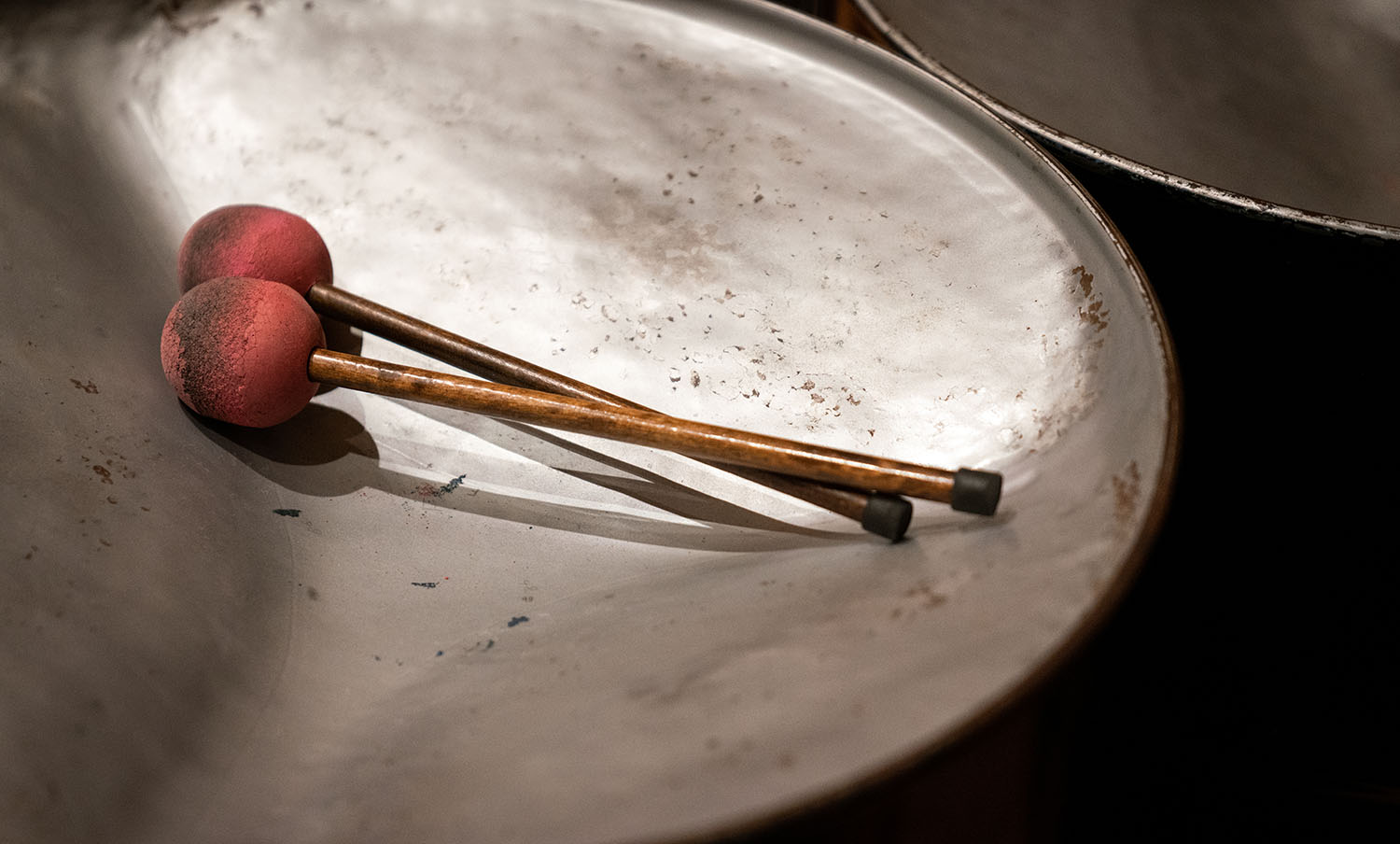 Mount Vernon, Indiana, sophomore Isaiah McFadden said he attended the concert because he has friends in the ensemble, and because he's required to watch 14 concerts per semester as a music education major.
"I thought it was a great concert," McFadden said. "This was the first Steelband concert I've seen, and I was very interested to see what an actual Steelband sounded like."
Edmonds said that in a normal concert performers often have to dress up to perform, but this is not the case in Steelband.
"We get to wear Hawaiian shirts, and we have flamingos and rubber ducks," Edmonds said. "We just have fun with it."