As a college student, "free" quickly becomes your favorite word. WKU has a variety of hidden gems meant to help students and make college a little easier for everyone. Here are three more resources for students who want to work smarter, not harder.
The CarLess Program and TapRide
According to Parking and Transportation Services, it costs on average $18,000 per parking space to build a new campus parking structure and over $9,000 a year to own and operate a vehicle. Lack of good parking is often a problem bemoaned by students, but few know about the CarLess Program, a service that will help reduce parking and allow students to freely travel the Hill and Bowling Green without having to buy a parking pass.
The CarLess Program is an incentive program offered during fall semesters by Parking and Transportation encouraging campus residents to leave their cars at home for the fall semester. Dennis Cain, head transportation analyst for Parking and Transportation, said the program is only offered in the fall because the amount of cars on campus declines during spring semesters.
In addition to the free transit service offered to everyone at WKU, all students in the program receive a GObg public transit semester pass. The pass is $35 in driving credits toward Enterprise CarShare program rentals, rebates for to Greyhound Bus Service and discounted airport shuttle trips to Nashville International Airport, among a variety of other benefits. It's free to sign up, and at the end of the semester, three students in the program will be awarded a $250 book scholarship as a thank you.
"The idea is that we'll help you if you don't have a car to get where you need to go," Cain said. "If it's raining and you don't want to walk all the way across campus or you need to get to the grocery, we want to help you get there."
Director of Parking and Transportation Jennifer Tougas encourages freshmen to take advantage of all Parking and Transportation services, especially the CarLess Program. Tougas said many students living on campus use their parking spot as "storage," so Parking and Transportation decided to try to encourage students to leave their cars at home.
"If the problem is we have too much demand for parking on the housing side — let's see what kind of programs we can introduce to encourage people to leave their cars at home," Tougas said.
Cain also encourages students to use TapRide, a free app that provides an on-demand van service. All WKU students wanting to use it have to download the app, go to a WKU bus stop and request a van to pick them up. The on-demand van service includes service on main campus and South Campus and runs after the busses stop from 9-11 p.m. Monday through Thursday and 6-10 p.m. on Sundays. Tougas called it "Western's very own Uber."
Any student living on campus can register for the CarLess Program on the Parking and Transportation website.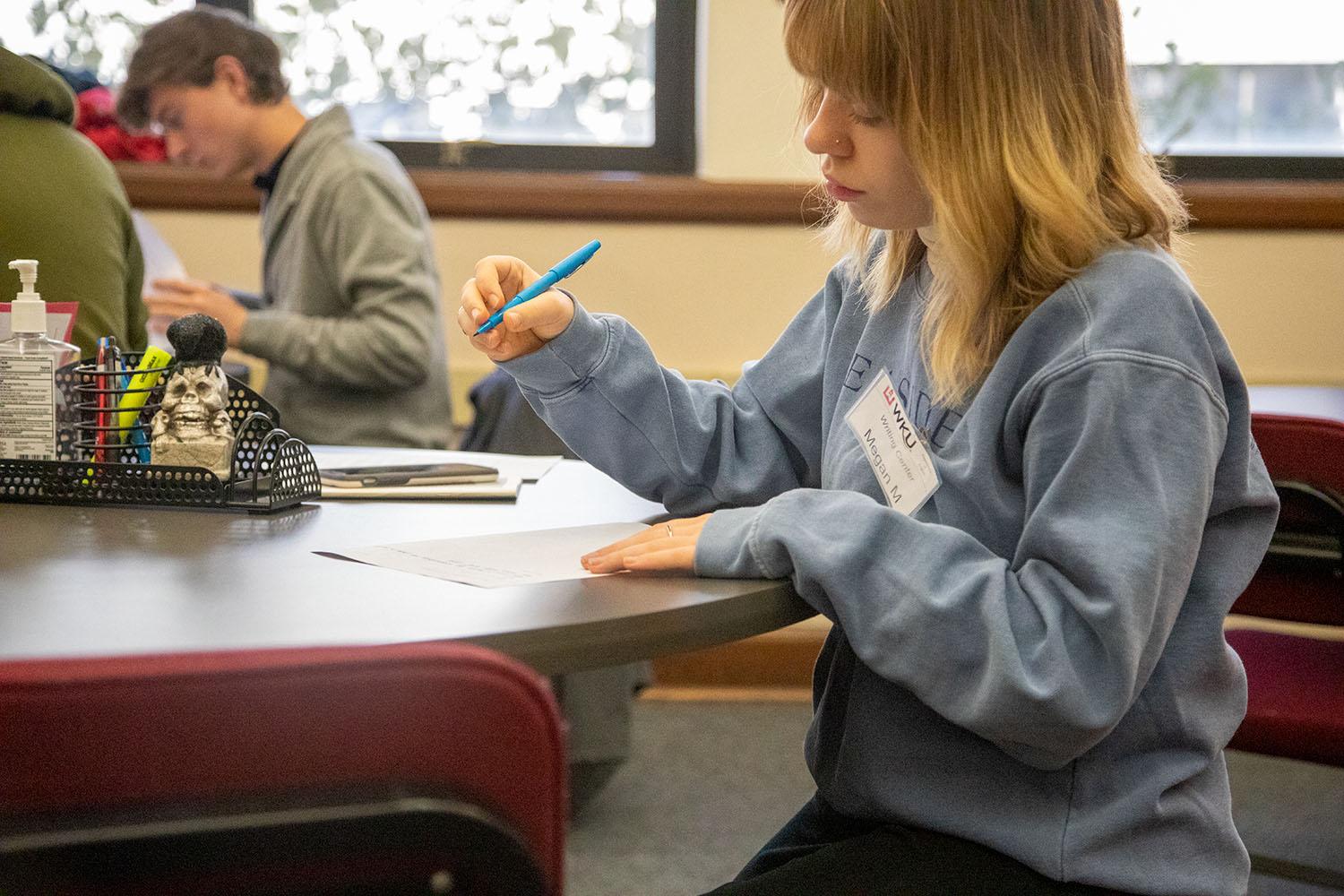 The Writing Center
If you've ever needed help with writing a bibliography or a term paper, the Writing Center in Cherry Hall is ready to help. Appointments can be tailored to whatever your concerns are, be it researching help, proofreading or peer-reviewing.
Each free appointment typically lasts 30 minutes and can cover any issues you might need help with. The staff is made up of English majors and graduate students ready to share their experience and expertise with anyone.
Walk-ins are welcomed, but it's preferred that students schedule an appointment. You can make an appointment on the Writing Center's website, by calling or by scheduling one in person. Appointments can be made Monday from 9 a.m. until 5 p.m., Tuesday between 9 a.m. and 4 p.m., and Wednesday through Friday from 9 a.m. to 5 p.m. Additional hours include Sunday, Monday and Wednesday at Raymond Cravens Library on the fourth floor from 4:30-9 p.m., Tuesday 5:30-9 p.m., and Thursday 5-8 p.m.
DJ Cox, a Campbellsville senior, is a peer tutor at the Writing Center. As a professional writing and secondary-education major, he enjoys the opportunity to help others craft the best paper possible.
"Even if you don't think your piece needs to be read and you think your final draft is perfect, bring it in anyway," Cox said. "It is always good to have a second opinion. It is always good to have a set of eyes that is fresh to the piece take a look at it."
Cox would like to encourage more undergraduates in STEM programs to come in and have someone read and critique any writing pieces they might have. He said all jobs require effective communication and the Writing Center specializes in enhancing clarity of writing.
"Everyone could use some help," Cox said. "We could all be better communicators."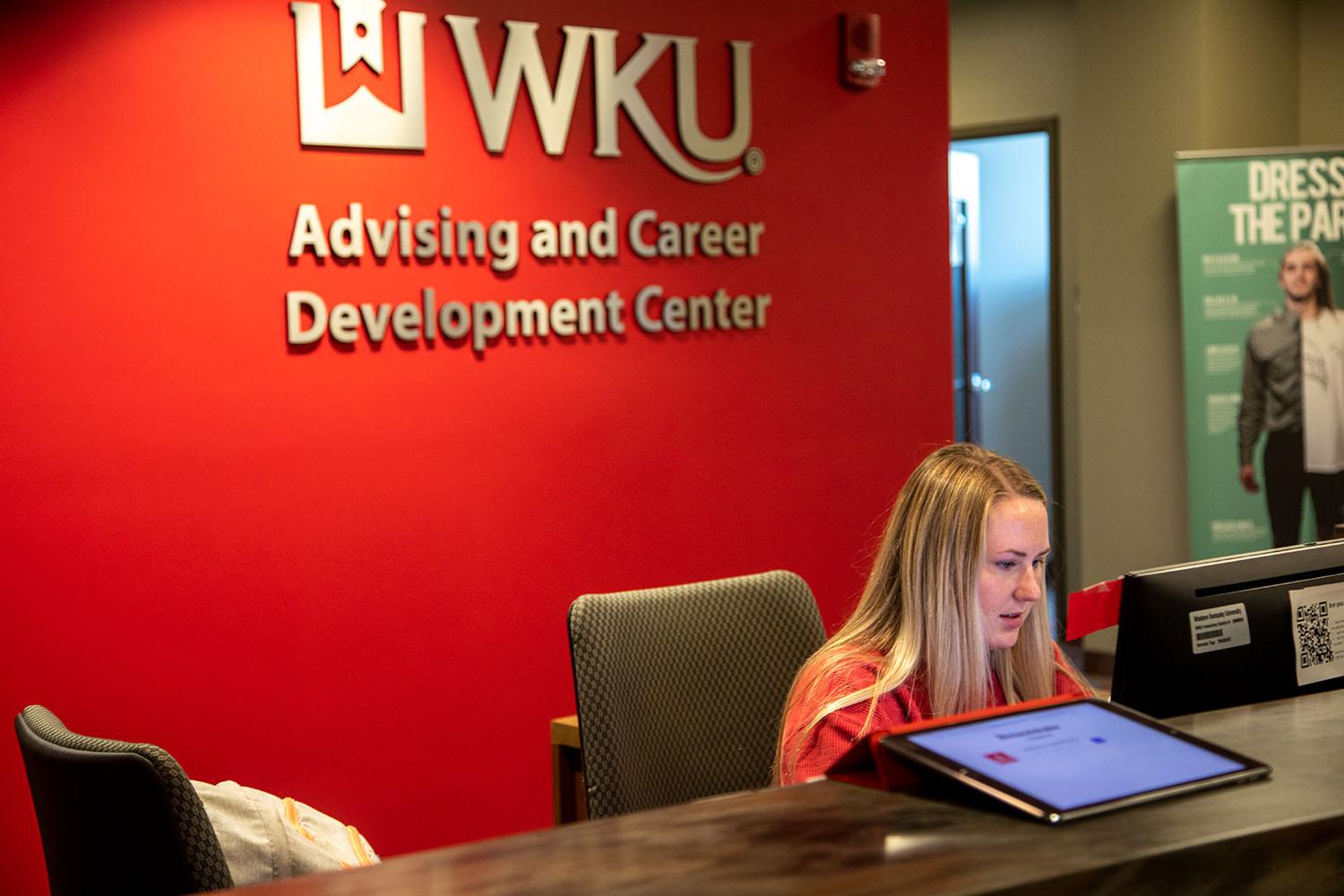 Advising & Career Development Center
For those who still haven't decided on a career path or need help choosing one, the Advising & Career Development Center, or ACDC, offers numerous resources. ACDC launched a new initiative in August 2019 just for people who need some vocational guidance — the Career Studio. The office is in, room 2001, and students can meet with professionals whose job it is to help explore personalities and interests, refine skills and better prepare for life after graduation.
Becky Tinker, the associate director of ACDC, said all students can benefit from some career guidance. Going into the working world can be intimidating, so the ACDC wants to send students out prepared. Coaches advise students on salary negotiation, job search, networking strategy, interviewing and a variety of other skills for finding employment.
"The Career Studio is a workspace where students can drop in for a quick conversation with a trained staff member or open their laptop and apply for jobs and internships," Tinker said. "Students can talk with a staff member about career issues or get feedback and assistance with resumes, cover letters and LinkedIn profiles. But the Career Studio is just one of many services offered by the Advising & Career Development Center."
Appointments are free and walk-ins are welcome, but appointments are preferred. Appointments can be made by calling (270) 745-3095 or emailing the office at [email protected].