Individuals with Down syndrome and those that support them are uniquely adjusting to the changes caused by COVID-19 within their schooling and their community.
Down Syndrome of South Central Kentucky first organized in 1996 when parents of children with Down syndrome gathered for support. As the organization and community grew, so did the vision. The organization now gives services and resources to 145 people with Down syndrome in 10 counties.
"The goal and mission of our organization is to help each individual with Down syndrome reach their full potential," said Executive Director Stephanie Morton.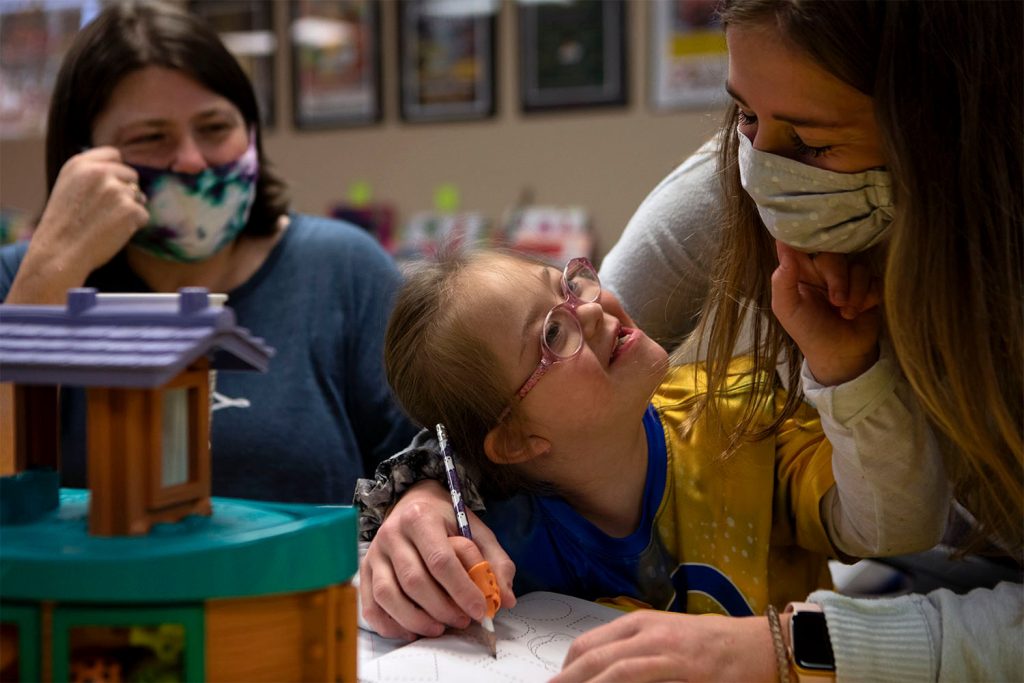 Down Syndrome of South Central Kentucky built the Buddy House in 2013 to function as an educational facility, becoming one of 12 in the country. They provide physical therapy, teach skills classes, practice yoga and have dance groups, along with other free services. WKU's Communication Disorders Clinic also partners with the Buddy House to teach speech classes.
But the way the Buddy House works has changed due to the COVID-19 pandemic. Last year, it held several different classes and activities a day, with around 15 people in the typical speech and skills class. Because those with Down syndrome are immunocompromised, the staff found ways to keep them safe during the pandemic while still helping them learn. 
Now, the staff holds virtual classes over Zoom such as dance fitness, online skills and book club, as well as a social club where they watch movies, dance and perform karaoke. The only in-person classes are one-on-one cooking and tutoring.
Following the guidelines set by the Centers for Disease Control and Prevention hasn't been easy for individuals with Down syndrome. 
"They don't totally get the abstract thought, so if they can't touch it, feel it or see it, they don't always get what's going on as well as we do, so they have a hard time wrapping their heads around COVID," Morton said.
Down syndrome is a genetic disorder where someone is born with an extra 21st chromosome. According to the CDC, "this extra copy changes how the baby's body and brain develop, which can cause both mental and physical challenges for the baby." Common physical features include a flat face, short neck, small ears and shorter heights as children and adults. They are also more susceptible to ear infections and eye diseases, and may have heart defects at birth. The mental and physical condition of someone with Down syndrome varies for each person.
Wearing a mask is one hurdle. Not only is it difficult to wear because of sensory issues and ears that are smaller or have weaker cartilage, but not being able to see full facial features can also be intimidating, especially for children. 
"Sometimes if their mask falls down, we have to make sure to put it back up," said Danielle Zawlocki, an intern at the Buddy House. Social distancing is also difficult since those with Down syndrome thrive on social interaction. 
"They're going to try to hug, they're going to high five, because that's just what they're used to," Morton said.
Shelby Brown, an 8-year-old with Down syndrome, has been involved with the Buddy House since she was born. Her mother, Leanne Brown, also found support from the parents she met through the Buddy House. 
"It's a place where there are other individuals like Shelby, and they see each other for who they are," Leanne Brown said. "She can just hang out and be a kid."
Shelby Brown would be at Buddy House classes or events a couple times a week before COVID-19 but now only goes for tutoring, which has affected her social interactions, her mother said. 
"Shelby would say, 'Mom, can we go to the Buddy House today to play with my friends?' And I would say, 'No, we can't go today because we have to stay safe,'" Leanne Brown said. 
She also misses being with other parents and learning together how to best help their children succeed.
COVID-19 also affected fundraising at the Buddy House. The usual gala held in the spring was first postponed to August before being canceled. They held their annual Step Up for Down Syndrome Walk on Sept. 19, converting it to a car parade instead. Each member had a team of family and friends with them and followed a route in their decorated cars.
"It's our day to celebrate them," Morton said. "They know that's their day, so it was really important that we kept that on the schedule."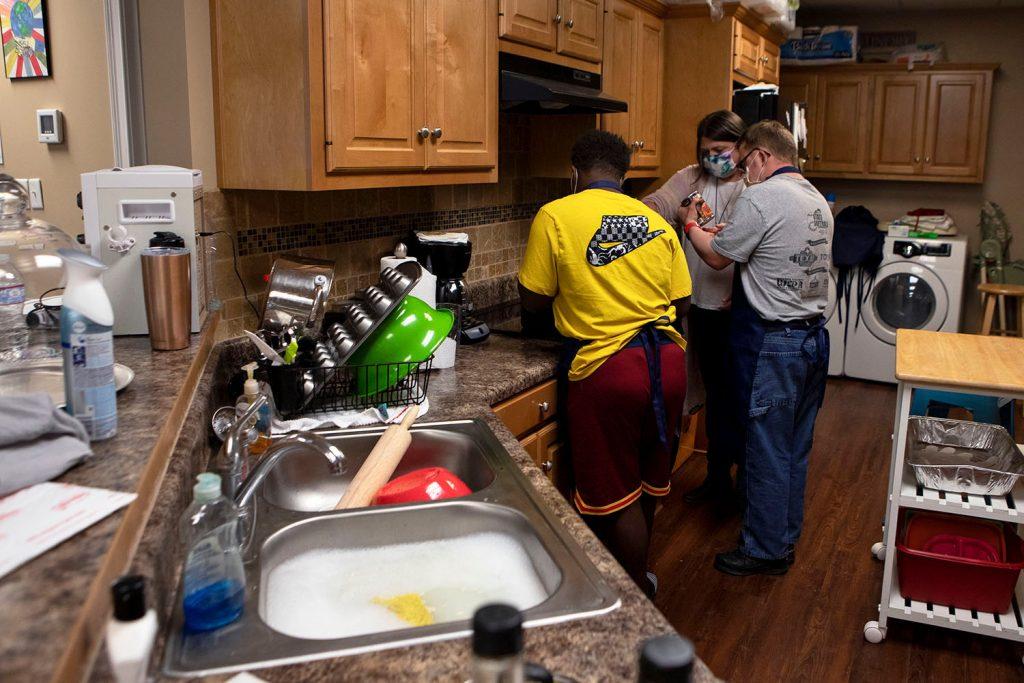 Zawlocki, who is also studying social work at WKU, started interning at the Buddy House at the start of the fall 2020 semester. Interns are normally very involved with the individuals, but taking over responsibilities for the assistant director while she's away on maternity leave and having only a few in-person classes have limited her interactions. The Step Up for Down Syndrome car parade was the first time Zawlocki could interact with more of the members.
Before COVID-19, The Buddy House held fundraisers with local restaurants and the Bowling Green Hot Rods, but they adjusted their usual budget goal because of the lack of fundraisers and are brainstorming new ideas. 
"We just really have to protect our children and our adults," Leanne Brown said.