Editor's note: A previous version of this article said an ensemble typically has 15-16 weeks to learn a show, but Lowis said casts never have more than three weeks. Lowis was also misquoted several times throughout the piece. The article and her quotes have been corrected to reflect these changes.
Murder isn't always the most inspirational topic for a musical. But throw in hotbox dancers, scandalous leotards and rousing jail-cell dance numbers and somehow it all works. Such is the case for "Chicago the Musical," which played at the Southern Kentucky Performing Arts Center in Bowling Green on Monday night.
Within any Broadway show, there is a large group of cast members, technicians and stage crew. The cast and crew make up 40 people, said Melissa A. Hazek, the touring show's press manager.
Among these hardworking stars is Alexa Jane Lowis, a member of the ensemble. Lowis, 26, from Chicago, is the newest cast member to join the tour, and she plays one of the murder mistresses, Hunyak.
"Most of the other cast members have done one of the tours or many years of the tours," Lowis said. "We've also had a lot of Broadway cast members filtering in and out of our cast, as well, over the past couple weeks."
The musical tells the story of convicted killers Roxie Hart and Velma Kelly who are working to escape criminal sentences during the 1920s. Lowis's character Hunyak is one of the women Roxie and Velma meet while in prison.
Lowis said she went through three auditions to earn a spot. After being selected, she learned the entire "Chicago" show in one week, which, she said, was very quick. Normally, the ensemble has 3 weeks to learn the show. Lowis's character speaks in a Hungarian accent, and she was required to learn the language's cadence and vocal patterns. This was on top of learning the choreography for the iconic dance number "Cell Block Tango."
The theater has been a source of catharsis and respite for her, despite the rigorous work, Lowis said.
"I think, particularly as of late, theater has become even more important in my life and more impactful just with the social (and) political climates changing constantly in this day and age," she said.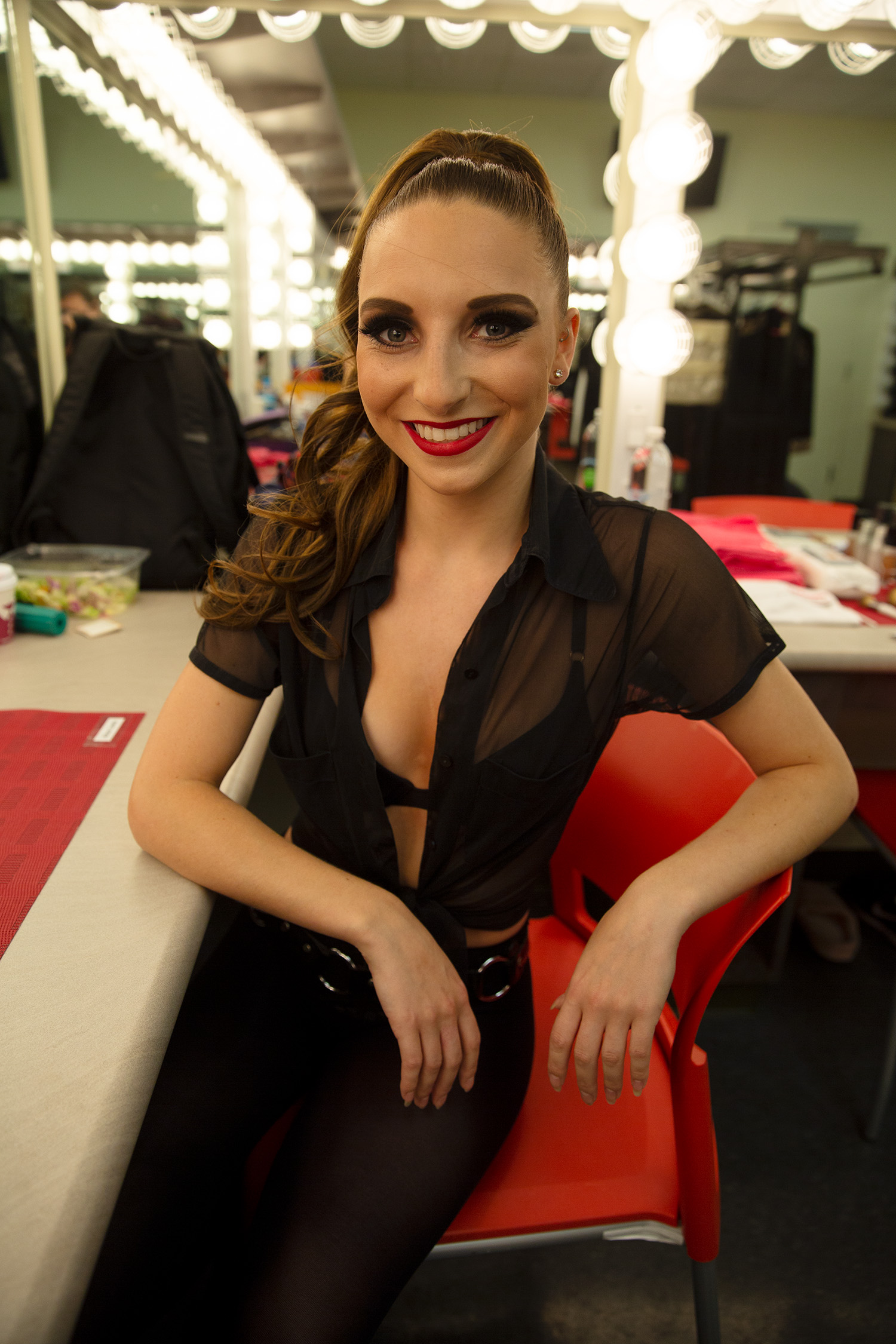 The ensemble in most shows helps carry the story along in the background with strong dancers and singers. In "Chicago The Musical," however, the ensemble is a bit unique. Lowis said they sit on the stage for almost the entire duration of the show and are confined in the stage. But although this can be tiring, Lowis said it also has some silver lining.
"I really have a front row seat to a lot of the show even if I'm not in the scene," she said.
One her favorite parts about being on stage throughout the entire show is watching Roxie, played by Dylis Croman, perform the nearly five-minute monologue that goes into the song "Roxie," Lowis said.
"Her character goes on this amazing journey just in that few minutes," she said. "It's very cool to watch that every day."
Lowis said maintaining her mental and physical health is of the utmost importance when working for a Broadway-caliber production that travels the country. She said she does yoga and meditation while on tour to make time for herself.
"They have all these really cool apps these days with different sound machines and guided meditations, and I love doing those," she said.
For her physical health, Lowis said constantly stretching and making sure she is "in her body" are super important, especially with the constant travel.
Lowis said pursuing theater has been worth it despite the long journey. She said if someone is passionate about theater, then he or she should pursue it, even when it becomes difficult.
"Even on the days when you don't want to get up and go to dance class, or don't want to have that voice lesson, or don't want to coach that monologue, those are the most important days to get up and do the work," she said.