Ask anyone on the street to name a WKU sport, and two answers likely emerge: basketball or football. But beneath the surface is a whole ecosystem of smaller varsity programs that thrive — including, since May 2016, a burgeoning esports program.
Esports refers to the competitive playing of video games. WKU esports fields teams for three games. Beginning with a League of Legends team, the program added Rocket League and Overwatch teams in 2019. In April, online intramural games were added, which included Rocket League, FIFA 20, Madden NFL 20, NBA 2k20 and Super Smash Bros. Ultimate.
League of Legends has relatively complicated rules, but it comes down to the competing teams trying to capture the other's base, said Bowling Green doctoral student Jessica Manrow, coach of the League of Legends team. To help them along the way, teams complete certain objectives that give them power-ups.
Manrow has been a part of the program since the very beginning, as her mother is the faculty adviser. She said the program didn't attract her at first, although she has been playing League of Legends since it was first released in 2009. Her involvement grew from giving occasional feedback to becoming a full-fledged team member.
"It became something I really wanted to be involved in because I think esports is the future," she said.
Error, group does not exist! Check your syntax! (ID: "1")
Bowling Green senior Carlos Sierra is the coach of the Rocket League team and has been part of the esports team since his freshman year after he heard about it from someone in his trigonometry class. Former President Gary Ransdell had recently given permission for the esports club to become a varsity program.
Sierra described Rocket League as a game similar to soccer, "but you take it from 2D to 3D," said Sierra, meaning that players can also move up and down in addition to side to side. Players control virtual cars that fly around an arena, and a team scores points by moving the ball into the opposing team's goal. There are three players on a team, and WKU fields two teams that compete separately: Team Hilltopper, the more competitive of the two, and Team Big Red.
Nashville sophomore Hailey Ray plays for the Overwatch team. She described the game as a 6 vs. 6 first-person shooter.
"There are a couple different things you can do: capture the flag, where you have to capture a certain point and take control over it," she said.."There's something where you push a payload and try and get it as far as you can, and then there are hybrid games, which are a mix of the two."
This fall, Ray's best friend was trying out for the team and asked her to come along. She initially had doubts.
"I was like, 'I don't know, I haven't played in like a year,' just because when I came into school I joined Greek life and stuff like that," Ray said.
Eventually, she joined the team's group chat, where several team members offered to practice with her before the tryouts. With their help, she and her friend both made the team.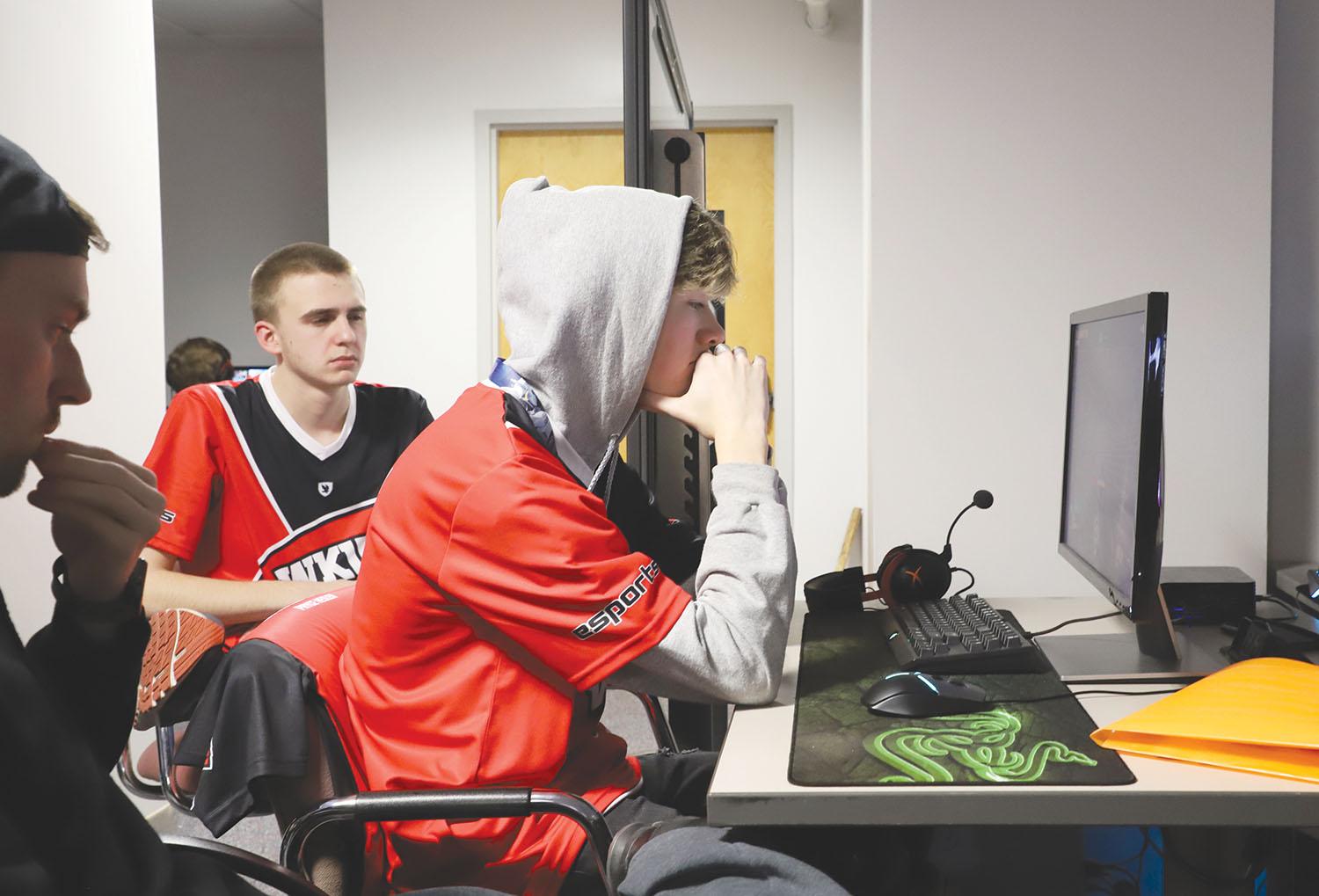 Each team's training regimen is much like that of any other sports team, with warmups, drills and scrimmages. The team plays practice games against one another and talks about specific strategies they want to try out during matches.
"If we have a really close match, sometimes we will do a video review, going over the stats, positioning, boost usage and other aspects of the game," Sierra said.
Brentwood, Tennessee, junior Kellyanne Shaw, a member of the League of Legends team, said improving as a team involves more than just playing together.
"We have group chats where we talk about what kind of compositions we want to do and strategies and stuff," she said. "A big part is playing on your own and developing your skills as an individual player before you develop as a team together."
Error, group does not exist! Check your syntax! (ID: "1")
WKU esports has grown significantly in its few years as a varsity program, which started in a small room in Garrett Conference Center.
"When I first joined, we were six people, and I was the only undergrad," Sierra said. "We were really more of a group of friends or a club, and we weren't really seen as a varsity program. Nowadays, we are known across the state and region for our esports program," he said.
WKU is the largest of five universities in the state with a varsity esports program, the other four being Brescia, Campbellsville, Pikeville, and the University of the Cumberlands, according to the National Association of College Esports.
"Now we have this bigger space, which is really nice," Sierra said, referring to the bright and spacious room on the side of McCormack Hall where his team was practicing. A few dozen computers line the walls, with headsets and backlit keyboards attached. A large flatscreen TV hangs on one wall, which Sierra said they use to watch games and review footage.
On a Saturday in February, the League of Legends team competed virtually against Aquinas College on that flatscreen. Each character possessed a certain skill set, and the in-game camera cut to different battles across the arena every few seconds. The players were fixed to their individual computer screens and communicated with one another through their headsets — even though they sat only a few feet away from one another, it was best not to risk miscommunication.
After a few minutes of watching, the familiar sports narratives began to show. WKU was down early but managed to keep the score close for most of the game. Successful plays by the Hilltoppers elicited excited shouts, and the spectators grit their teeth when Aquinas College began to widen their lead. Big Red showed up to cheer the players on, although most of the team didn't break their focus from the action to acknowledge the mascot. In the end, WKU ended up losing the match.
"We were really more of a group of friends or a club, and we weren't really seen as a varsity program. Nowadays, we are known across the state and region for our esports program."

– Carlos Sierra
Most professional teams in esports have few women players, even though women make up a sizable portion of the fanbase, according to a 2019 Denver Post article.
"I think I have to fight a little bit harder to be respected," Ray said. "No matter how much they think it's not a big deal, it's kind of a subconscious thing, since you don't really see as many girls playing video games."
Shaw notes that stereotypes about women seep into her experience as a player.
Shaw said she has always played League of Legends with groups of men, and she plays in the "support" role, which means she helps other team members with their tasks in the game.
Error, group does not exist! Check your syntax! (ID: "1")
"I haven't got any flack for it here, but in the past I have gotten told, 'Oh you're a woman and you're playing support, how conventional,'" Shaw said.
But Shaw said on the WKU esports team, she feels respected.
"Here everyone has treated me pretty equally, and that's what I enjoy," she said. "It's nice that people here don't see my gender as a difference or a way to treat me differently. I'm still valued as a part of the team, and my opinion is taken with the same weight as my teammates'."
Ray echoed the sentiment.
"Seeing me in person really helped, I think," she said. "They got to see how hard I worked."
For Ray, the biggest impact has been the relationships she's forged.
"A lot of people in this room I wouldn't normally be friends with because I was in Greek life," she said. "A lot of people think gaming is an isolated bubble. We might not like all the same things, but there's this central thing we all like."
For Sierra, the impact of the esports team on his life has been immense.
"Being part of something new and helping it grow into something respectable, I see esports as a gateway into my future," he said. "I think overall it's helped me develop into a more mature person."