When Glasgow senior Seth Church entered the Augenstein Alumni Center on that rainy Monday night, professors, light refreshments and individually donated rainbow stoles greeted him.
They were all there to celebrate his identity as a bisexual.
Along with 15 other soon-to-be graduates, Church was recognized in WKU's first Lavender Graduation, a ceremony to celebrate the unique achievements of lesbian, gay, bisexual, transgender, queer and ally students.
WKU joined 95 other U.S. colleges in the celebration, which was hosted by the Office of Institutional Diversity and Inclusion in hopes of cultivating visibility and support for the campus LGTBQ community.
Church was not only a participant in the ceremony, but also a member of the planning committee.
"So I was doing all this work with them, and they just assumed I was a really active ally," Church said. "Come time for the ceremony and I show up in my cap and gown, and it was fun to work on it from the inside and see it all the way through."
Tiara Na'puti, of WKU's Institute for Citizenship and Social Responsibility, attended Lavender Graduations in graduate school at University of Texas at Austin. In the week before WKU's Lavender Graduation, Na'puti said she was looking forward to experiencing it as a faculty member.
"Everyone that was participating had a great deal of pride to be a part of it," Na'puti said. "I think, if you look at some of the history of where it came from, the whole event was sort of reclaiming this idea of shame and hurt relating to one's identity or a feeling like you had to hide it."
Church shared the sentiment that some students felt they needed to hide this part of their identity.
"I think the fact that a lot of people are in the closet, you know, they hide themselves," Church said. "Having this ceremony where it's an inclusive and friendly and open environment with people who care is very beneficial. Because you can say, 'This is who I am, this is me, and I made it through college.'"
Na'puti said becoming part of the tradition was an important step for WKU to recognize the difficulties facing LGTBQ graduates and to educate others about the importance of gender identity issues.
"It's important in the 21st century to anyone — especially people in higher education — to be learning about different identity categories and what those mean and how people express them — how we are human," she said. "I think there are many complex layers to that expression of one's identity. It's important to celebrate."
Celebrate they did.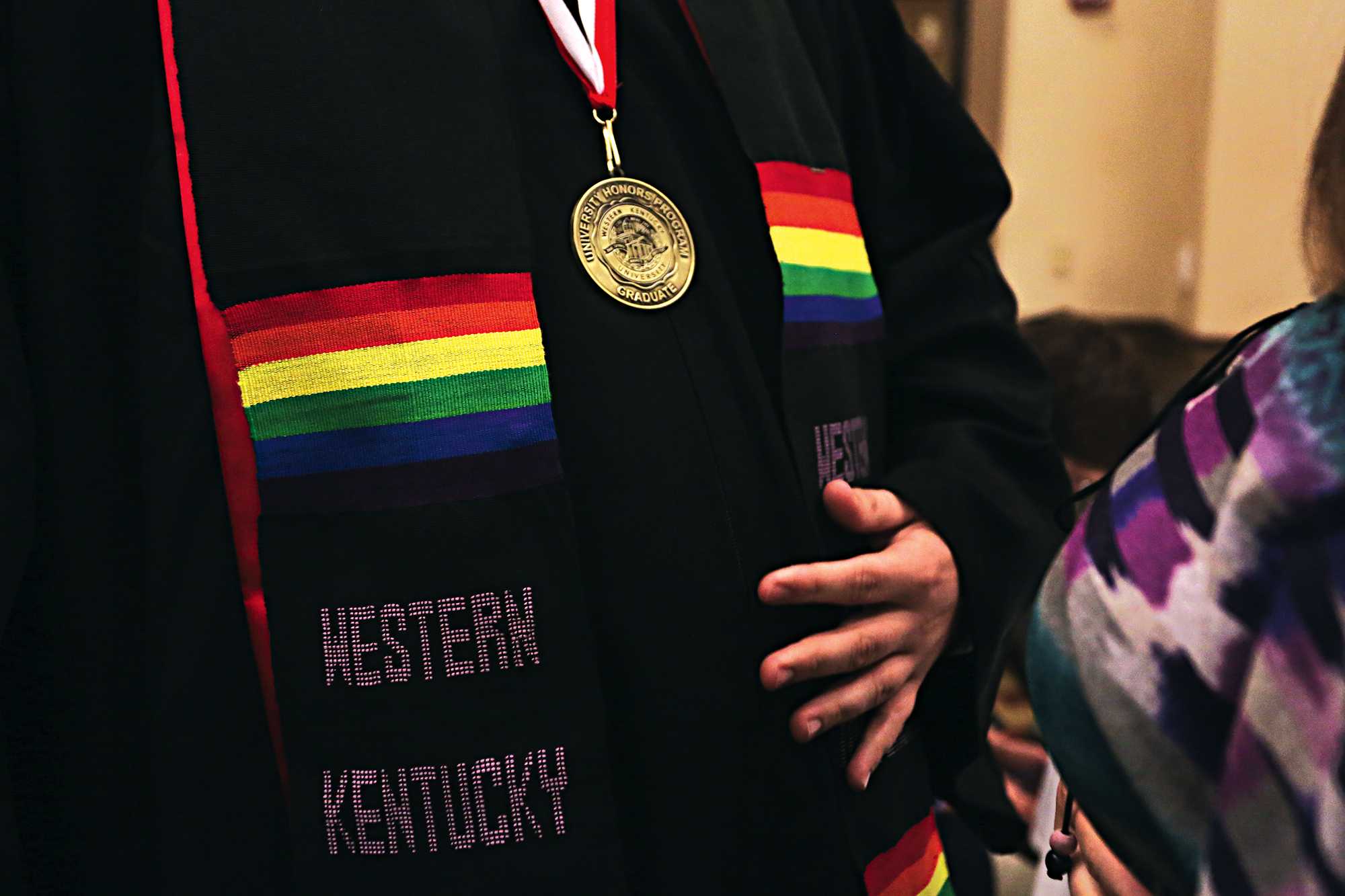 Behind a lectern decorated with a rainbow flag, the master of ceremonies announced the names of the 16 graduates. After walking across the front of the crowded room, each graduate was given an embroidered lavender and rainbow stole and pinned with a triangular, rainbow lapel pin.
The main speaker at the ceremony, Patricia Minter, and her husband established the fund that eventually swayed the university's higher-ups into allowing the ceremony to take place.
"It's been successful beyond my wildest dreams," Minter said. "And looking at all those beautiful faces, it was just a dream come true to me."
Minter said that she initially received pushback when she proposed the idea of WKU hosting a Lavender Graduation. Minter and her husband created a fund that would pay for future Lavender Graduations using interest earned in the account.
"We just looked at each other and said, 'We're at the point in our lives when we can do something about this, and we're going to,'" Minter said.
After the post-ceremony mingling calmed down, Minter finally had a chance to grab a piece of cake.
"Seth has been my advisee since he was a freshman," she said, cutting into the rainbow fondant with her fork. "He took my American legal history courses when he was a sophomore. And then of course we discovered the mutual interest in social justice, but he's just come out to me this year."
Because of the fund, students such as Church would be able to enjoy this ceremony for years.
"So, you know, and I've been enjoying getting to know all of him now, and understanding his true self," Minter said. "It's been an honor that he shared that with me. It was just wonderful to have him be part of the planning committee and to see him celebrate his true self tonight. There's nothing that I'm not happy about right now. It's just so good."