With the Halloween season upon us and you spending your free time binging horror films, you may find yourself wondering if you're more of a Freddy Krueger-type villain or a Ghostface-type villain. If you're curious to find out, take this short quiz to see what horror film villain you best embody.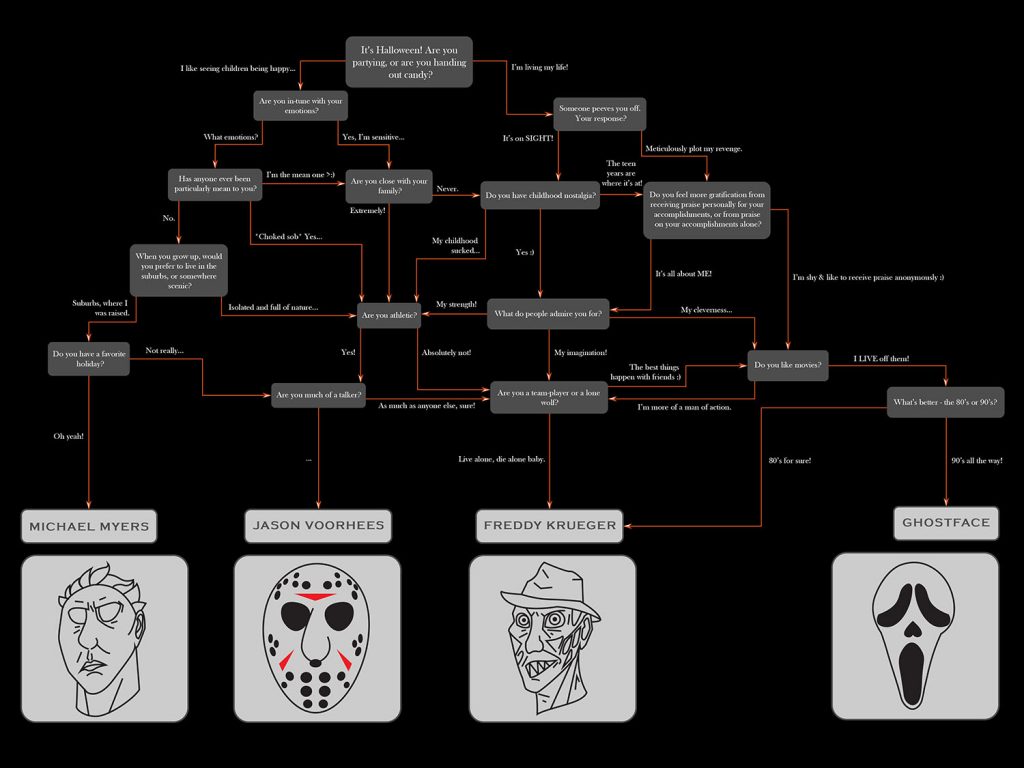 Michael Myers from "Halloween"
Let's face it, you don't have a lot to say. You're very observant and enjoy taking your place in the background rather than in the spotlight, only taking action when provoked. You may not have a lot of friends, but you do have an extreme sentimentality towards some of your possessions. Regardless of your relationships with your family, chances are they determine many of your thoughts and actions. Your favorite holiday is Halloween.
Freddy Krueger from "A Nightmare on Elm Street" 
To say you're a bit much is an understatement. You get a kick out of others' misery, as it consoles you on your own personal baggage. You understand the thrill of scaring people just to scare them and are very creative in this respect. You appreciate fall fashion and, admittedly, don't particularly like children. You're kind of a weirdo!
Jason Voorhees from "Friday the 13th" 
Oh you poor, poor child. Chances are you're a bit awkward but exceptionally nice, or at least you were … until you got your innocence bullied out of you by others. You have a decent relationship with one of your guardians and are sensitive to others' emotions and actions. You're introverted and don't care much for the party scene. You appreciate nature and may or may not be a fan of hockey.
Ghostface from "Scream" 
You LOVE movies, especially horror ones. You're extremely passionate about your interests, which may unnerve some people who aren't quite like you. You also have a particular soft-spot for petty drama and enjoy making other people's business your business. You might be slightly addicted to social media. You could also be an eccentric art kid. Without a doubt: You're goth.