Something's changing with one of our transit buses — specifically, bus no. 13 that runs on the White Line. It's been refilling its gas tank at the University Farm on Nashville Road, slightly upping its percentage of biodiesel.
It must look strange for this hulking, urban frame of metal and wheels outfitted in red and white to trundle past fields of corn, soybeans and grazing cows, but the bus leaves a little cleaner each time. And by Earth Day, this bus will be running on 100 percent biodiesel, thanks to mechanical engineering students who've worked to turn used cooking oil from DSU into biodiesel.
Sustainability Coordinator Christian Ryan said the biofuel project began about 10 years ago under the guidance of mechanical engineering professor Kevin Schmaltz and engineering technician Troy Robertson. Various students throughout the years have worked on it for their senior projects, and the fuel they produced was tested and used with the farm equipment.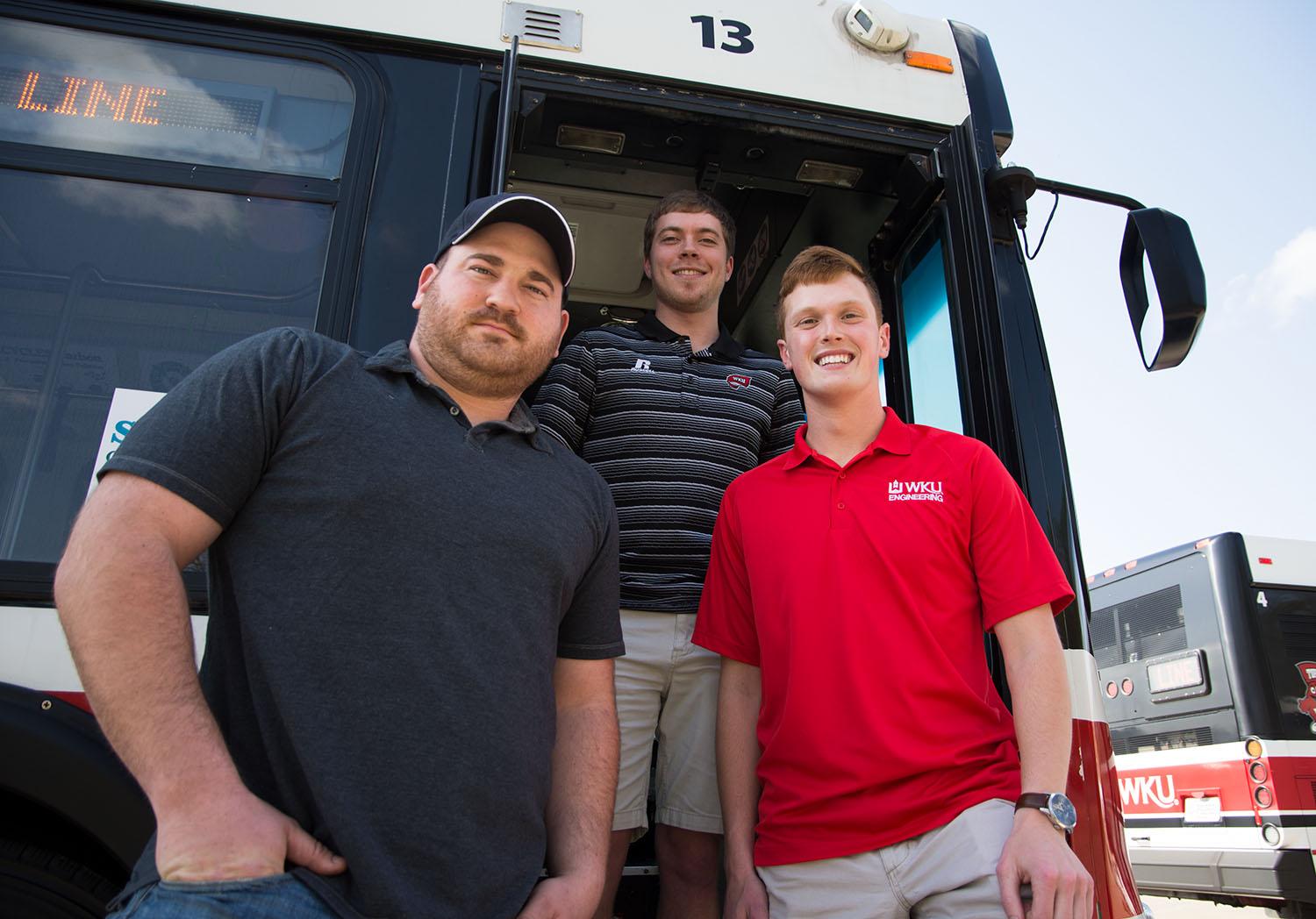 "It's just been in the last year or so that they have felt confident enough in the quality of all the experimenting they've done and all the changes that they've made that they really wanted to get it off the farm and run it in something else," Ryan said. "They wanted to provide some kind of campus service and make it a sustainability initiative."
Because the fuel is produced from used vegetable oil, a waste product, it is significantly better for the environment.
"First of all, there's no extraction of fossil fuels," Ryan said. "We're not pumping up something from the ground or digging something up from the ground. Second of all, we're not releasing carbon dioxide by burning a fossil fuel."
Louisville senior Hayden DeLozier and Greenville senior Aaron Bard are two of nine students currently working on the project.
"It's been a really good way for the students to put theoretical knowledge that we learn in class and really apply it to a real-life situation that then is influencing other parts of campus," DeLozier said. "The fact that we're able to reuse waste oil that would otherwise be thrown away and convert it into something that is able to power our buses and also power our farm equipment is really neat and rewarding to see."
After all these years, this group of students will be the first group to witness their biofuel power one of our buses. Bard said he remembers receiving a Dropbox folder when he first started the project that was filled with pages upon pages of design briefs, schematics, drawings and calculations.
"It's a little humbling," Bard said. "There's nothing I can think of now that someone hasn't already thought of before."
Regarding the facility at the farm, he said that it was like a game of telephone or like inheriting a house in which the previous owner did a lot of fixing up.
"Each year a new set of students come in and want to change it to fit their needs," Bard said. "Ten years after the original design, you have no idea what that was for."
Robertson has a favorite saying: "A good engineer is replaceable." If one were to move industries, another engineer could pick up his or her notebook and immediately start off from where they had left.
Bard said he wanted to caution future students to peruse the Dropbox before starting anything.
"A mistake that a lot of us made was that we started getting all these grand plans and thinking about how we were gonna make it better and how we were gonna make it more efficient," he said. "And then about two weeks into the semester, Troy sent us a link to the Dropbox … everything, plus some, of what we came up with was already in that Dropbox made by somebody else."
As a mainly student-run project, the project may prove to be quite beneficial to the students' professional development, Bard said. They have a fair amount of oversight to experiment and learn in a safe environment before entering the workforce.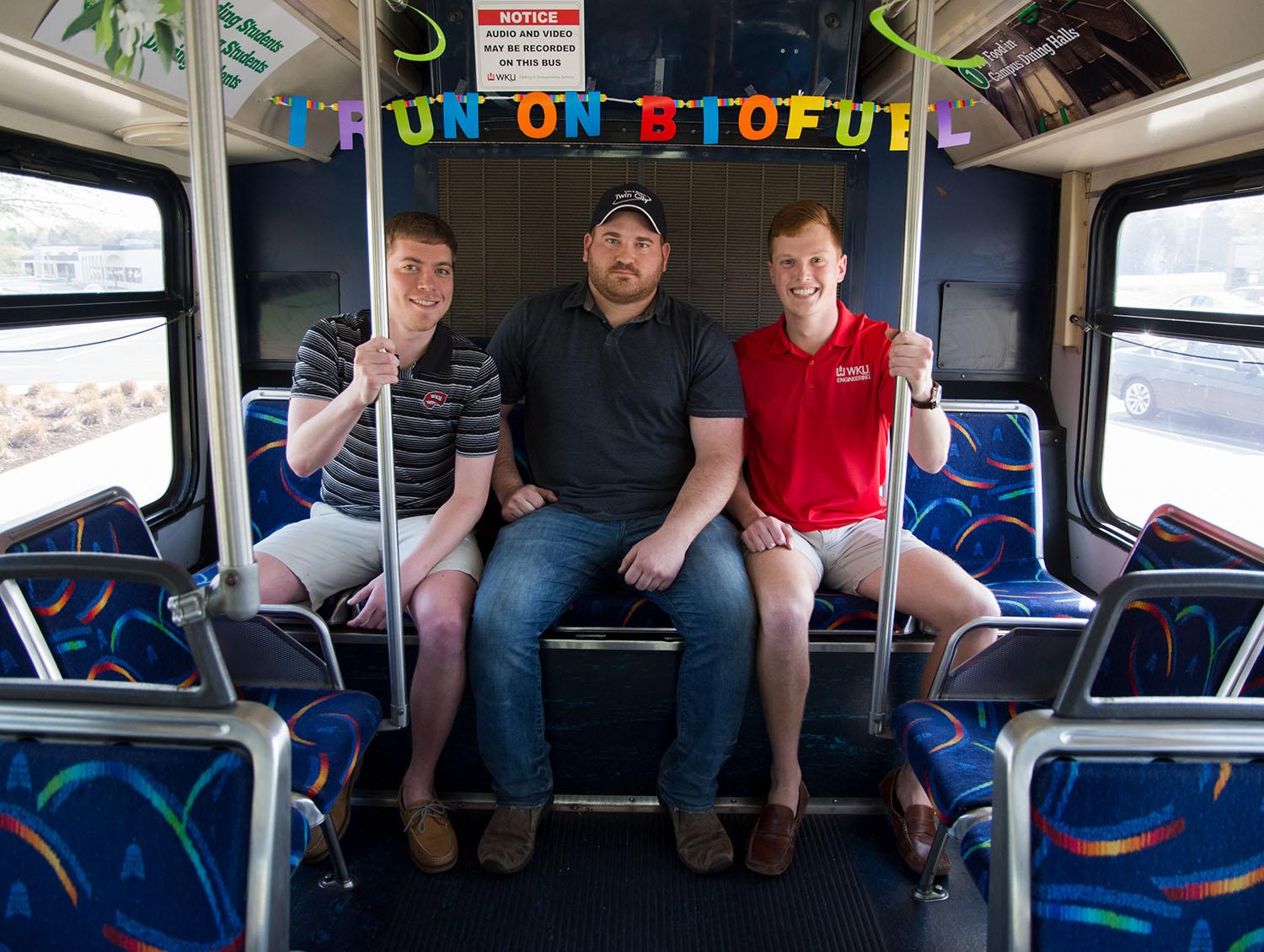 DeLozier hopes to find a position in the engineering field and see where that takes him, and he says he will eventually pursue a master's degree in business management.
Growing up as a mechanically-minded kid, Bard said he hopes to go into the automotive or robotics industries.
Biodiesel will continue to be produced by future mechanical engineering seniors. Ryan hopes that eventually — if they have enough used oil — the biodiesel could be expanded to other transit buses and university equipment.
DeLozier said they haven't completed the project, but rather they have reached a milestone.
"I think that there are plenty of other achievements that are on the way," Delozier said.
During the Earth Day festival on April 19 in Centennial Mall, the name of the bus from a naming contest was announced; it will be called Hilly.
And in the many years to come, this project will continue to involve students and teach them to look past what is easily seen — to journey further.