As the winter chill approaches, it can be hard to not feel claustrophobic while cooped up inside all day. Lucky for you, WKU and Bowling Green have the perfect itinerary of fun-filled activities that will bring out the holiday spirit in all.
---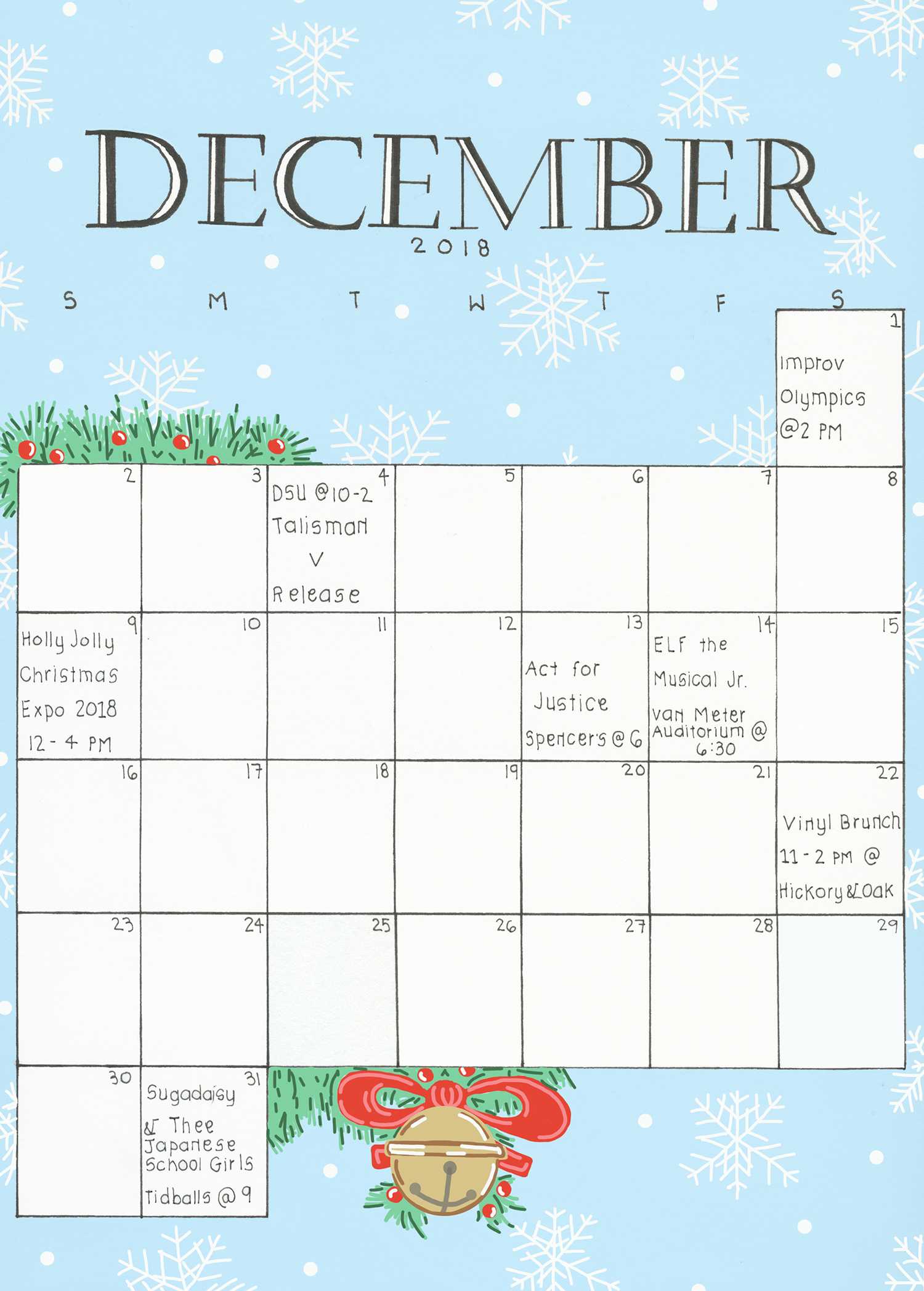 ---
Dec. 1
Improv Olympics
Sit back, relax and watch two improv teams battle to the death for the sake of comedy. Maybe it isn't that dramatic, but the Happy Gas Improv troupe won't disappoint. The show starts at 2 p.m. in Gordon Wilson Hall, and tickets are $3. Don't forget that it's BYOP: bring your own popcorn.
Dec. 4
Talisman Magazine Release
Do you enjoy art, culture and journalistic intrigue? What about having magazines thrust upon you by the smiling faces of our Talisman staff? Be sure to stop by Downing Student Union from 10 a.m. to 2 p.m. and pick up your very own copy of Talisman V, the latest and greatest edition of our beloved student life magazine.
Dec. 9
Holly Jolly Christmas Expo 2018
Even if you don't believe in Santa, this event from noon to 4 p.m. at the Sloan Convention Center is sure to bring out your inner 8 year old. Featuring an ugliest Christmas sweater contest, a gingerbread house competition, the real Santa Claus and over $15,000 in prizes, this free event is the perfect chance to find an abundance of "mom gifts."
Dec. 13
Act for Justice
Head over to Spencer's Coffee at 6 p.m. to enjoy grilled cheese and warm coffee while you listen to activists from the American Civil Liberties Union discuss their legislative goals and current judicial decisions.
Dec. 14
Elf the Musical Jr.
BG OnStage presents the stage adaptation of your favorite holiday movie in Van Meter Auditorium at 6:30 p.m. Christmas cheer is even better when combined with glamorous musical theater numbers, and this theatrical musical version is loaded with catchy songs and plenty of cute children. General admission is $8 for students and $10 for adults.
Dec. 22
Pie Queen of BG
Enjoy the best pie of your life when the Pie Queen of BG visits the Community Farmers Market. These made-from-scratch pies will definitely satisfy your taste buds, so be sure to stop by between 8 a.m. and 1 p.m.
Dec. 22
Vinyl Brunch
What's better than records and sausage links? How about enjoying those records and sausage links at one of Bowling Green's newest restaurants, Hickory & Oak? The brunch, which takes place from 11 a.m. to 2 p.m., includes a turntable from Mellow Matt's that is sure to make you feel like you're living out your Hallmark-movie, quaint-town-at-Christmastime dreams.
Dec. 31
Sugadaisy and Thee Japanese Schoolgirls
Tidball's becomes the ultimate New Year's Eve destination with two all-star bands on the setlist and an atmosphere that's sure to ring in 2019 with a bang. Listen to great music while drinking to the best and worst of 2018, beginning at 9 p.m.
---
No matter how you choose to spend your December, the Talisman wishes you a very happy holiday season. From improv to pies to bar crawls, make this holiday season one you'll never forget.