A shot pans in of a group of seven men with brightly-colored hair and clout goggles standing outside, fist bumping and dancing to a distant catchy tune behind a chain link fence with the word "YOUTH" spelled out in toilet paper. A menacing hooded figure appears. One of the men jumps the fence and stares at the camera, confused, while putting in earbuds. Loud and intense music starts in a build-up of tension that can only lead to something monumental. BTS comes in full force, dancing what is known by fans as one of their most intricate choreographies, with sharp and fast movements to each beat of the song, "Fire."
This BTS song from 2016 has racked up more than 647 million views as of April 17 on the music video and about 133 million streams on Spotify, even though it was released before they gained most of their fame. This music genre has been a part of South Korean culture since the 1990s and has gone beyond its fame in Asia to reach fans worldwide in recent years. This is K-pop.
Allison Francis, a freshman from Louisville, woke up to her alarm playing "Fire" every morning while in high school. She has been a fan of K-pop since 2016 when she fell down the usual "rabbit hole" on YouTube and came across the "Fire" music video. What drew her to K-pop were the messages behind the music, along with a distinct music style that combines musical elements from both Eastern and Western cultures.
"The way their music sounded was so different than American-style music," Francis said. "It really attracted me to it. It was like a breath of fresh air."
Error, group does not exist! Check your syntax! (ID: "1")
Francis thinks many fans resonate with K-pop more than American music because, despite the songs being in a different language, the messages are universal.
Olivia Blackmon, a freshman from Nashville, said some of the messages that can be found in K-pop songs include self-discovery while growing up and a questioning of existence, authority, money and significance, all of which she found were told through lyrics like interesting stories. Some of these songs include "Palette" by IU, "Melted" by AKMU and "Very Nice" by SEVENTEEN.
"Personally, I kinda got turned off from American music having the same materialist messages, and I really like that K-pop would have something to say about the experiences of life," Blackmon said.
In particular, BTS, which stands for Bangtan Sonyeondan in Korean, which means Bulletproof Boy Scouts in English, is known for themes of self love in their songs, which many fans have found therapeutic and helped them get through rough times, said Emily Finchem, a freshman from Nashville.
Felicia McCroskey, a freshman from Frankfort, once saw a phrase that she resonated with when it came to K-pop and particularly BTS: "You find them when you need them most."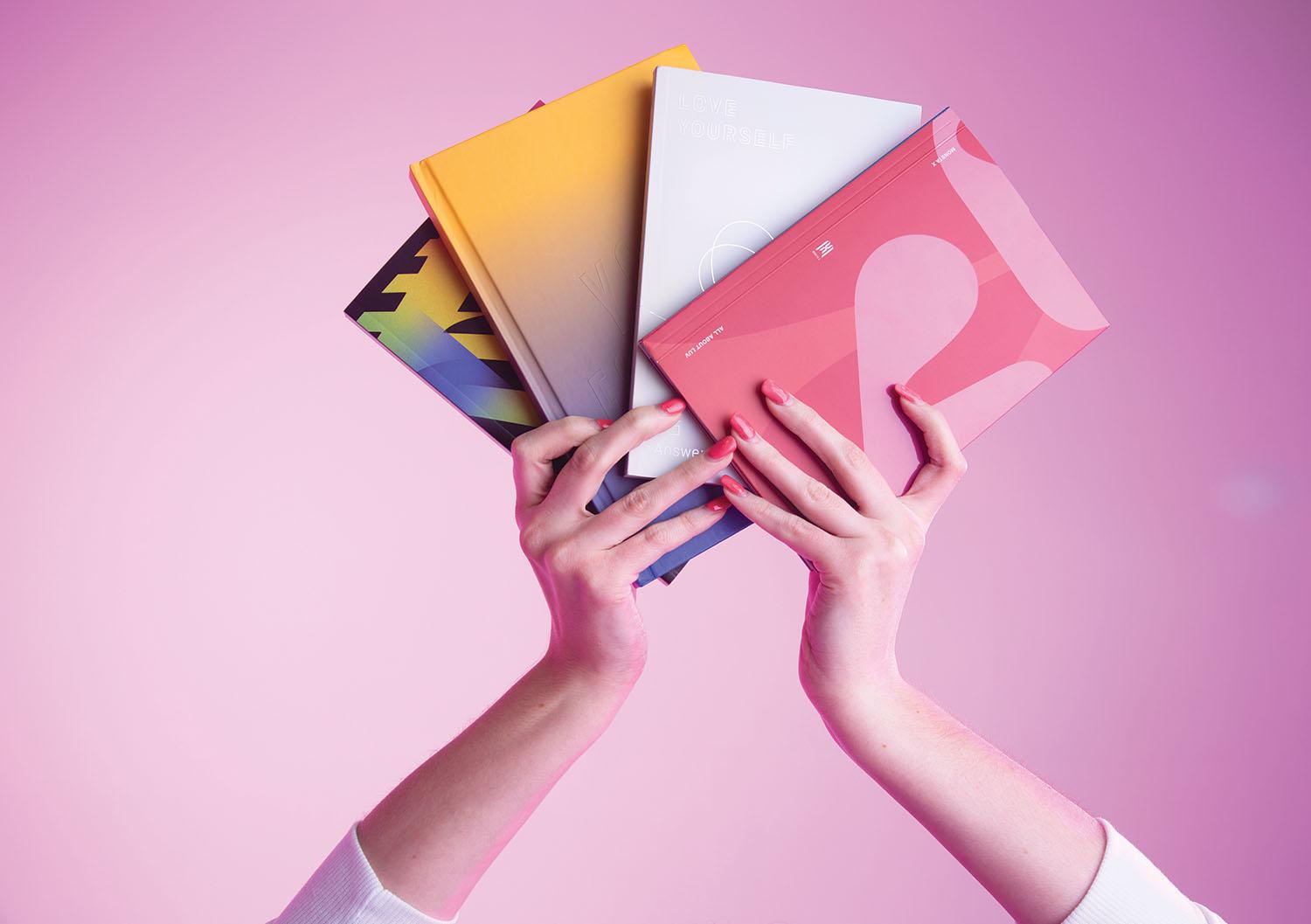 McCroskey said she got into K-pop a lot during her junior year of high school, a hard time in her life. On the days that were more difficult, she would turn to K-pop. She ended her Tuesdays by curling up under her covers when she was supposed to be asleep and watching BTS' reality show called  "Run BTS!" on her phone — the last thing she did in her day so she went to sleep feeling happy.
International K-pop fans tend to have a unique story for how they found K-pop, whether it was from a song recommendation on Spotify or from watching an episode of "Teens React" on YouTube. One feeling that connects many international K-pop fans is their experiences with stereotypes that come with liking K-pop and societal pressures for them not to show it off, Francis said.
"I feel bad because it's a part of my personality, I guess, because it's one of my interests," Francis said. "But also, I'm not to that point where I feel completely comfortable because even though it is becoming more accepted to be into it, people don't like what they don't know."
McCroskey said she thinks K-pop is slowly becoming more acceptable in pop culture in the U.S.
Much of the U.S. was first exposed to K-pop with the popularity of "Gangnam Style," Finchem said. K-pop has been in the U.S. for a while now, but recently something just clicked with fans. Through talk show appearances, YouTube videos and news articles, multiple K-pop groups have worked to make their presence better known through promotions in the U.S. media, such as collaborations with American artists and making appearances on American shows — a relatively new phenomenon.
"BTS really did open that door," Finchem said.
Error, group does not exist! Check your syntax! (ID: "1")
McCroskey has recently been more open in discussing K-pop with those around her. She said she was used to being a kid with interests that nobody cared to hear about, such as anime, books and emo bands. K-pop was like that for her at first, but as it is growing globally, she is getting over it and telling people she likes it.
"Usually, if you are a K-pop stan, it's a huge part of your life," McCroskey said.
The word "stan" is a fandom slang word for a more diehard fan that refers to the song "Stan" by Eminem and has been adopted by many different fandoms, according to Merriam-Webster Dictionary. As she has told people, she has found others in her life who like K-pop, such as her cousin, Frankfort freshman Noah Lyles. She said that shared interest has brought them closer together.
"When you meet somebody who also is into it and understands it, you become close in this way that you were never close in that way before," McCroskey said.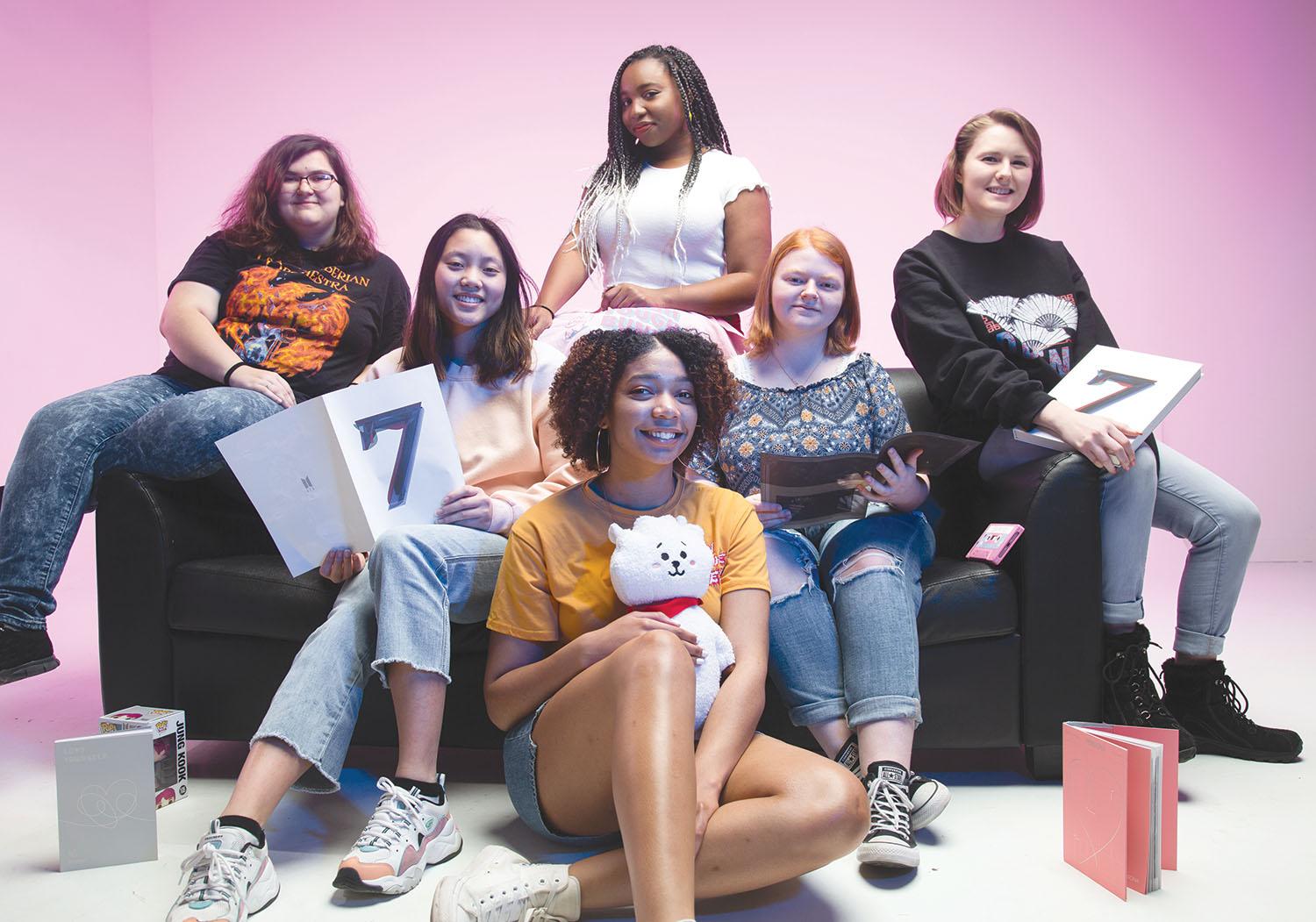 Lyles won't tell someone he likes K-pop unless they bring it up first. He said he isn't embarrassed about liking K-pop, but he believes it is still taboo, especially in places like Kentucky.
"People can have preconceived notions about what K-pop is — it's just a little different," Lyles said.
Lyles said it's harder for guys to get into K-pop, especially with the way the media portrays male K-pop idols as having brightly-colored hair, wearing makeup and dressing differently from Western culture's norms associated with masculinity. He said he's scared, at times, of what other guys would think of his interest in K-pop since most guys in the U.S. aren't used to breaking the norms.
"I think eventually it will get better, but right now, it's like guys aren't supposed to like K-pop in general," Lyles said.
Lyles, who is Chinese-American, was drawn to K-pop because he saw Asian representation and people who looked similar to him being popularized in a way he had not seen in the U.S. much before.
"It's cool that Asian people are being represented now, being noticed for their accomplishments in more mainstream media because we were always the minority," Finchem said. "There's a lot of negative connotations with that."
Error, group does not exist! Check your syntax! (ID: "1")
Finchem, who is also Chinese-American, grew up in the predominantly white South. She found K-pop in middle school and did not realize the impact it left on her at the time.
"I felt represented, in a way, and I realized that later on," Finchem said.
Finchem said she felt that Asian representation has been missing until recently, and K-pop is one of the ways she has seen this representation.
"Our biggest struggle right now as K-pop fans is trying to make people take us seriously."

-Felicia McCroskey
"I'd like to see K-pop make roads for greater cultural representation for all Asian cultures in America," Lyles said.
K-pop is exposing the U.S. to Korean culture, but there is a deep-seated issue of separation of cultures that becomes prevalent when this happens, McCroskey said.
"I always say there is a double standard," McCroskey said. "Americans expect that every other country is going to like our stuff. We expect it. If they don't, it's almost wrong. But when Americans like something that's not American, it's wrong — it's unpatriotic — it's weird."
Blackmon said she believes some people think those who find interests in other cultures like K-pop stans do so because they don't like their own culture.
"Maybe we see things we don't like as a result of looking outside, but that doesn't mean we hate and disown our own culture," Blackmon said.
When someone in America gets into K-pop, they are brought into discussions about other subjects related to culture, including globalization, the global economy and xenophobia, McCroskey said. She said K-pop has opened her eyes and made her more culturally aware than she was before.
It has made her more of an advocate for dealing with discrimination and injustice. She is more sensitive about noticing things and gets angrier about injustices than in the past. It made her open up to thinking about life differently and not just think about what it's like being an American listening to K-pop. Instead, she sees a more holistic worldview on K-pop, on how someone in a different part of the world approaches K-pop differently.
"I realize the importance of globalization and seeing things and accepting things that aren't English and realizing that it doesn't matter what a language is," McCroskey said. All that matters is that the music is good, and the people are good people, she said.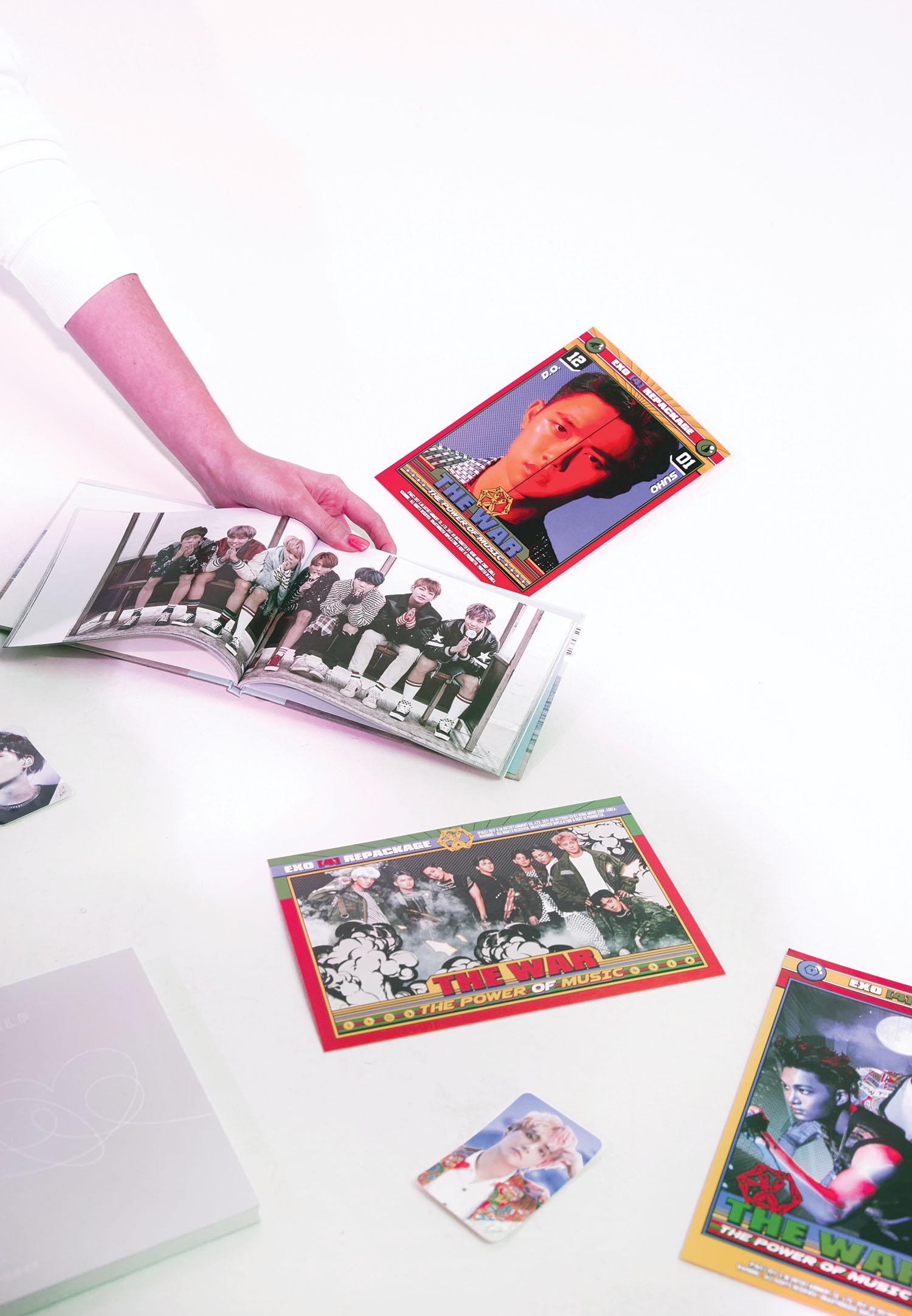 Blackmon has studied the Korean culture on a deeper level by learning Korean as she got into K-pop. She found K-pop through watching the music video for "DNA" by BTS in September 2017. For the next two years, she spent her free time learning Korean, originally by herself and eventually at the Korean School of Nashville alongside preteen students. She spent the summer before her freshman year in South Korea and got to experience Korean culture firsthand. Korean was the first language Blackmon taught herself, and because she was successful, she is now teaching herself to speak Spanish, Japanese and ASL, or American Sign Language.
"Since it's so tied to my identity as being a language learner and an explorer of different cultures, I feel like I can show people a side of being a K-pop fan that they maybe didn't see," Blackmon said.
Error, group does not exist! Check your syntax! (ID: "1")
As an African-American, Blackmon found it difficult at first to get into K-pop because it pulled elements from American music styles, many of which were heavily influenced by African-American music such as hip-hop, in order to appeal globally.
"We see this pattern — this pattern of people loving the style and swag of African-Americans and their music but not really loving us," Blackmon said. "You get that a lot here in America, but to see that in a place where they're not forced to face the problems of race that we have here because they're so far removed from us, it's just that feeling of someone loving your culture but not really loving you being there and things like that makes it sort of uncomfortable."
She said it was hard for many African-American fans to deal with at times, calling the elements in K-pop with signs of cultural appropriation kind of unsettling despite wanting to love the music. She has found online communities for African-American and minority fans to unite who are learning Korean and appreciate the culture.
"It was sort of a long internal struggle, but I feel like it was better for just finding my identity in general," Blackmon said.
"It's like it's a little secret club,
except it's not little."

-Allison Francis
K-pop has a stereotype on social media of fans  being single-minded and obsessed, but behind that, there is a very diverse fanbase with fans all over the world, and there is a learning curve for everyone dealing with that worldwide aspect, McCroskey said.
"We're viewed as 14-year-old crazy obsessed fans, and that's not really it," McCroskey said. "There's a common thread I see in K-pop stans, and we are all people that think deeply — we feel deeply, we are open-minded and we can appreciate things."
K-pop fans often get a bad rep from a select few in the group on social media in particular, but there are always those "bad eggs" who proliferate the stigma. Underneath that, it comes down to the music, McCroskey said.
"Our biggest struggle right now as K-pop fans is trying to make people take us seriously," McCroskey said.
Lyles said he hopes one day everyone can at least appreciate K-pop for what it is, which he thinks can be done by helping people realize what K-pop means to some people's lives. He said he definitely doesn't think he would be the person he is today if he hadn't started listening to K-pop.
Finchem went to WKU's Korean Pop Culture Club for the first time this semester and found it to be fun because there were many different types of people involved and no judgement about their shared interests.
"I feel like it would be helpful if they could contribute with the new love they have because I know you can feel like you have all this excitement for it but no outlet for it," Blackmon said.
K-pop connects so many people, and when someone notices others are into it, it's a conversation starter, Francis said.
"It's like it's a little secret club, except it's not little," she said.
Error, group does not exist! Check your syntax! (ID: "1")