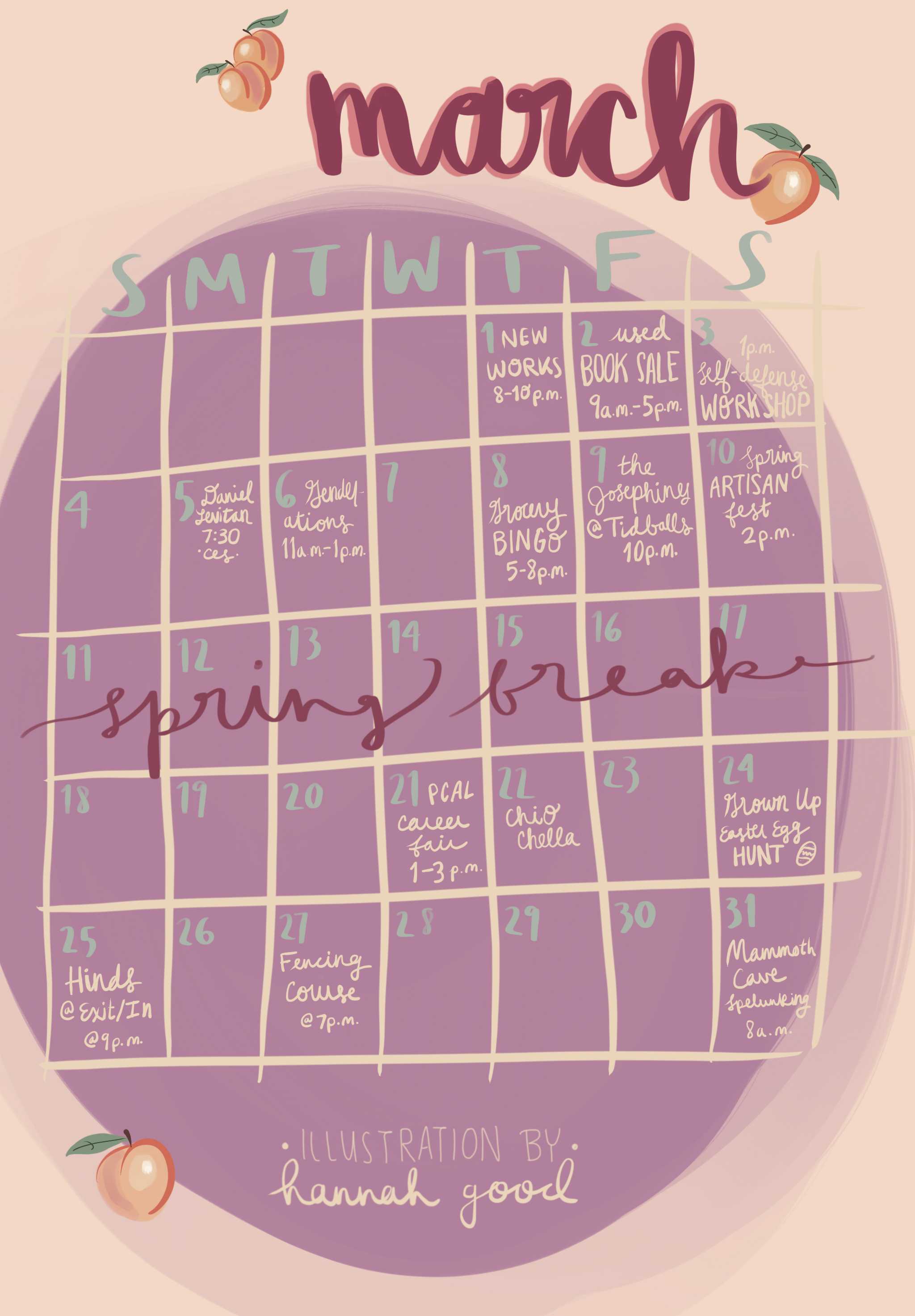 ---
Your Talisman web editors are back at it with another look at some of our favorite events in and around Bowling Green this month. As the weather warms up and cherry blossoms bloom on campus, we're excited for more outdoor events. Put that spring energy to good use with a self-defense course or go spelunking in Mammoth Cave National Park at the end of the month.
Support the arts at WKU by attending the 2018 New Works Festival, which features completely original student work. Music venues are filled to the brim with talent as local bands are preparing for spring and summer tours.
The first day of spring is just around the corner on March 20! We hope these events inspire and excite you for the new season.
Love, your Talisman web editors,
Emily Moses and Hannah Good
---
Thursday, March 1
The department of theatre & dance will present the New Works Festival, a celebration of original student work, from Thursday, March 1 to Sunday, March 4 in the Gordon Wilson Lab Theatre. Performances will be at 8 p.m. Thursday through Saturday and 3 p.m. on Sunday. Tickets are available online or in-person for a suggested $5 donation.
Friday, March 2
Who doesn't love cheap, used books? Save money, save paper and stock up on some spring break beach reading at the 2018 SOKY Book Fest Used Book Sale. The event will take place Friday from 9 a.m. to 5 p.m. at the Bob Kirby Branch of the Warren County Public Library. The sale will continue Saturday from 9 am. to 5 p.m. and Sunday 1 p.m. to 5 p.m.
Saturday, March 3
Hey, ladies and femmes, want to be your own bodyguard? Join the Kentucky Grapplers for a Women's Self Defense Workshop from 1-3 p.m. for a course on protecting yourself and your loved ones from physical attacks. According to the event's Facebook page, space is limited to 20 slots. You can pre-register for $20 online or pay $25 at the door.
Monday, March 5
Check out neurologist and musician David Levitin at 7:30 p.m. at Van Meter Hall for another installation of the Cultural Enhancement Series. As with any Cultural Enhancement Series event, this talk is FREE, so don't miss out on a great opportunity.
Tuesday, March 6
Join the gender & women's studies program for the Genderations conference on Tuesday, March 6 from 11:30 a.m. to 1:30 p.m. in the Faculty House behind Cherry Hall. The event will feature presentations by WKU faculty members Jessica Folk, an associate professor of English, and Audra Jennings of the Honors College.
Wednesday, March 7
WKU will welcome hypnotist Jim Wand on March 7 from 6-8 p.m. in DSU 1071. According to his website, Wand has an actual, literal doctorate in philosophy! We're not sure how or why this event is happening, but his website is "hypnotism.com," so this must be legit.
Thursday, March 8
Veteran Talisman readers may already be familiar with Hannah's adoration for Grocery Bingo. Join TopperWell from 5-8 p.m. in DSU 1037 for an evening of fun, education and free groceries. This month's theme is Bingocize, which means you'll be moving and grooving while you play.
Friday, March 9
Join Bowling Green's own alternative country outfit The Josephines as they return to Tidball's on Friday at 10 p.m. Bowling Green's 8 Track Love and Lexington outfit Johnny Conqueroo will round out the lineup.
Saturday, March 10
Before you head out of town for your spring break getaway, join Bowling Green artist collective the BG Makers for a Spring Artisan Festival from 2-7 p.m. at the A-Frame. The event will feature local artists selling their wares with everything from handcrafted macramé art to hand-turned wooden bowls. You might even see a few familiar Community Creators vets.
SPRING BREAK: MARCH 12–16
Tuesday, March 13
If you're stuck in town without spring break plans, consider trying out a new skill. Bowling Green Parks & Recreation is hosting a six-week Beginner's Fencing Course starting Tuesday, March 13 at 7 p.m. The course fee is $100 and all equipment is provided.
Thursday, March 15
Check out Blue Moon of Kentucky: A Folk Art Showcase at the beautiful House of Harper downtown. Kristin Harper will be launching her new line of hand-beaded vintage and handmade clothing. Stop by from 6-9 p.m. to browse the shop and don't forget to snap some photos at the floral wall set up by Jules Neeley.
Tuesday, March 20
First day of spring!
Wednesday, March 21
Bring a resume and wear your best professional dress because the annual Liberal Arts Career Fair is coming up on March 21. The event will take place from 1-3 p.m. on the third floor of DSU. Contact the Center for Career and Professional Development for more information about resources you need to prepare for the day.
Thursday, March 22
Join the sisters of WKU's Chi Omega sorority for their annual charity event ChiOchella at the Colonnade. All proceeds for the event go to the Make-A-Wish Foundation. Keep up with their Twitter page for lineup updates.
Saturday, March 24
For the price of $25, you can reclaim the youthful joy of childhood Easter egg hunts. The event takes place from 5-10 p.m. and proceeds benefit South Central Kentucky Kids on the Block, a touring puppet production that teaches elementary school children about diversity. And if you're like Hannah and Easter egg hunts make you viciously competitive, at least you can do it for a good cause.
Sunday, March 25
OK, this one kind of breaks the Bowling Green rule, but it's too good to pass up. Catch the Strokes' lead guitarist Albert Hammond Jr. in his role as a solo artist at Nashville's Exit/In. Better yet, the opener is Hannah's favorite band, Hinds, an all-girl indie rock band from Madrid. Tickets are $15 and the show starts at 8 p.m.
Tuesday, March 27
Now that you're a fencing pro, try your hand at theatrical fencing. The six-week course hosted by Bowling Green Parks and Rec, will take place on Tuesdays from 7-8 p.m.
Saturday, March 31
Join WKU's own ORAC for a day of spelunking in Mammoth Cave. The day will start bright and early at 8 a.m. and continue until 5 p.m. You can find more information on the event's Facebook page.
---
If you would like to submit an event for our consideration, send us an email at [email protected]. Events are reviewed and posted at the end of each month.
Happy March!