We've found the best of the best November events in Bowling Green. On campus, check out a free screening of "Night Moves" as part of the Gender Images and Sustainability Fall Film Series. If you're feeling adventurous, head up to Mammoth Cave for the National Park Service's Fee-Free Day on Nov. 11. And of course, remember to vote on Nov. 6. We hope you have a great November and an even better Turkey Day.
---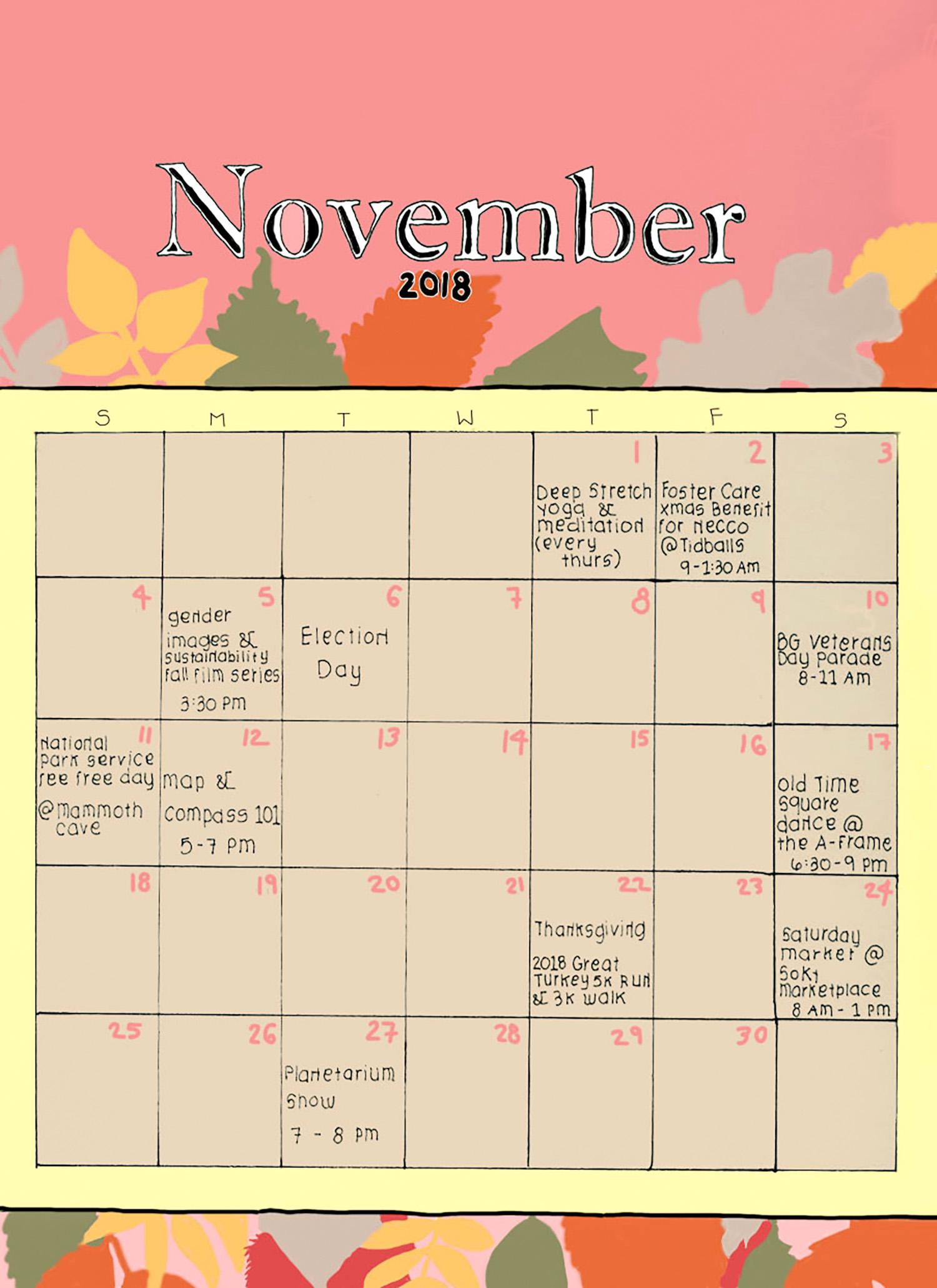 Illustration by Madalyn Stack
---
Nov. 1
Deep Stretch Yoga & Meditation
Relax and meditate at the Green Earth Stones, a metaphysical shop, every Thursday of the month from 6-7 p.m. Classes are open to people of all levels of experience and the cost is on a sliding scale of $5-$10.
Nov. 2
Foster Care Christmas Sponsor Benefit for Necco
Hang out at Tidball's during a live show to raise money for Christmas presents for the foster kids of Necco, a foster care service in Bowling Green. The doors open at 9 and the shows are 21+ with a $5 cover charge, all proceeds of which go to helping foster kids. Donations will also be accepted.
Nov. 5
Gender Images & Sustainability Fall Film Series: "Night Moves"
November 5

JRH Auditorium

3:30 pm
Enjoy a free moving showing of "Night Moves," a film featuring Dakota Fanning and Jesse Eisenberg playing environmentalists from Oregon. The showing is part of the Gender Images and Sustainability Fall Film Series and will take place in Jody Richards Hall Auditorium at 3:30 p.m.  
Nov. 6
Election Day
Get out and vote! Find your polling location here.
Nov. 10
Bowling Green Veterans Day Parade
Support our veterans and come out for a parade and flag-raising ceremony. The parade starts at Circus Square Park, goes around Fountain Square Park, and ends back at Circus Square. The parade starts at 10 a.m. and the flag-raising ceremony will follow.
Morning Teleportation/Desert Noises
Listen to some live music on a Saturday night at Tidball's with the return of Bowling Green's Morning Teleportation and indie rock band Desert Noises from Utah. The show starts at 9 p.m. and is 21+.
Nov. 11
National Park Service Fee-Free Day
Get outside and enjoy nature on National Park Service Fee-Free Day and take a trip up to Mammoth Cave (or any national park). While there is no fee, it is first come first serve, so get there early to ensure a spot on a tour.
Nov. 12
Map & Compass 101
Put away your phone's GPS and learn how to use a real map and compass at the Preston Center with ORAC. The event is from 5-7 p.m. and is free to any WKU student.
Nov. 17
Old Time Square Dance
Connect with your old time country roots at the A-Frame for a night of dancing and music for only $5. No partner or experience is necessary — just bring your dancing boots. Doors open at 6:30 p.m.
Nov. 22
2018 Great Turkey 5K Run & 3K Walk
Join the BG Road Runners and participate (or just watch and cheer on) the 2018 Great Turkey 5K Run and 3K walk to support local high school track and cross country teams. The 3K starts at 7:30 a.m. and the 5K is at 8:30 a.m.
Thanksgiving!
Gobble gobble.
Nov. 24
Saturday Market
Pick up some fresh eggs and produce and other assorted goodies from the SoKy Marketplace Winter Farmers Market inside the Historic Taylors Chapel from 8 a.m. to 1 p.m. every Saturday.
Nov. 27
Planetarium Show
Visit the Hardin Planetarium and learn a little bit about the world beyond Earth from a free show that is open to the public year-round every Tuesday, Thursday and Sunday.