Story by Josie Keeley | Photos by Cristina Betz
A lot of hard work goes into creating a good tattoo; inspiration and natural talent are only part of the equation. Tattoo artists spend years apprenticing before working professionally, and their mastery of skills only continues after that. They work in a variety of mediums from painting to digital art, and constantly explore new ways to create something beautiful. These tattoo artists of Bowling Green pride themselves on crafting art that their clients will carry with them for a lifetime.
Garrett Morrell
Garrett Morrell always wanted to be a tattoo artist, but didn't know it was an actual job until he joined the Marine Corps. He was offered an apprenticeship when he left the service. After working at a few different shops across the country, he opened his own shop — 31 Ink Tattoo Parlor.
Morrell sees tattoos as art. Almost everything he creates is a custom piece created for a client. He occasionally does Bible quotes or infinity symbols, but he still tries to give each tattoo some personal flair.
"The fun part of tattooing is the ability to make yourself unique," Morrell said. "The whole point of tattooing is to customize your body to the way you want it to look."
Error, group does not exist! Check your syntax! (ID: "1")
Morrell's personal style is drawn to the dark and abstract. He credits Picasso, Dali and the surrealists as artistic inspiration. Rather than just reproducing images, he chooses to give each tattoo a dose of originality while incorporating his customers' perspectives.
"'Memento Mori' is a phrase I've always gone by — remember your death," he said. "The more that you realize everything is temporary, the more you enjoy it. I like to throw a little darkness in every tattoo."
Ben Butts
Ben Butts originally went to college for art education but decided school wasn't for him. Through his art background, he was able to gain a tattooing apprenticeship.
Later in his career, he met and traveled with Frank Armstrong around the country exploring different tattooing styles. Eventually, they settled in Bowling Green where they opened Tattoo Heartland together.
Both Butts and Armstrong are fans of American traditional style.
"It looks good. It ages the best and it's a little more graphic, stylized," Butts said "It doesn't look like someone just spilled ink on you."
Butts has turned people away before when the design they requested was not something he felt he could create or would look good long-term. It's important to him to create something that is aesthetically cohesive with his and Armstrong's styles, but also fulfills the customer's wishes.
"I want someone to leave with value," he said. "I try to design a tattoo in a way that someone doesn't waste their time or their money. We work hard for your money because you work hard for your money."
Frank Armstrong
Frank Armstrong has liked tattoos since he was a kid, and his creative interest grew after seeing people with them.
"I always saw people on the lake with tattoos, and it was very obvious that they did their own thing," he said. "They played by their own rules."
Armstrong compares a good tattoo to building a house — in the same way a strong foundation is important to a house, he believes strong lines are essential for a tattoo.
Error, group does not exist! Check your syntax! (ID: "1")
"I just like when stuff is built the best it can be," he said.
Armstrong and Butts both believe tattoos are collaborative, and they will advise customers on what will look the best and last the longest. They want to create something the customer will be happy with, even if that means tweaking the original idea. Armstrong works five days a week at Tattoo Heartland, spending hours at a time researching, looking at pictures and sketching. This allows him to be confident in his ability to create quality work.
"We're image makers," he said. "To me, that's the job. You wanna give people what they want, but sometimes you have to dig into your experience and say, "You know what, man, it's not going to look the way you think
it will."
Armstrong is dedicated to his craft. Having traveled extensively, his style is influenced by what is popular nationally. He and Butts want to offer world class tattoos that you don't have to leave town to find.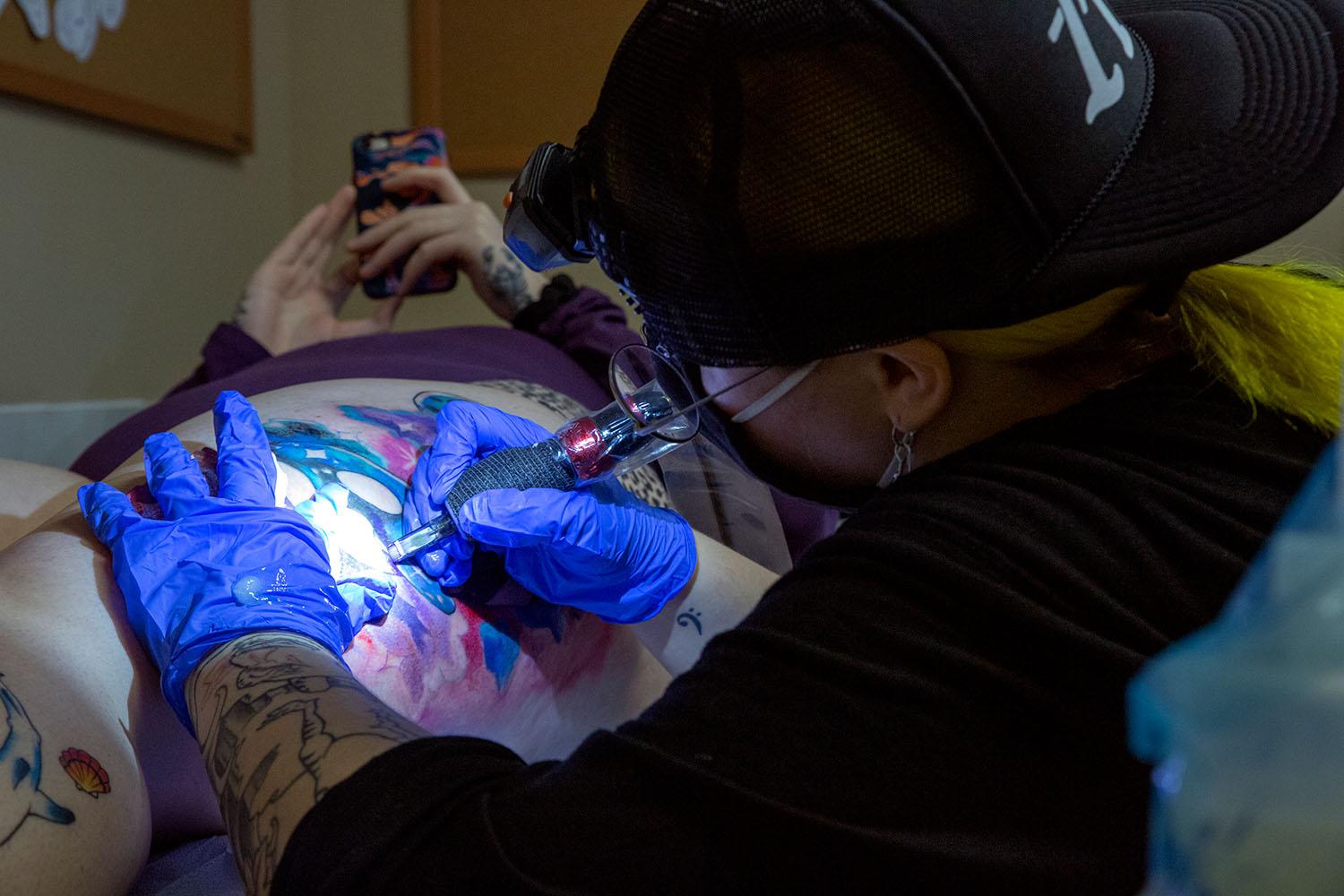 Sara Strange
Growing up, Sara Strange thought tattoos were "stupid," but that changed when she met some tattoo artists through friends. The "chill vibes" of the tattoo shop environment appealed to her. As a natural people person, Strange found it easy to converse with clients and artists alike. Eventually, one of the artists she'd met offered her an apprenticeship, and she now works at Age of Reason.
"It's the only job I want to do," she said. "I want to do it 'til I
can't anymore."
Strange uses words like cartoony, bold lines and colorful to describe her personal style. Although she likes realistic art, her specialty tends to be more whimsical.
In addition to tattooing, Strange works with both traditional and digital mediums to further develop her artistic skill set.
"Not every drawing can be a tattoo, so working with my tablet, I'm able to make something into a tattoo design a lot easier," she said.
Artistic integrity is important to Strange; she strives to make each
tattoo original.
"Why would you come to me specifically for something someone else has done?" she said. "If you're getting a tattoo from me, it's between you and me. Who wouldn't want something unique for them?"
The best way to get a tattoo you're happy with is to choose your artist carefully. Each tattoo artist has their own style and specialty, and each one wants to create a piece that will make you happy. Take the time to explore their work, collaborate on your tattoo and trust in their skills. This will allow them to create a lasting work of art that you'll love.