WARNING: Game of Thrones spoilers ahead so tread carefully
643 Sports Bar and Grill usually hosts their weekly trivia night every Wednesday at 7 p.m., but on Saturday April 13 at 6 p.m., they hosted a special trivia night in preparation for the "Game of Thrones" season eight premiere the following day.
"Game of Thrones" is a popular television series on HBO based on George R. R. Martin's series, "A Song of Ice and Fire." In a nutshell, the series follows a war among several families for the true ruler of Westeros.
As a huge GoT fan and the Talisman's resident trivia night expert, I had to give this trivia night a shot. I thought maybe I could finally win a trivia night for once since I've watched the series twice now while patiently waiting a year for the season eight premiere.
I took a large friend group with me, but only one of them had seen part of the series. So, I knew I wasn't going to receive much help during this competition, but I still held onto a glimmer of hope— my own expertise.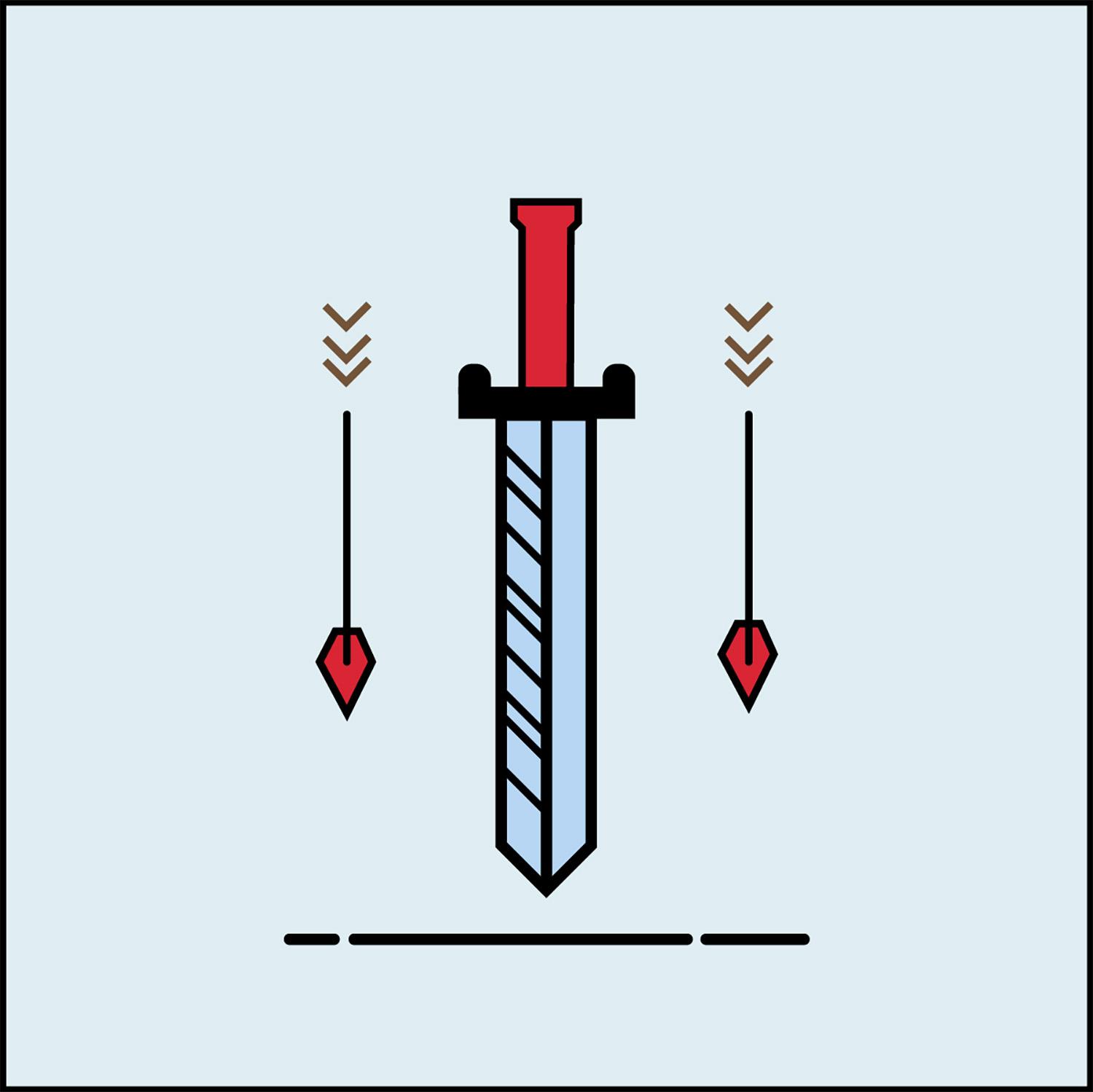 Almost every table was filled when we arrived a few minutes early, but I wasn't surprised because it was a Saturday night. Along with the themed trivia, the Nashville Predators were playing that night, so the bar was filled with people watching the hockey game. When you add in the Hot Rods playing right next door,you've got a recipe for a very busy, fun-filled night.
I was expecting people to go all out and dress up for the event, but I didn't see anyone with a costume. I didn't dress up myself, but that didn't lessen my excitement.
Since our group was so large, we were squeezed into a table in the corner. It was very loud in the dining room, so it was hard to hear the announcer.
I decided to name our team "We Know Nothing" which is a GoT reference for any fans out there. Some other team names of the night included Jorah the Explorer, That's so Three-Eyed Raven and A Team has No Name — all very appropriate and punny team names for the theme.
We ordered our food as soon as the trivia started. This time, I decided just to get the stadium fries, which are fries covered in cheese and bacon with ranch dipping sauce.
The trivia was no different than the weekly trivia at 643 except there were three rounds instead of just two. Some questions were easy, but others were fairly difficult, and I found I was struggling to come up with the correct answers. Some examples of questions were:
Who beheaded Ned Stark in season one?

Name all the direwolves and match them to the Stark they belonged to.

What is the response to Valar Morghulis?

Which character actually gets married at the Red Wedding?
The questions covered a wide range of topics in the show, and at halftime we had around 60 points. The restaurant continued to stay busy throughout the game, so it lasted around two hours, which was just enough time for me to get my fries and eat them.
We had 92 points before the final question, in which we could wager up to our total. However, the question was difficult, and I was unsure of my answer, so I wagered zero points and we ended the night with 92 points.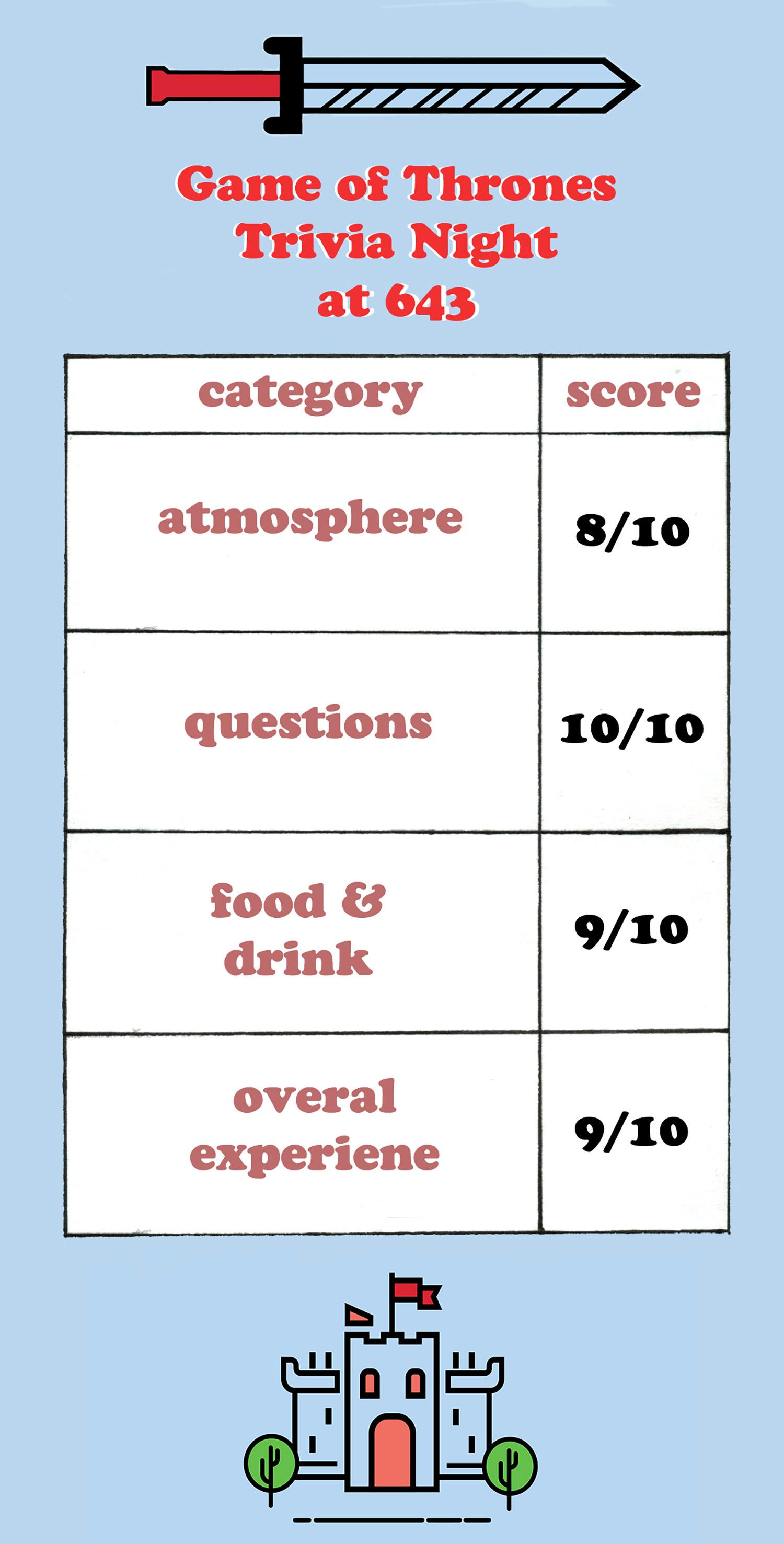 Overall, the trivia was loads of fun even if we didn't win. I learned that themed trivias are great if you're knowledgeable about the topic and part of the fanbase. I give this trivia a nine out of 10 points, because I love themed trivia and the ambience was very competitive.