Every Tuesday at 7 p.m., Mellow Mushroom hosts their weekly trivia competition. I've been to this trivia several times, so it's safe to say I'm a veteran at Mellow.
The crowd was the same as it is almost every Tuesday night. The crowd was a little larger than a regular Tuesday night crowd would be at other restaurants in Bowling Green.  
The roar of the crowd and music playing over the speaker was loud and made it a little difficult for me to hear my friend, Matt. There were lots of full tables specifically there for trivia, but mostly families just came to enjoy the pizza. The atmosphere is always very chill, but the competition of the trivia really livens up the ambience.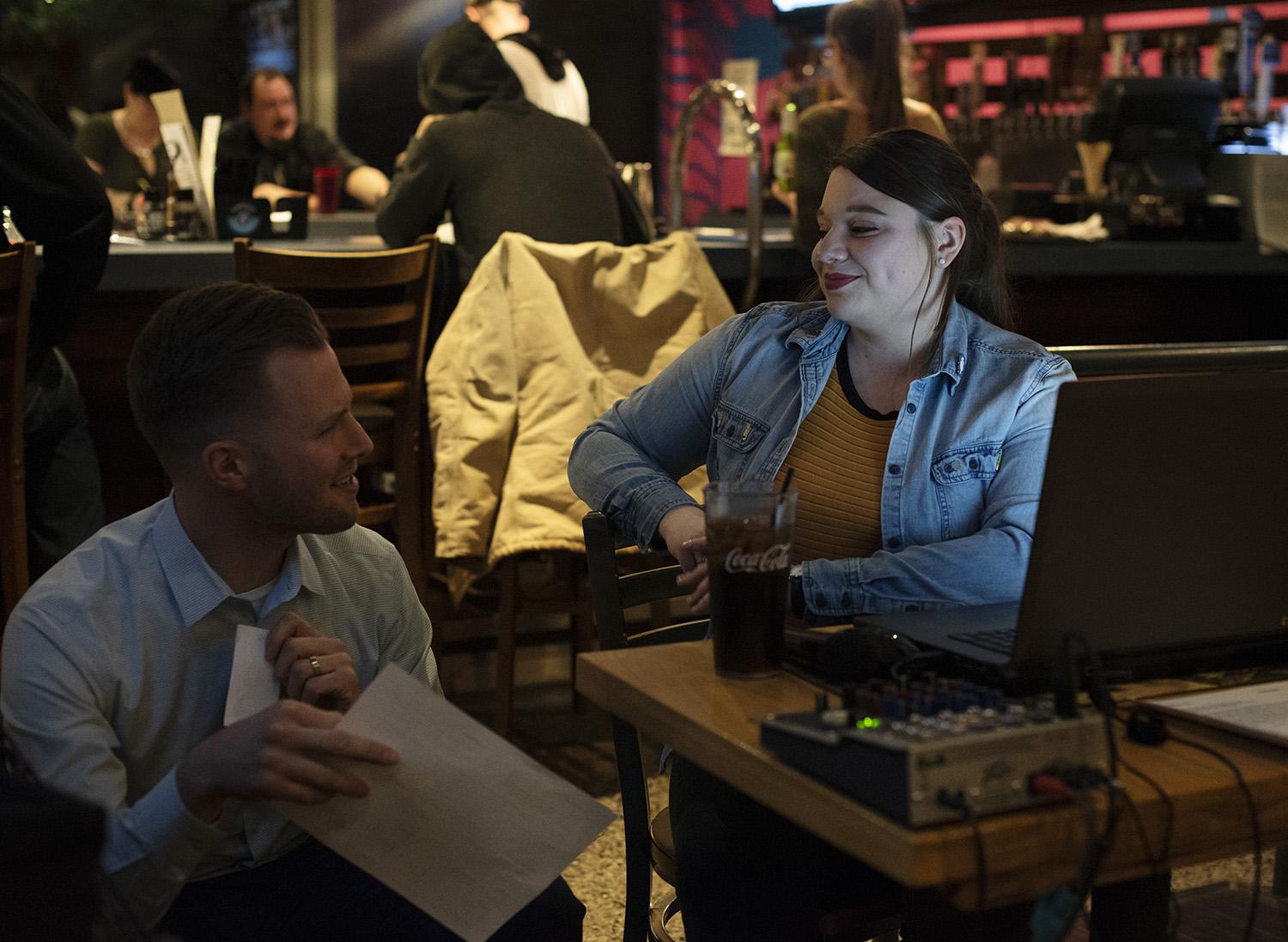 There is never really a theme to the trivia questions each week, but the trivia is divided up into two halves with three rounds in per half, equaling six rounds. There are three questions in each round. Each round is given its own category announced as players move through each round.
When I arrived on Tuesday night, I was seated in a good –– close enough to the announcer where I could hear the questions being asked, but not so close I left with a headache. The announcer is very difficult to hear in the bar area, so I would request a different table if you are seated back there.
I got all the things I needed from the announcer's table and ordered a Kosmic Karma pizza (my favorite). Matt and I deliberated on what name to give our team. We settled on The Be Flats (very cheesy and unoriginal, I know). For non-music lovers, a B flat is a musical note.
It's standard to have punny team names at trivia, so here are some team name suggestions: Tequila Mockingbird, Trivia Newton John, The Schisters, You're a Quizzard, Harry and Show Me the Monet.
When 7 p.m. rolled around, the announcer started with the early bird question that is worth two points. Don't fret, for those who can't make the early bird question, you can join trivia at any point in the game.
The early bird question was a doozy this week, but only because I don't keep up with sports statistics. This question varies each week and is usually centered around current pop culture and media.
In Mellow's version of trivia, players cannot lose points until the final question is asked when you can wager all your points for the big win. There's a whole point system that is a little confusing, but the announcer reads trivia rules before the game officially starts.
Winners of the night receive a $20 gift certificate for the Bowling Green Mellow Mushroom location. They also hand out a best team name award, which is a coupon for a free appetizer on the players' next visit. Matt and I did not win best team name, nor were we close to winning when it was time for the final question.
Categories of the night included geography, Spongebob, audio, science fiction, musical instruments and art terms. The last question involved listing five planets from largest to smallest.
Matt and I wagered all of our 24 points, but ultimately we mixed up Venus and Mars and ended the night with zero points.
Overall, it was another great experience at Mellow Mushroom, and I will likely go back. The trivia lasts about an hour and a half depending on how much time the announcer breaks between questions.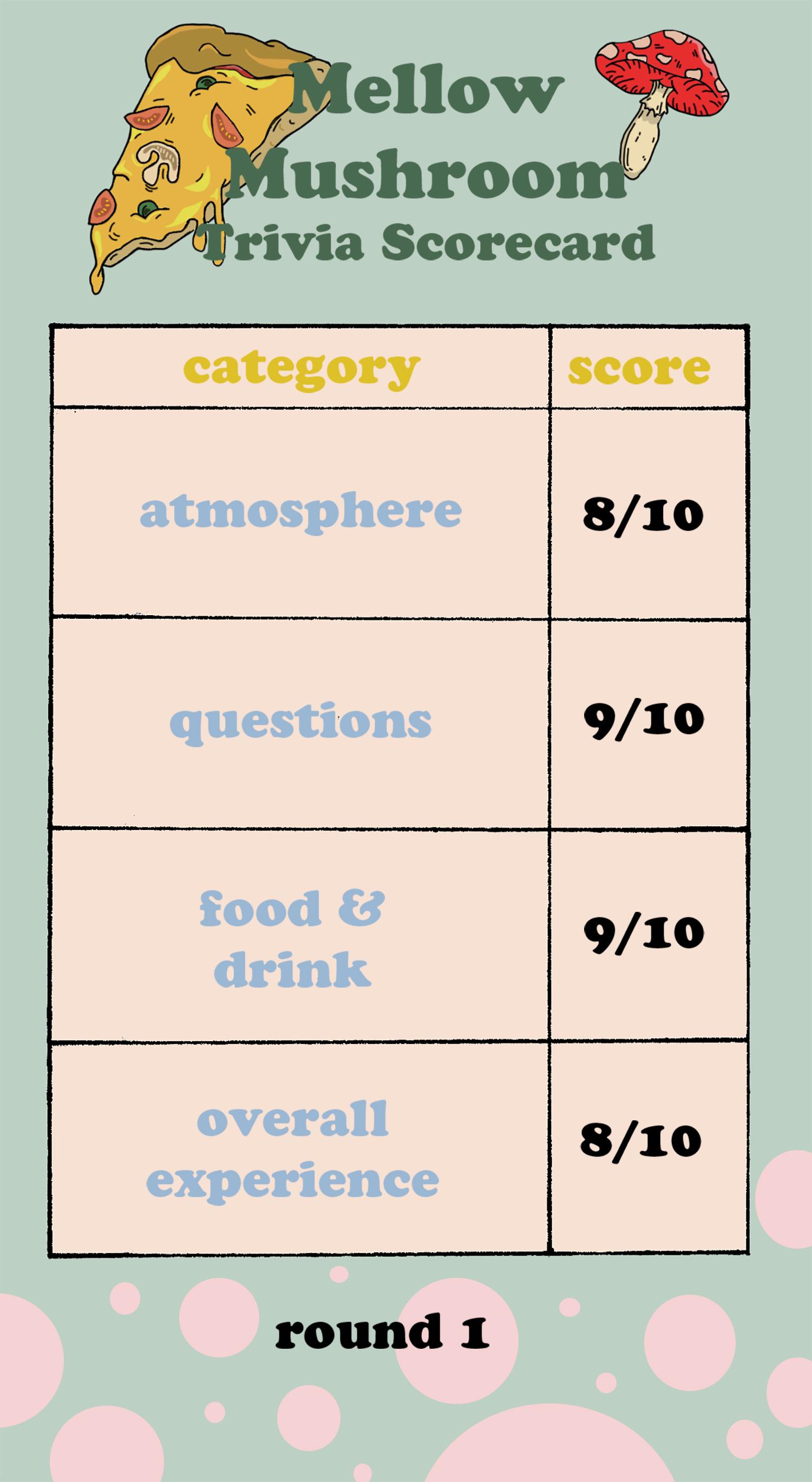 Having known what to expect, I give Mellow's trivia an eight out of 10 points. The only problems I have is that the announcers are sometimes hard to hear depending on where you are sitting and the music is a little loud.