On Saturday's brisk autumn evening, people meandered into Spencer's Coffee — some to hunker down and do homework, others to get a much-needed caffeine fix and many to settle in for a night of storytelling.
The shop's art-covered brick walls, warm lighting and faint aroma of coffee made for a cozy venue. A sizable crowd gathered in the space reserved for the event, the air buzzing with excited energy as guests waited to hear former study abroad students share stories of their experiences.
"There is nothing that connects people like sharing stories," said Hilarie Spangler, a New York City senior and study abroad student representative who served as the event's host.
The Office of Study Abroad and Global Learning sponsored the event, called StorySlam: Serendipity. The event, organized and hosted by the Office of Study Abroad and Global Learning storytelling committee, was intended to encourage former study abroad students to share stories of their experiences abroad.
Many students had signed up in advance to speak and share their experiences, but the event morphed into a sort of open mic night as audience members, both current and former WKU students, were inspired to tell stories of their own. The speakers all stuck close to the event's theme of "Serendipity," sharing tales of happy accidents and pleasant surprises from their trips abroad — some of which included transportation mishaps, getting lost or sick and strange interactions with locals.
Emilie Gill, a WKU alum from Allensville, told a story that included all three. Gill wove a tale of her time in Ireland that involved losing her voice from pneumonia, getting separated from her tour group and missing a boat she needed to take. Though the circumstances sounded bleak, Gill emphasized how she turned her negative situation into a positive experience.
"This series of unfortunate events led to one of the most fulfilling moments of my life," Gill said when introducing her story, which ultimately concluded with her snapping a photo of one of the world's rarest birds and meeting a woman she now considers her pen pal and close friend.
The audience voted hers the "best story" in the contest at the end of the night.
Bryson Keltner, a WKU graduate from Edmonton who now works as an office associate for the Office of Study Abroad and Global Learning, told a story of one of his favorite experiences from Semester at Sea. He was sightseeing in France, enjoying the French architecture and trying to explore old cathedrals, when he and his friend accidentally crashed a funeral. He said at the moment, the experience resulted in quite a bit of embarrassment and a lot of laughter, but over time it has helped him come to an enlightening realization.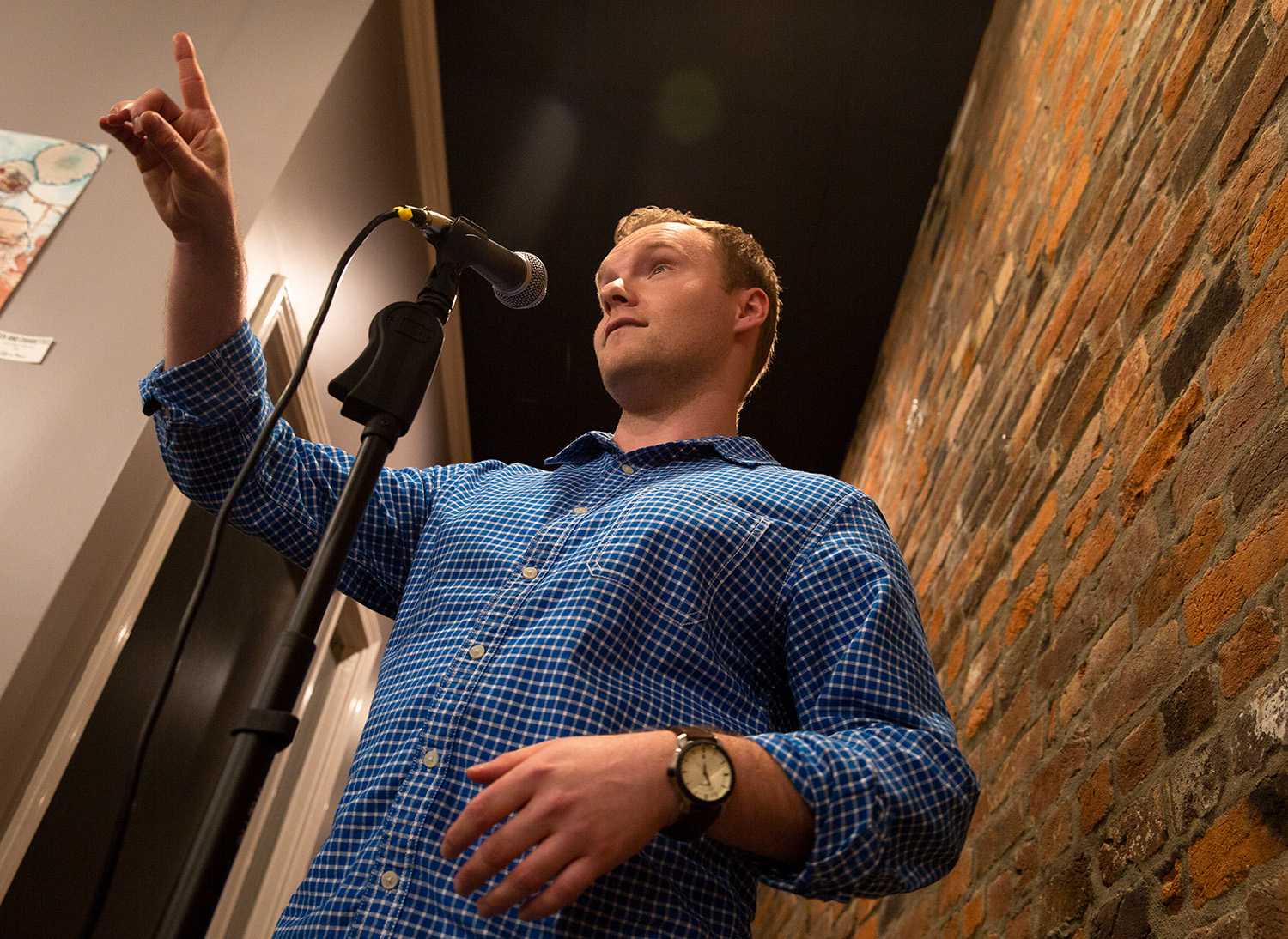 "Weird things are going to happen," Keltner said when concluding his story. "But it's how you react to those serendipitous moments that determines what kind of traveler you are."
Madison Martin, a WKU graduate from St. Joseph, Michigan, said students interested in studying abroad need to expect the unexpected.  
"For as many things you can plan for your study abroad trip, there are still things you can't prepare for," Martin said. "Once you get there, you need to be open because that's when you learn the most about other people and yourself."
Krista Erickson, a staff adviser for the Office of Study Abroad and Global Learning, said the office plans to sponsor more events like StorySlam in the future, perhaps one each semester. Erickson also said future events would probably not be limited to students with study abroad experience; the goal of the storytelling committee is to encourage everyone to tell their stories.
"Events like this are a great way to get more WKU stories out to the community," Erickson said.