I never imagined that working the opening shift at American Eagle in the Greenwood mall on a late October Saturday could be a good thing.
That morning, a young guy walked in as soon as my manager and I open the doors. I could tell that he seemed a little nervous as he stood by the sock display for a little while. He finally came up to the register and put down two pairs of socks.
He asked me which I liked best, and I asked him if he was getting them for any particular reason.
"I am proposing to my girlfriend today, and I want everything to be perfect, even my socks," he said.
I immediately shifted into "aww" mode and picked a pair. He agreed, bought the socks and my manager and I wished him a wistful "good luck!" as he left the store. I didn't catch his name, so I had no way of tracing him.
For months, my manager and I would often bring up the "Sock Guy." We hoped he was OK and that everything went smoothly. Most of all, we hoped his girlfriend said yes. Even after I stopped working there, I would often wonder how the Sock Guy was doing. I had come to the terribly dissatisfying conclusion that I would never know.
That is, until I stepped into my 8 a.m. English class at the beginning of this semester.
There was a guy sitting across the room, and I couldn't shake how familiar he looked. It didn't hit me until the second week of classes that it was him: Sock Guy, in the flesh. After an hour of fidgeting in my seat, I hopped over and tapped him on the shoulder. Harrison Spires, a Bowling Green junior, turned around.
"Hey Harrison, this is going to be a weird question, but did you propose to your girlfriend a few months ago?" I asked.
His face lit up, and I already felt the sweet release of an answer I'd been pining over for a solid four months.
"Yes I did," he said.
I asked him how it went, and I reminded him of that morning at the mall. He said he remembered me, and the socks were perfect.
Oh, and of course she said yes.
The satisfaction of finally knowing the fate of the Sock Guy goes down in my own personal history book. The more I learned about Spires and his proposal to his now-fiancé, Bowling Green junior Sarah Sinclair, the more I realized their story is a whole new level of sweet.
Spires said that it all started in October 2015, on their one-year anniversary. When he woke up that morning, he still hadn't gotten a gift for Sinclair.
"Thankfully, the Lord gave me the idea to go and ask Sarah to send me her five favorite pictures of us from that first year together," Spires said.
She sent him five pictures, and Spires took his phone to Walgreens to print a few copies of each. He made a note of each photo's dimensions and went to a couple local consignment stores to purchase frames of the same size.
"By the way, Sarah was in class all this time, and I skipped my classes in order to get this done," Spires said. "Sorry, Dad."
Spires painted the frames and cleaned the glass, so they were perfect. He wrote "Will you marry me?" on the backs of the five pictures — one word on each of the first four photos and a question mark on the fifth.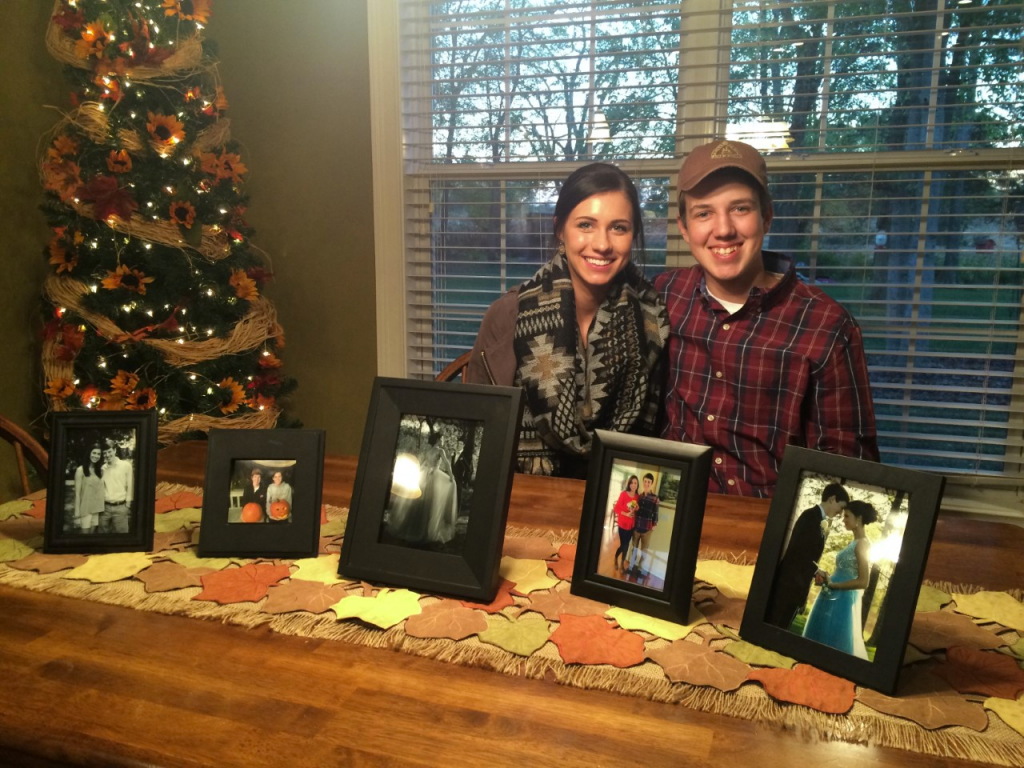 "I got all of this done and put the pictures in the frames and gave them to Sarah that night when we went out to eat for our anniversary," Spires said. "She had no idea that those words were written on the back, and the frames sat on a shelf in her room for that entire next year."Now, let's fast forward to the morning of the proposal and the sock-buying situation when I first met Spires.
They had dinner plans in East Nashville the evening of October 22, 2016. Spires had spent the last six months saving up for Sarah's ideal engagement ring with his self-titled "ten dollar Tuesdays," in which he'd place a $10 bill into a jar in his room labeled "for something special."
He got her parents blessing and the perfect socks. But before they left for their date that night, Spires suggested a new anniversary tradition.
"I told her that I thought it would be a good idea to pick five new pictures from our second year together and switch them out as an anniversary tradition," Spires said. "Before we left, I had her bring down the pictures from her room, so we could go ahead and switch them out. She brought them down, and, of course, when we took the backs off of the pictures, the words were there, and I got down on one knee and proposed."When I walked up to Spires after class a few weeks ago, I was not expecting to melt into a puddle because of one of the most romantic and well-planned proposal stories I had ever heard. I just wanted to know if the socks worked OK. I'm so glad they did.
Congratulations to Spires and Sinclair on their engagement!