The festival also boasts a mysterious, unspoken tradition: pineapples.
At Thursday's set featuring Spoon, Portugal. the Man and the Weeks, I spotted three pineapples lofted above the crowd by separate groups. As the show went on, the pineapples floated closer to one another until they united to dominate their own section of the crowd, at times eliciting chants and cheers.
I spoke to one of the pineapple-bearers, Belmont University sophomore Mack Taylor, about his decision to bring a pineapple to the festival and the impact it had on his festival experience.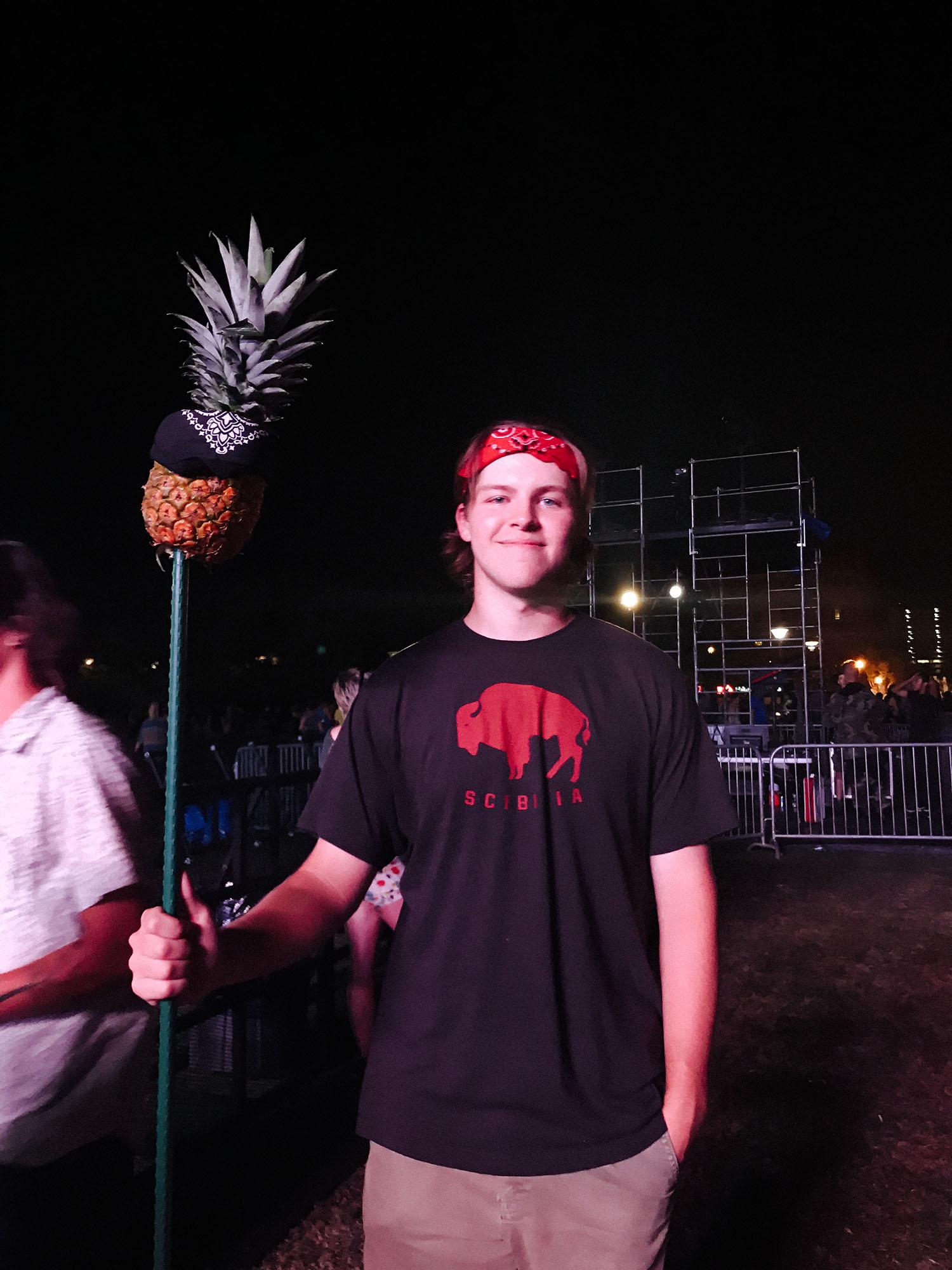 Q: Why did you bring a pineapple to Live on the Green?
A: Last year, me and my friends went [to Live on the Green], and we saw this dude holding up a pineapple. Everyone was like, "He's the coolest guy ever." So I was like, I wanna be that guy next year. But, we thought, we have to do something a little extra. So we went to Home Depot, got a stake and threw [the pineapple] on top and now we have a, uh, 6-foot-tall pineapple stand.
Q: Is your pineapple affiliated with the other pineapples at Live on the Green?
A: No, it happened because I saw [other people] do it, so I thought I'd take a stab at it. We went and found [the other group holding a pineapple] so we made our way to their pineapple. They totally embraced us.
Q: A pineapple party, you might say?
A: Yeah! It was like, "Brothers, come here." A pineapple brotherhood.
Q: Your pineapple is wearing a bandana. Why?
A: We got halfway through the second act, and we thought we need to step it up just another notch. Let's throw a bandana on it and give it some personality.
Q: Is it heavy?
A: Yes, very.
Q: Are you going to eat it?
A: Oh, God no.
Q: Which do you like better: music or pineapples?
A: Oh, that's tough. I guess I like music more, but the pineapple definitely enhances the music experience.
Q: So they go hand in hand?
A: I think they do, yes.
Q: Did you get a girl's number because of this pineapple?
A: Possibly, yes.
Q: What other experiences do you owe to this pineapple?
A: I owe a lot of group chants from the entire crowd. A lot of Snapchats, I think, from what I've heard. And a really great concert experience.
Q: What would your night have been like without the pineapple?
A: Probably not as fun. Probably would have stood here and gotten sweaty. It would have been good music but not quite the experience the pineapple offers.