Sept. 20 marked an important day for both me and one of my favorite artists of all time, Marina Diamandis. It was my first concert in Nashville, and I attended it solo. I was radiating nervous energy from the time I parked in the cheapest garage I could get reservations for to my arrival at Ryman Auditorium filled with strangers.
Somehow, seeing the crowd full of unfamiliar faces was calming. I didn't know any of them, but I did know they were there to see Marina. This commonality was significant enough that it put my mind at ease. The girls filing into their seats next to me casually began conversation, asking me what my favorite Marina album is. It was a tough question, but I had to go with "The Family Jewels."
For Marina Diamandis, the night marked her first performance in the city, which surprised me considering she's been in the music industry since 2009, with four albums and several tours under her belt.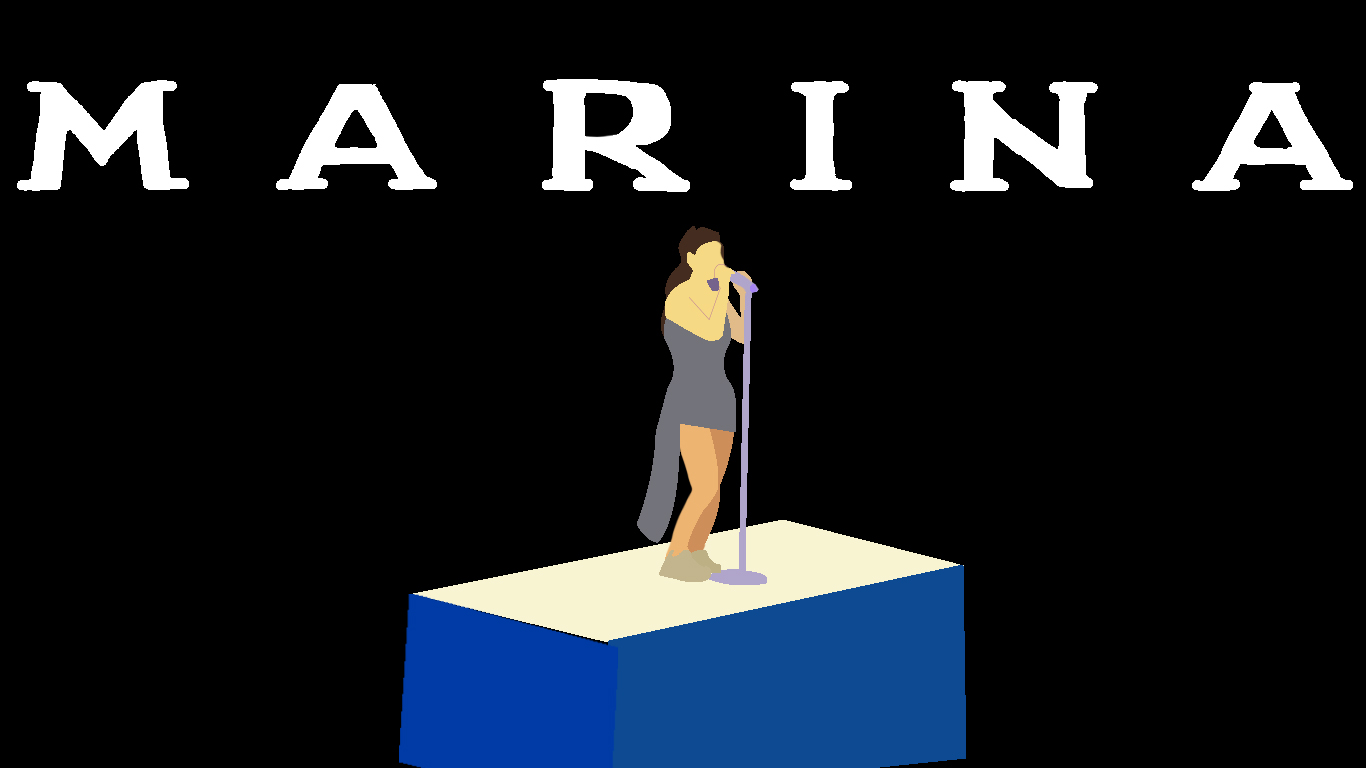 "I can't believe I've never toured to Nashville before!" Marina exclaimed, barely winded after carrying out the intense choreography of "Bubblegum Bitch." The crowd cheered once again. 
"You all seem like such happy people," she continued, pausing to take a drink of water from the side of the stage. Because, of course, Marina is human and needs to tend to her basic human needs, like staying hydrated. She's not a goddess walking among humans, even though it's tempting for a long-time fan to view her as such.
The spirit of the self-effacing "Love + Fear" tour can be summarized in one song title from the album, "To Be Human."
Marina, formerly known by the stage name "Marina and the Diamonds," now headlines with the stripped down title as "Marina." She said on Twitter it felt like a natural transition in her career to change her stage name.
She took a break from music in 2016, leaving fans wondering if and when she would make a return. Her highly-anticipated fourth album "Love + Fear" was finally released in April, 2019.
Marina has masqueraded onstage as multiple personas over the years, gaining the classification of a concept artist. Her first album, "The Family Jewels," saw a young and ambitious version of Marina, lusting after the promises of fame and fortune. Her album "Electra Heart," which just recently surpassed 500 million streams on Spotify, was entirely based on her own fictional character. "Electra Heart" presents a biting narrative, complete with girlish imagery for the glamorous character who chases after boys in pink dresses with a heart drawn on her cheek. 
Following "Electra Heart," her album "Froot" was Marina's self-confidence moment, with rainbow neon visuals and slinky dresses to emphasize her growth as not only an artist, but as a woman.
Perhaps one of the most prominent recurring themes of Marina's work is fear. In "The Family Jewels," she explores her fear that she won't succeed and meet the expectations she has set for herself. Under the guise of a serial heartbreaker, "Electra Heart" is a study of the dominating role she plays in relationships because she's afraid of genuine love. "Froot" expresses throughout its lyrics that she deeply desires to be vulnerable. She's not quite there yet, but she reveals a spark of hope that someday soon, she will be.
This is where fans were left off in the pop-centric journey of the artist.
It's obvious through her "Love + Fear" tour performance that she has finally embraced everything she was once afraid of, shedding her fear-ridden persona.
An unexpected aspect of the concert was that she took her album title quite literally. The show was split up into two acts, the first celebrating her love-centric songs from her discography, and the second putting her fear-driven songs on display. This made sense for her show since her album is split into two parts. The "love" part of the album has eight songs, as does the "fear" part. 
To demonstrate this transition, two of her four backup dancers performed a moving contemporary dance to "Believe in Love," in which Marina sings candidly about her experiences pushing away love in favor of fear. This wasn't the only shining moment for the backup performers, who Marina made a point to introduce by name, calling them "her family." The dancers were featured heavily throughout the concert, framing Marina with neon lightsabers during the song "Froot," holding hands in a circle during "To Be Human" and striking Vogue poses with pom-poms when Marina sang "Hollywood."
As someone who has been a fan since "The Family Jewels," most of the concert highlights for me were all the older songs. Immediately after crooning "Handmade Heaven," the opening song of the concert, she pulled out the big guns. 
"This one's for all my primadonna girls and boys out there tonight," she coyly hinted, before singing everyone's favorite over-dramatic classic, "Primadonna" from her "Electra Heart" album. 
When she changed into a Care Bear inspired top and shiny pink shorts for the second half of the concert, she cheekily added, "I feel like Electra would've approved of this outfit!" This earned cheers from her audience, delighted to hear her recognize the former era with such affection.
Something I found especially powerful was the parallel created between her performance of "Teen Idle" and "I'm Not Hungry Anymore." If you don't recognize the latter of those two tunes, it's because "I'm Not Hungry Anymore" was written for the album "Froot," but didn't make the cut. The demo version was eventually leaked in October 2017, over two years after "Froot" was released.
The fact that the finished product was never officially released didn't stop the dedicated fans at the Ryman, who sang along to every word.
"Teen Idle," traditionally a haunting pop melody, was played as an emotional piano ballad with purple lighting and stars projected behind her. The lyrics portray Marina at her songwriting best and her emotional worst. "I want blood, guts and chocolate cake. I want to be a real fake," is what she sang into her microphone, taking a dramatic pause before carrying on into the chorus. 
Later, the stage crew would roll out the piano once again, complete with the exact same violet lighting and starry background, to sing, "Been feeling like myself more than ever before. And now I'm not hungry."
The concert was everything a fan could dream of. Marina's iconic stage presence and her backup dancers' unfailing energy made for an unforgettable night. I left the show beaming — not just because I was still buzzed with excitement, but because I was glad to see Marina so full of love rather than fear.