Let's make this introduction quick, because we have a lot of ground to cover. In March, we at the Talisman published the Bowling Green Bucket List, which included 10 essential activities to complete before graduation. With so little time left until graduation, our web visuals editor (and my best friend) Emily Moses and I set out to complete all 10 items in just one week. The resulting week was one of memories, laughter and strange times I'll treasure forever.
Tuesday, April 23
4 p.m.

Our first activity was to visit the epicenter of Vette City: The National Corvette Museum. And I'm thrilled to report: I saw the sinkhole.
Emily and I bought our tickets for $12 a piece (the museum has no student discount), and the cashier told us it would take about an hour to navigate the whole museum. In fact, we sped through the exhibits in roughly 10 minutes, because we were on a single-minded mission toward the Skydome, where the cave-in took place.
In my imagination, I pictured myself on a platform above the sinkhole gazing into the depths of the earth whilst I pondered the fragility of life — and sports cars — similar to the view of this photo.
Rather, the sinkhole exhibit is … a panel in the floor. Two squares of plexiglass cover  a manhole-sized tunnel giving a glimpse of the sinkhole's remnants. The rest of the cave-in, as the exhibit explained, was filled with concrete after the tragedy. The real stars of the show were the recovered Corvettes. Those dirty boys lay heroic amid the showroom lighting of the rotunda, their wheels caked in the red dirt of Kentucky's karst landscape and their windshields smashed to opalescent glass amid their compacted seats.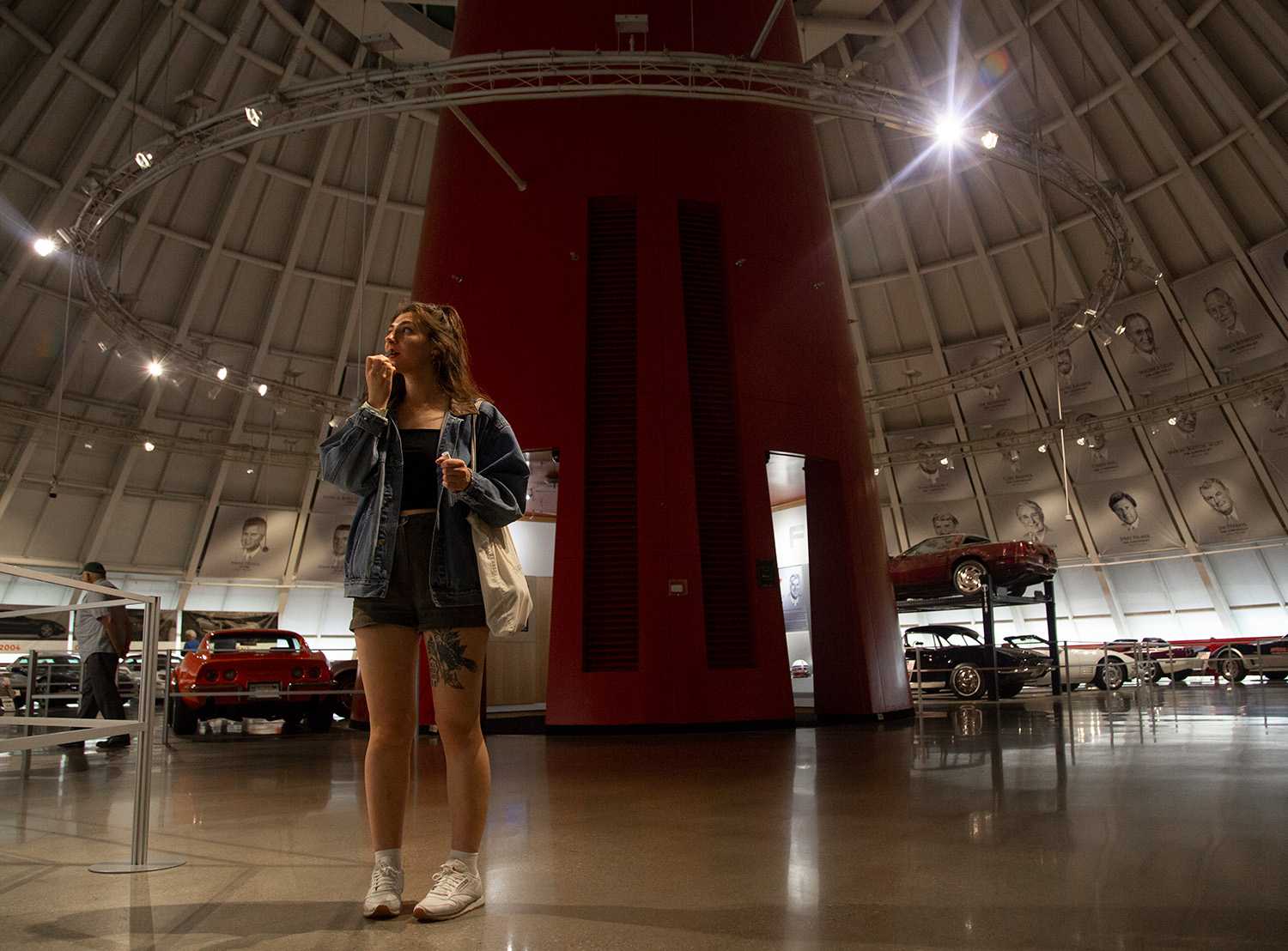 "I feel like I'm meeting a celebrity," I said to Emily as we gazed upon these hallowed survivors.
We left the museum utterly glowing and giddy to experience such a fabled part of our town's history.
Wednesday, April 24
5:30 a.m.

We visited GADS around 5:30 a.m. so we could combine two items on the list for efficiency — we only had a week, after all. However, I think breaking my veganism was the more crucial element of this item for me personally.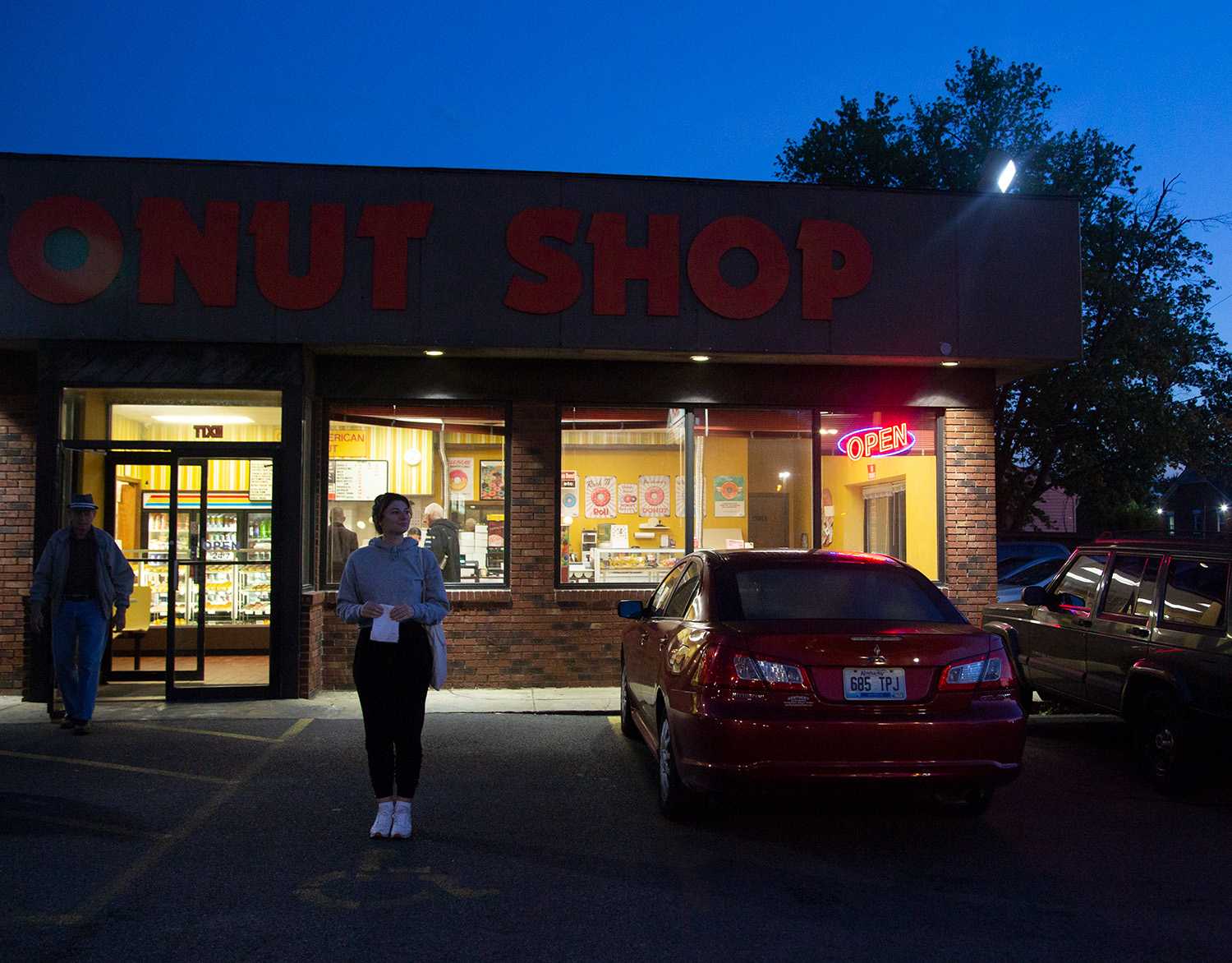 It was a warm morning, though the sun was not yet out. We were the lone patrons at the early hour, save for a pair of elderly men loudly considering whether to cut their grass that day. Being awake so early made the whole world feel like it was ours.
I opted for a strawberry cake and a Bavarian cream, which ranked first and third in our controversial ranking of every GADS doughnut. I took my first bite of a non-vegan doughnut in four years. Emily, who is gluten intolerant, took an ill-advised bite herself.
"I forgot how good doughnuts are," I said.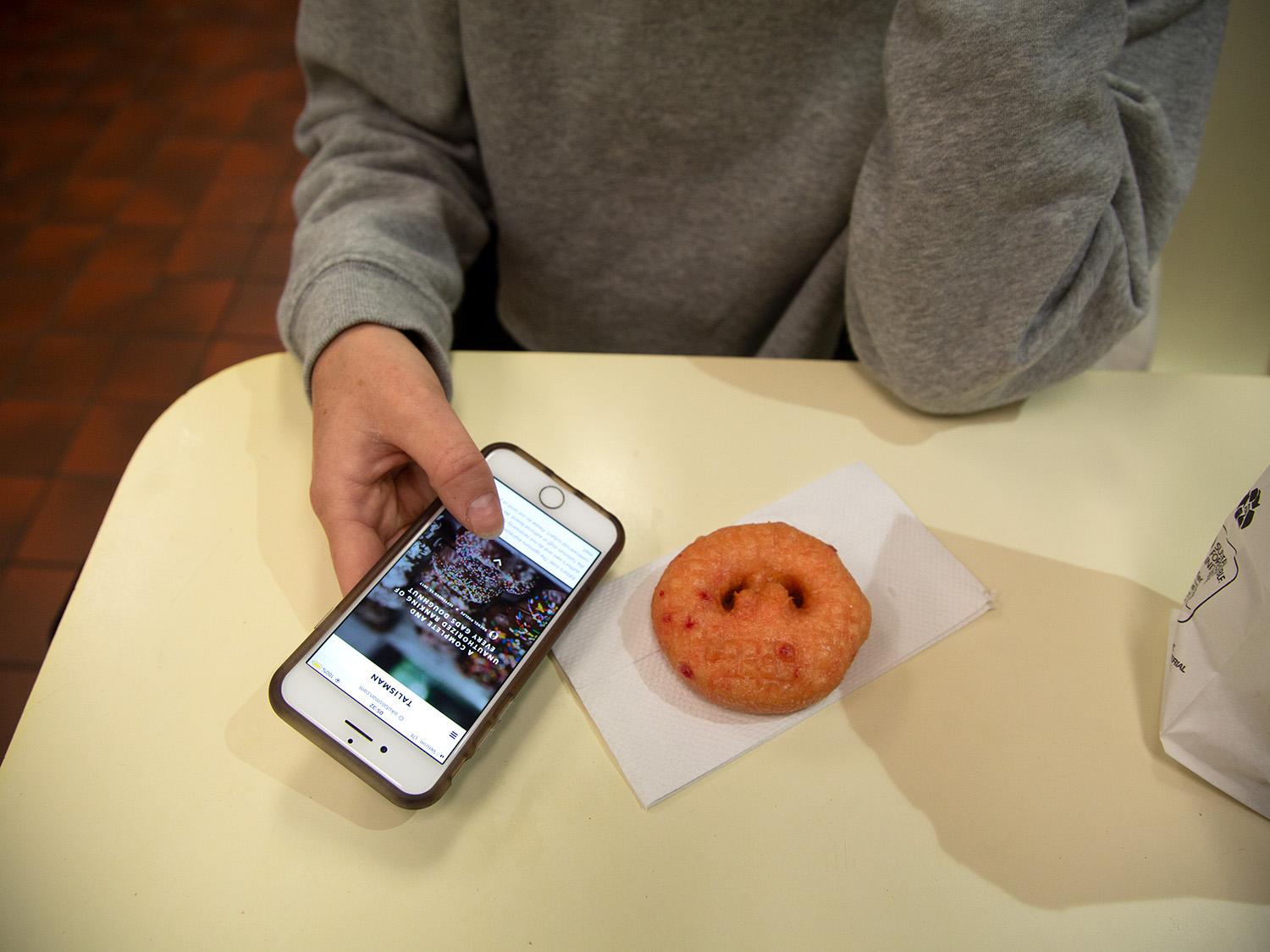 It was insanely, stupidly good. It wasn't piping hot out of the oven, but it was every bit as decadent, sugary and comforting as I'd hoped. It tasted like Sunday morning after-church doughnuts, gas station on a road trip doughnuts, biking to the bakery for a treat in the summer doughnuts — but better.
We bagged our second doughnut to-go and headed on to the next item on our list.  
6 a.m.

Reservoir Hill Park is truly the perfect place to watch the sunrise. We sipped our coffee, shared our last doughnut, and watched the sun dawn on this town we've come to love.
"You don't notice the sky changing," Emily said at one point. "I'm trying to watch it, but it's different every time I look up."
That's kind of how college is. We've all been changing so fast we haven't noticed until now as we're stepping back to reflect on it all.
We cheered and sang Pitbull's "Don't Stop the Party" as the first pink sliver of the sun rose above the horizon.
9 p.m.

After our weekly web team meeting, Emily and I headed up to FAC with our web writing editor, Catrina Cooksey. It was a warm night, and the area around the fountain wasn't very crowded.
Many I informed about our plans told me of its danger. One person warned me it would be cold; another said I could slip on the slick concrete; and another said the fountain's stream would be painfully forceful.
When it came time for my great leap, I heeded all their advice and as carefully as one can, ran through the fountain. I shrieked as I passed through the stream of water, my gangly arms akimbo like Slenderman.
It was a blast. I ran through several more times, once while holding hands with Emily and Catrina.
9:30 p.m.

Whereas running through the FAC fountain was fun and easy, this one was … yikes. Rather than "swim" in the fountain's shallow depths, I opted for a hesitant squat. The bottom of the fountain was littered with coins and other unidentifiable substances. I didn't have a least favorite friend to push into the fountain, but honestly, I'm not sure if I'd wish that experience even on Ross Geller.
Friday, April 26
3:30 p.m.

As I noted in my original story, the Topper Grill and Pub closes at 4 p.m. on Fridays, and last call is at 3:30. And so, without much choice, I headed to the top of the Hill to drink a beer inside the Garrett Conference Center just before 3:30 p.m.
Our waitress, Lexington junior Garrenn Wilson, said she works about three times a week and usually gets one person per shift who orders an alcoholic drink. I was proud to be her one person for the day.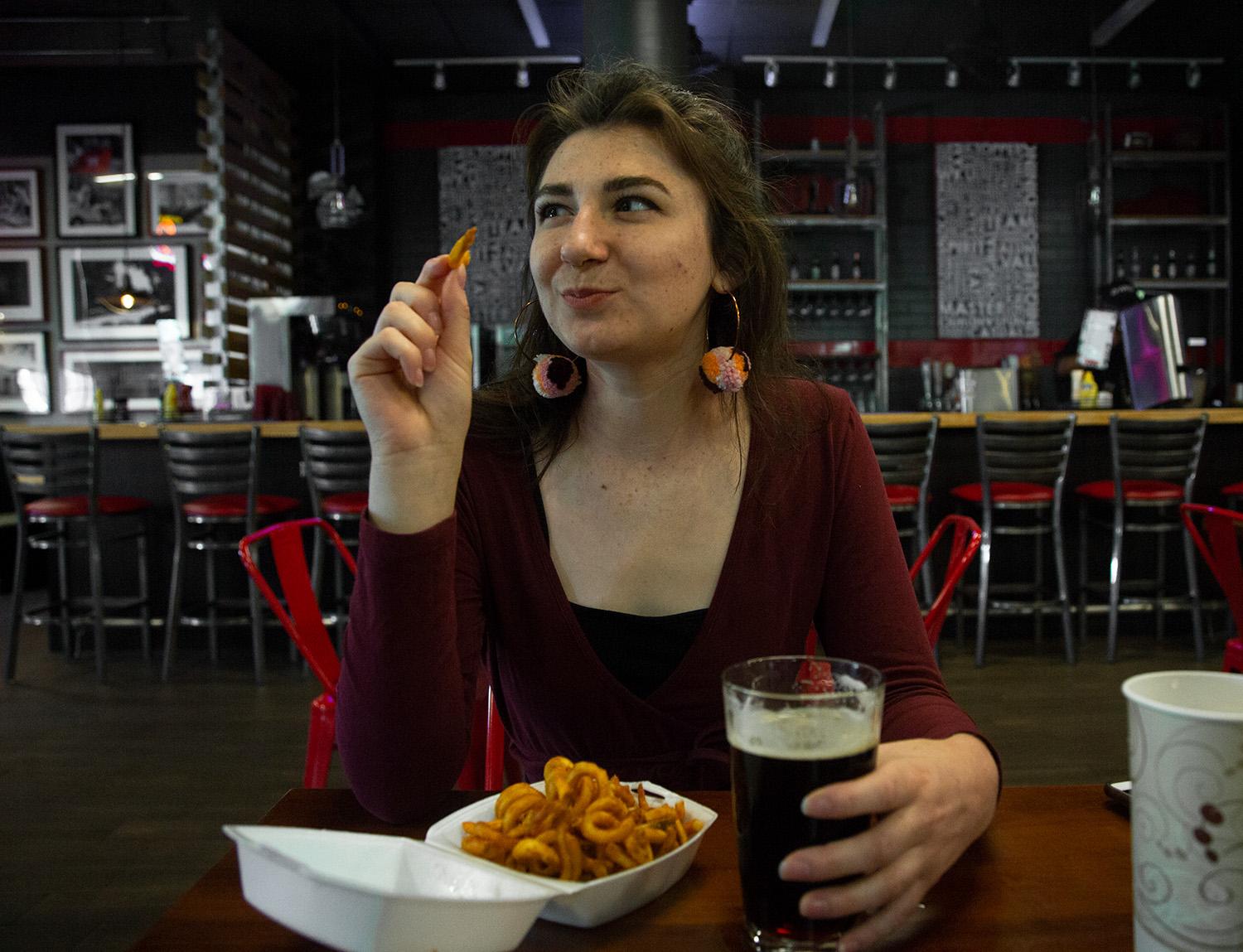 I ordered a local beer from White Squirrel Brewery on draft. The menu didn't indicate what specific brew it was, which made for a fun surprise when I received a pint of dark beer. I also ordered the Topper curly fries, which were presented to me unceremoniously in a Styrofoam to-go container.
The beer was excellent, the fries were fine, and the atmosphere was absurd. The pub was darkly lit, but the conference center's fluorescent lightning bled in through its front entrance, making for a disorienting contrast. As our writer David Hormell noted in his review of the pub in 2016, the restaurant gives off more of a school cafeteria vibe than a pub. In spite of these oddities, Emily and I enjoyed our time in this corner of Garrett.
At 3:59, someone turned the lights off. I chugged the remainder of my beer, and we reluctantly left our weird pub haven.
4 p.m.

Next up was the dreaded kiss under the Kissing Bridge. In lieu of anyone to kiss, I opted for swiping through Tinder. If kissing someone for the first time under the bridge means you'll be together forever, does matching with someone on Tinder mean the same? I guess the myth needs to be updated for the 21st century.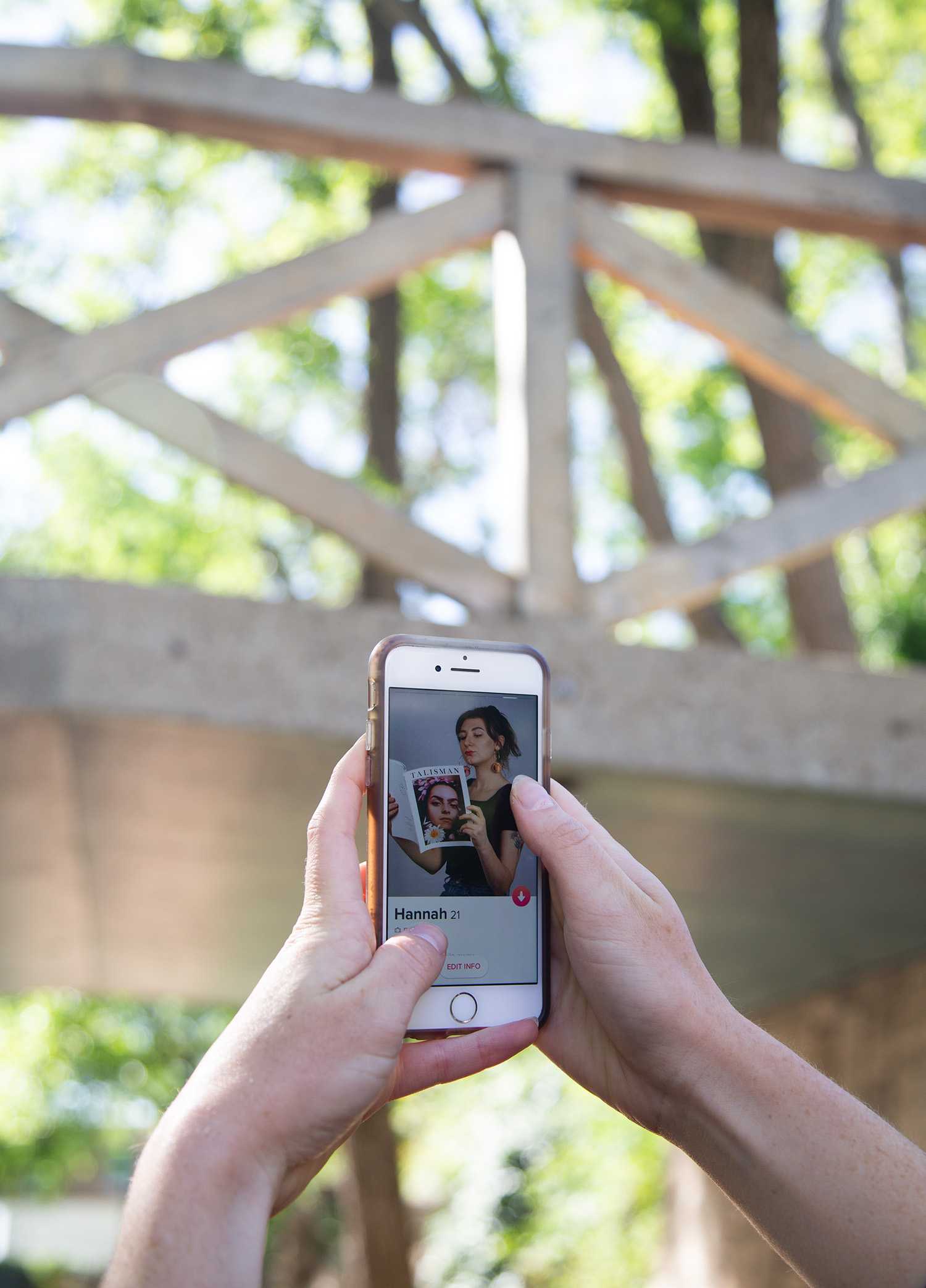 Either way, the late afternoon sun made it hard to see my screen, and I didn't get any matches.
4:30 p.m.

I hate to be the bearer of bad news, but I have no choice: the Cherry Hall roof tradition is dead. As instructed by my brave predecessors, I climbed to the building's third floor and attempted to unlatch one of the windows leading to the roof. It didn't budge. I tried several more, once even climbing onto a railing in the staircase (if anyone with the authority to punish me is reading this, I didn't actually do any of these things, and you can't prove I did!)
We were crestfallen, and my forearm was strained from the exertion.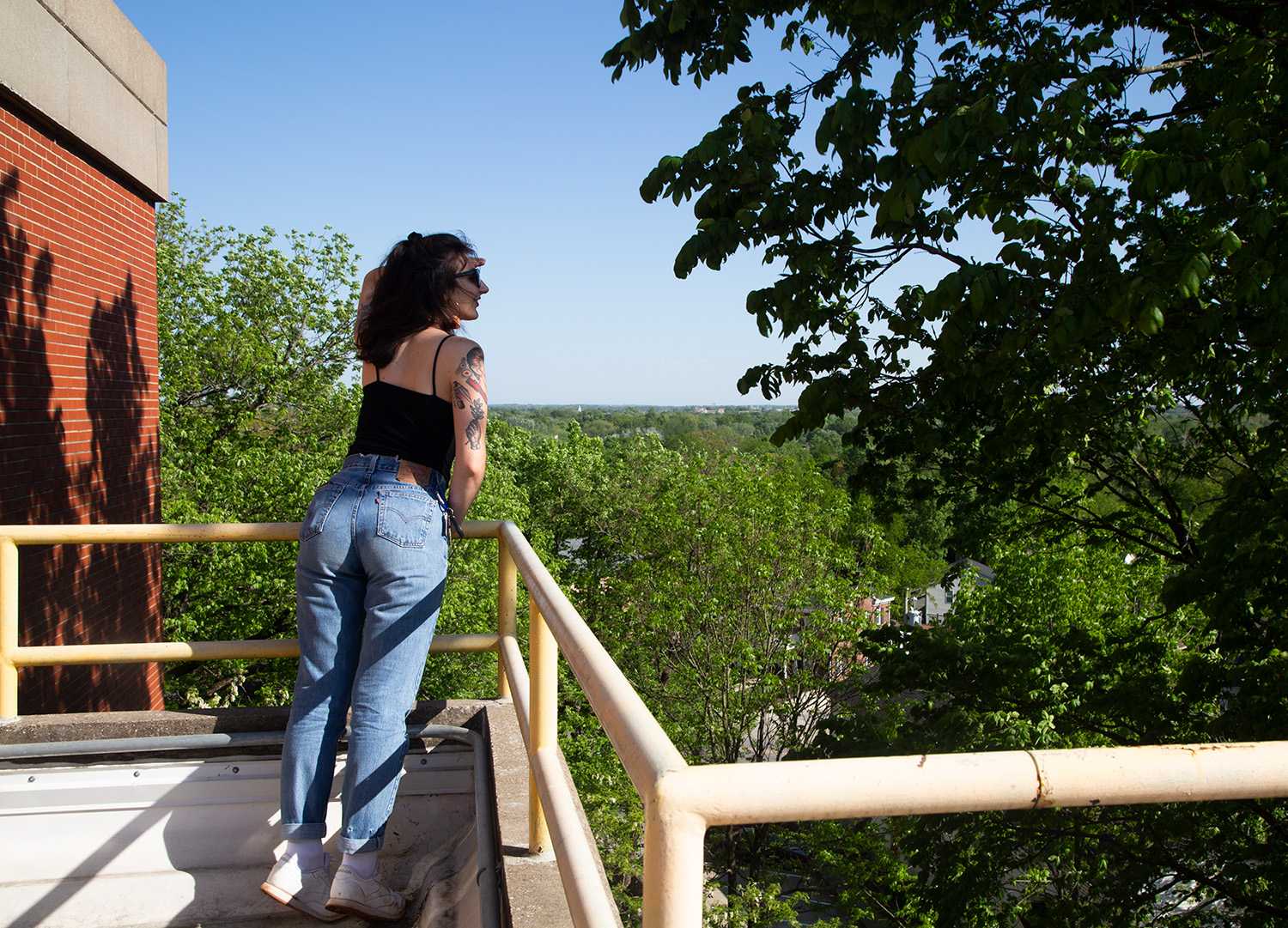 Emily, who is a geography minor, suggested we head to the Environmental Sciences and Technologies Building. On the building's fourth floor is the meteorology observation deck. It's not quite a roof, but it's open to students and has a beautiful view of campus. Overall, the experience lacked the thrill of an illicit activity but was lovely nonetheless.
5 p.m.

Accessing the secret library took knowing the right people. Talisman videographer Lauren Bond connected us to Arielle Conrad, the Sellersburg, Indiana, junior and musical theater major in charge of props storage in Gordon Wilson Hall. We met Conrad on the first floor of Gordon Wilson, and she led us down a dark hallway by the beam of her iPhone flashlight.
Conrad unlocked the door with her massive ring of keys and let us into the four-story tall props storage vault. The first floor was filled with beautiful vintage furniture, from dining chairs with red leather upholstery to floral couches straight out of your grandmother's sitting room. The subsequent levels were lined metal shelves, each bearing their own oddities. One floor contained more shoes than I'd ever seen in my life. Another held rows of empty liquor bottles. A stuffed bird in a cage hung from the ceiling on another.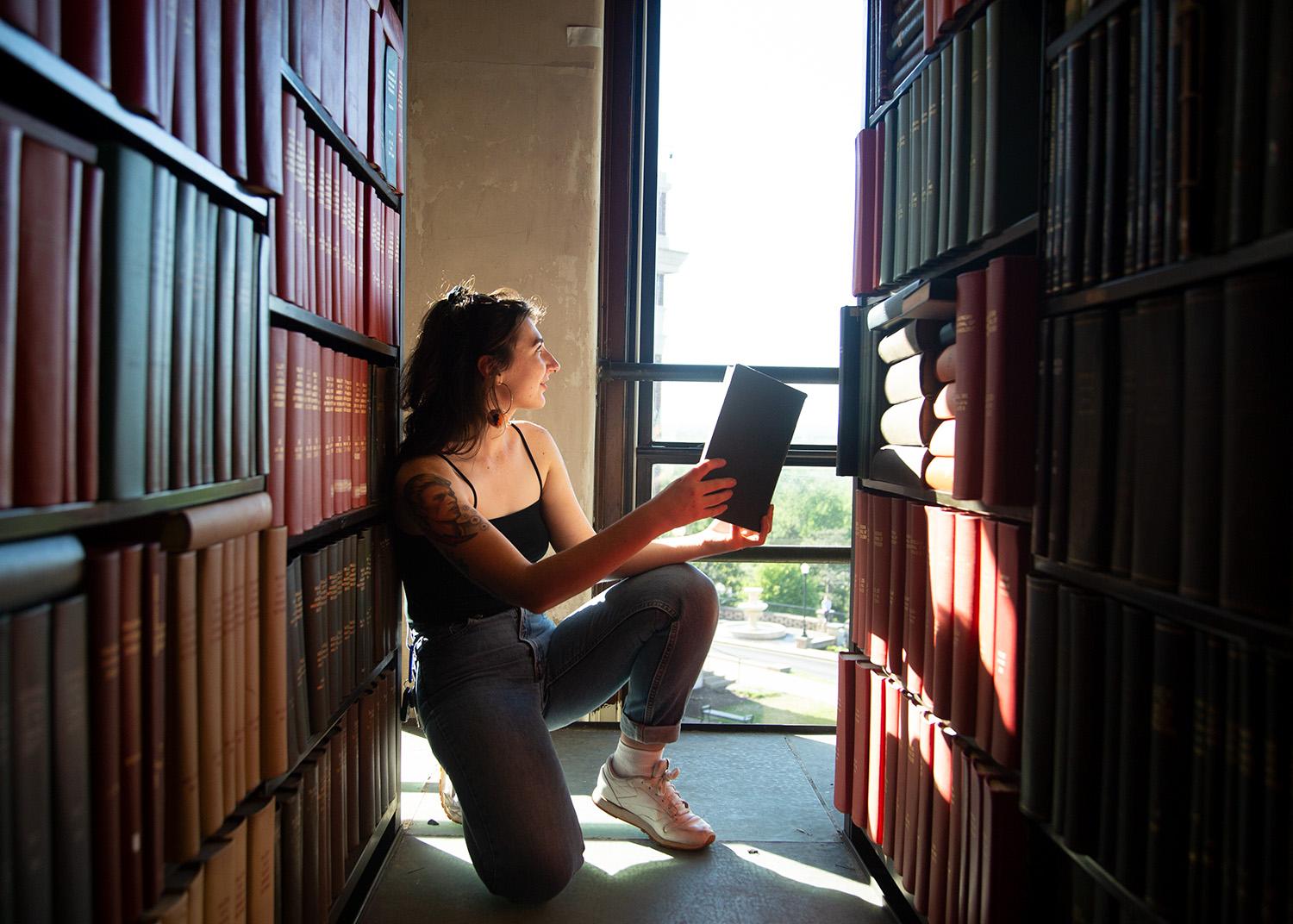 "A lot of people think it's haunted," Conrad said. "I kind of do as well."
It's spookiest at night, she said.
Finally, we climbed to the fourth floor for the pièce de résistance: the secret library. Evening light poured in through the building's tall windows onto the spines of colorful, aging books. Most of them seemed to be literary journals and other archival works. There was even a spooky-looking book elevator.
The air was thick with the smell of books, and Emily and I loved running up and down between the stacks that contained so much character and history. The best part, we agreed, was getting to meet Conrad and learn about her world as a theater major and props master. By senior year, it's easy to fall into comfortable familiarity with your own routine and spaces. I rarely deviate from my routine of going to class and the Talisman office, but this was an opportunity to do just that.
10 p.m.

Now that we'd completed most of our tasks, it was time to leave our marks on Bowling Green forever. We took a breath and plunged into the smoky fog of Rocky's interior. A few of our friends from the Herald were playing pool (hi, Jeremy). Some dance majors we knew were celebrating their show's opening night by putting us all to shame on the dancefloor.
We ordered our drinks and proceeded to the women's bathroom. I stood on a chair in the first stall, unsheathed my Sharpie, and wrote, "Team Tali forever and ever."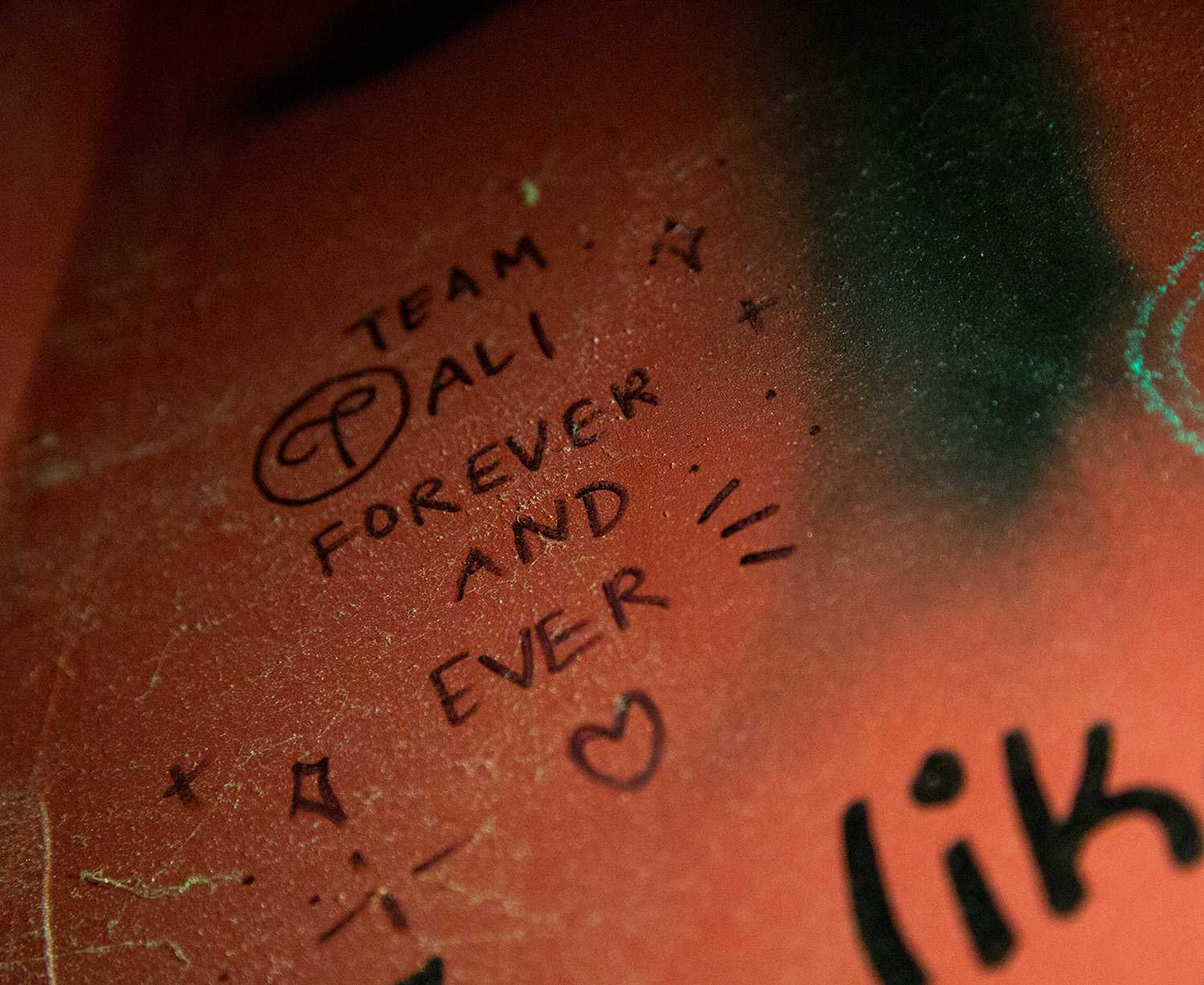 We spent the rest of our night dancing to Beyoncé next to people who were way better at it than us and soaking up the best of this town while we still can.