Welcome to March! The smell of a new season is in the air, and those boys who exclusively wear basketball shorts no matter the temperature will soon be justified again.
This month marks the halfway point of the semester, and it also features a wide range of events from sports to theater and from hip-hop to the cosmos. After spring break, students can return to their home away from home for a plethora of opportunities to seize the day in Bowling Green.
---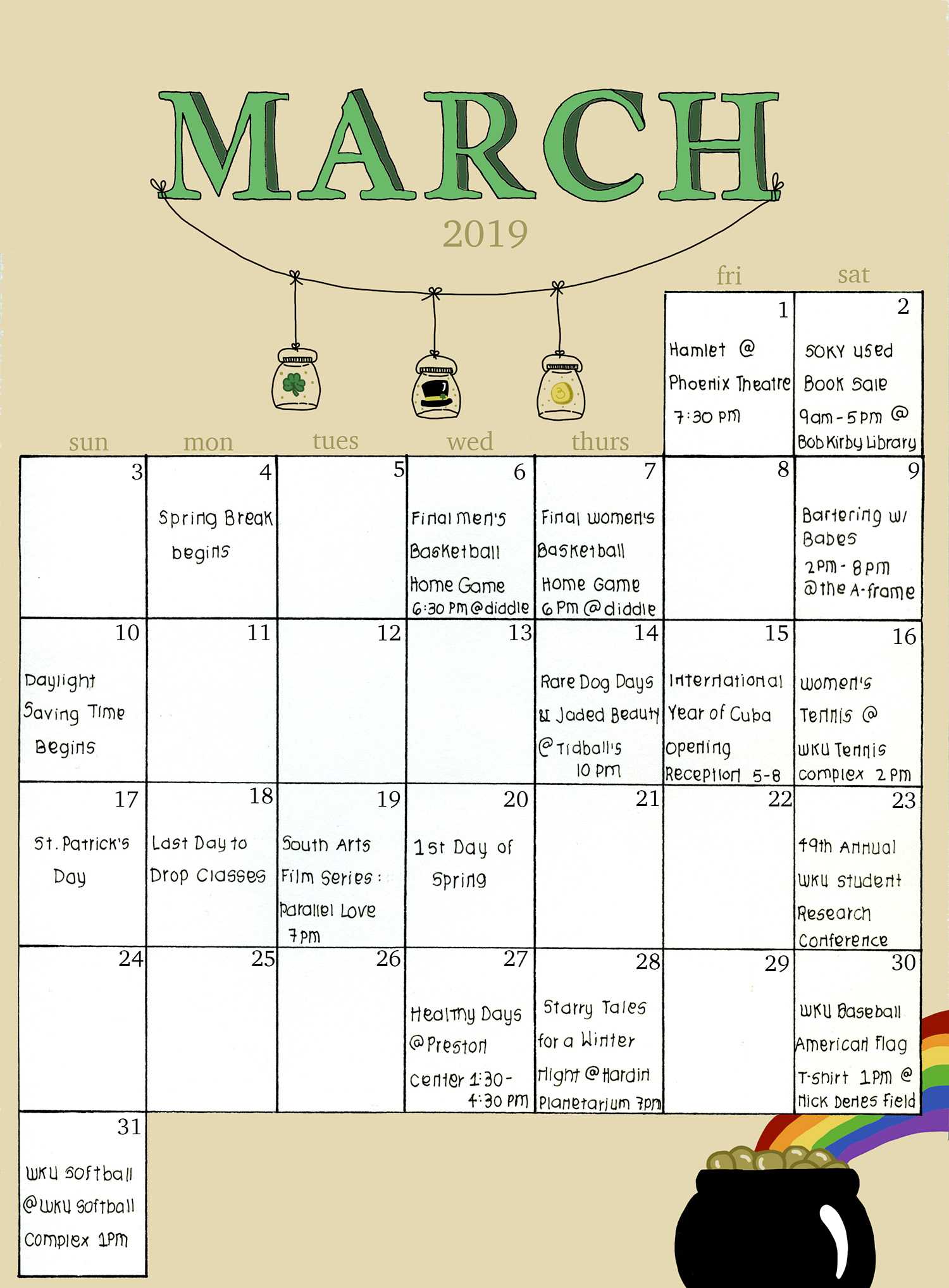 (Illustration by Madalyn Stack.)
---
Friday, March 1
Hamlet at Phoenix Theatre
Catch one of the most influential plays by one of the most influential playwrights in the English language at the quaint Phoenix Theatre downtown. The play starts at 7:30 p.m. on Friday and Saturday, and at 3 p.m. on Sunday.
Saturday, March 2
SOKY Used Book Sale
The Southern Kentucky Book Fest is selling used books, DVDs, CDs and vinyl records for $1 or less at the Bob Kirby branch of the Warren County Public Library. The sale is lasts from 9 a.m. to 5 p.m. on Friday and Saturday and from 1 p.m. to 5 p.m. on Sunday.
Monday, March 4 – Friday, March 8
Spring Break
Wednesday, March 6
Final Men's Basketball Home Game
For those staying in Bowling Green over break, the Hilltoppers will host University of Texas at San Antonio in their final game of the regular season before playing in the Conference-USA Tournament in Frisco, Texas on March 13. Tip-off is at 6:30 p.m. in Diddle Arena.
Thursday, March 7
Final Women's Basketball Home Game
Following the men's season finale, the Lady Hilltoppers will host their final regular-season game in Diddle Arena at 6 p.m. when they take on Middle Tennessee State University.
Saturday, March 9
Bartering with Babes
Women creators will be celebrated on this night at the A-Frame. The previous event featured live music, food, workshops and art, and this year promises more of the same. Vendors will be selling their creations from 2 p.m. to 8 p.m.
Sunday, March 10
Daylight Saving Time Begins (Residence Halls Reopen)
At 2 a.m., the clocks jump forward to 3 a.m.! Try not to accidentally stay up too late. Residence halls that did not stay open during break will reopen at noon.
Thursday, March 14
Concert @ Tidball's
Nashville-based band Year of October and Owensboro-based bands Rare Dog Days and Jaded Beauty are sending sound waves through Tidball's starting at 10 p.m. Cover for the show is $5, and the event is open to all those aged 21 and over.
Friday, March 15
International Year of Cuba: Arte Cubano Opening Reception
This new exhibit in the Kentucky Museum will showcase more than 25 pieces representing Cuba's diverse contemporary art culture. The reception will last from 5 p.m. to 8 p.m.he exhibit officially opens March 9 and runs through May 28.
Saturday, March 16
Women's Tennis
WKU's sole tennis squad welcomes North Alabama for the final home match this season. Play begins at 2 p.m. at the WKU Tennis Complex located on South Campus.
Sunday, March 17
St. Patrick's Day
Monday, March 18
Last Day to Drop a class & Receive a W / Priority Registration for Summer
Struggling in a class you know you won't pass? This is your last chance to drop it without hurting your GPA. Also, need to catch up on hours, or want to get ahead and take fewer hours next semester? Priority registration for summer classes opens up today.
Tuesday, March 19
South Arts Film Series: "Parallel Love"
This free movie screening at the Capitol Arts Center follows the story of a band from south Georgia rebranding themselves following a major setback after nearly breaking out. The film starts at 7 p.m., and the filmmaker will be taking questions after the screening.
Wednesday, March 20
First Day of Spring
Saturday, March 23
49th Annual WKU Student Research Conference
Students from all disciplines will be presenting their research in 10-minute presentations at DSU from 8:15 a.m. to 4:30 p.m.
Wednesday, March 27
Healthy Days
This free event will educate students on the eight dimensions of wellness through a series of activities including chair massages, blood pressure screenings and more. In addition, students can win free T-shirts and other prizes and pick up some free food. Healthy Days will be at Preston Center from 1:30 p.m. to 4:30 p.m.
Thursday, March 28
Starry Tales for a Winter Night
Find yourself lost in the vastness of space from your own campus. Audience members will learn about the objects currently visible in the night sky during this presentation. The show begins at 7 p.m. at the Hardin Planetarium and is available every Tuesday and Thursday this month at the same time, as well as every Sunday at 2 p.m. Every show is free to the public.
Saturday, March 30
WKU Baseball Game and American Flag T-Shirt Giveaway
Spend the last weekend of March outside watching our nation's past time. The first 100 fans to Nick Denes Field for this game against Charlotte will receive an American flag t-shirt. First pitch is set for 1 p.m.
Sunday, March 31
WKU Softball
Head to the WKU Softball Complex to watch the Hilltoppers take on Florida Atlantic. Like all WKU sporting events, students can get in for free, but kids 12 and under can for this game, as well. The game will begin at 1 p.m.