Located in a cozy, standalone brick building on State Street is Bowling Green's newest tattoo shop, Tattoo Heartland. The narrow building, where the bar Shots was formerly located, became home to the tattoo studio in February. The inside walls are lined with art, with most pieces reflective of various tattoo styles, having been picked up by the resident artists on their travels. Two tables sit in the middle for their clients. The place is small, simple, and exists for one thing: tattoos.
The shop was founded by its two artists, Ben Butts and Frank Armstrong. They have worked previously at Carter's Tattoo and Age of Reason in Bowling Green.
Outside of Bowling Green, they have worked at tattoo shops in Atlanta, Chicago, New York and many other locations around the United States.
"It's way different tattooing people in the South," Butts said. "They're way more interested in telling a story with their tattoos."
Armstrong said he finds people in the South value their tattoos more. He said the decision to get them is more important because they're more likely to earn their money through manual labor, calling Bowling Green a "three-F town," referring to the industries of farming, factory and fast food.
"People here are way more fired up about their tattoos because they work hard for their money," Armstrong said.
Both men said they are influenced by the traditional style, which favors thick outlines, bold colors and a limited color palette. Butts said he enjoys the traditional style of tattooing because it ages well on the skin, and therefore represents him well as an artist and leaves the customer happy. 
Butts said giving a bad tattoo is like handing out a business card that says he's irresponsible. Butts and Armstrong said they believe in educating customers about tattoos. They also said traveling to other shops helps hone their skill and makes them tattoo better.
"We figure out even more what works on people." said Armstrong, "It's like dredging the water for information. We're not interested in doing the bare minimum."
Armstrong's family is from Kentucky, he grew up mostly in Hopkinsville. His father served in the U.S. Air Force but retired when he was a kid. Armstrong was around military tattoo culture frequently, saying it was popular especially at Fort Campbell with the 101st Airborne. He worked tattooing in various places, including Richmond, Virginia, after a suggestion from a friend.
Butts, who grew up in Texas, said his start was similar. He saw tattoos growing up and knew he wanted to at least be tattooed.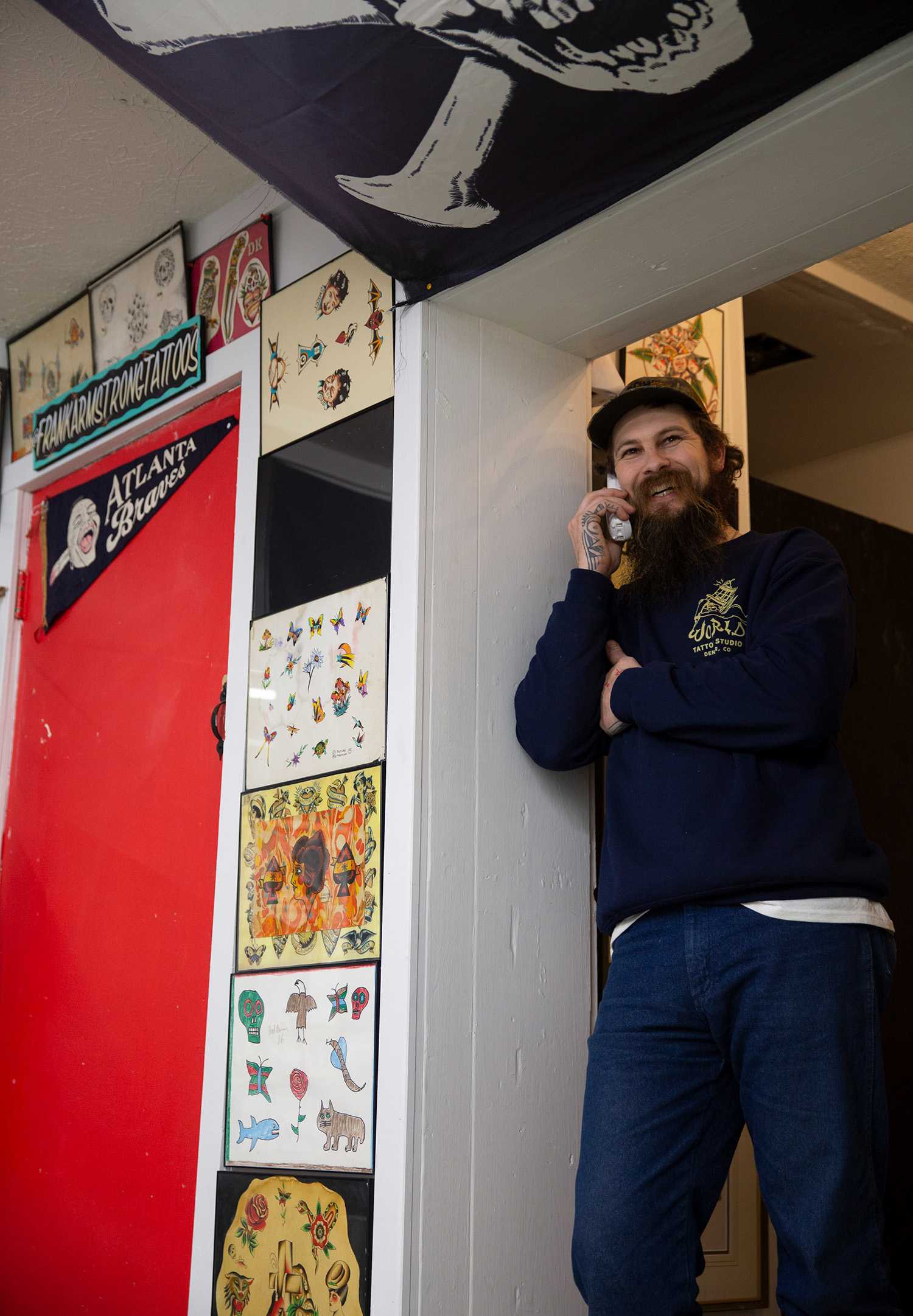 Butts and Armstrong met in Richmond, Virginia and later came back to Kentucky and worked together in various shops in Bowling Green and throughout the state.
Keiti Rueter, a Bowling Green senior, has been tattooed by both Butts and Armstrong. She has several pieces by each, having gotten them from both while they worked at Carter's Tattoo in Bowling Green.
"Frank does really nice things with color, and Ben has such a cool style," Rueter said. "Both of them have a good eye and are honest. They'll let you know what's going to look best or last the longest with the knowledge to back it."
Tattoo Heartland is open from 12-8 p.m., Monday through Saturday. The shop has a $60 minimum.