For those who  struggle with finding their next meal, a food pantry can mean everything. Jason Lowe,  creator of the Bowling Green Micro Pantry, saw issues with food accessibility around Bowling Green, and he is setting up micro pantries throughout the city. 
"The main goal of it is to create a place that people can access food and other basic necessities without any extra paperwork or documentation, so that anyone can get it 24/7," Lowe said.
The pantries, made from newspaper stands donated by the Bowling Green Daily News, are painted bright yellow. The first one was established on Feb. 8 and is located at 958 Collett Ave. next to the Higgins Center for Nonprofits. 
The center provides affordable rent and opportunities for the development of young non-profits. Katie Van Zile, the marketing coordinator for the Higgins Center, said it was the perfect place to place the first pantry. 
"It's really important for Bowling Green to have something accessible, that is open 24/7 and, especially, that you don't have to jump through a lot of hoops for," Van Zile said. "Applying for food stamps is honestly a nightmare, and if you are undocumented, then forget it. You aren't going to get help from anyone because that's just the way it works. But with the micro pantry, anyone can go at any time and take what they need."
Lowe said three other boxes were donated, and he recently added another location at Natcher Elementary School.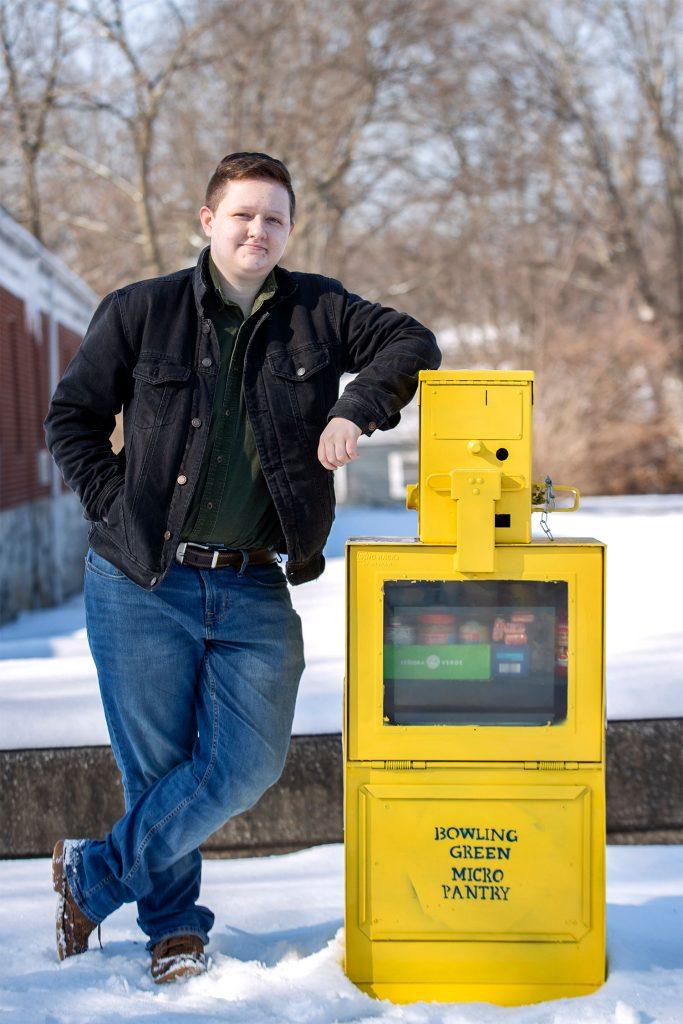 "We also want to make sure that we're able to get some out into the county," Lowe said. "We'd like to put them in schools or churches and places in the county that are more like food deserts that don't have access to fresh food and things like that."
Lowe's passion for aiding in food insecurity began with his involvement with a community garden in Glasgow.
"I realized food insecurity is something that affects a lot of people," Lowe said. "Especially in a college town, it affects a lot of students, and with the pandemic, there is an extra layer of need in the community for this." 
Most other forms of food assistance, like food stamps and meal programs, are only provided to people with specific documentation, who meet certain financial standards. However, Lowe said requiring documentation can deter people from getting the items they need.
The boxes are open 24 hours a day for anyone to take or donate food and other items. The only documentation is a QR code on the box that helps track items in the box for restocking purposes, but its use is not required in order to take the food.
So far, Bowling Green Micro Pantry has been fundraising through Venmo and community donations of food directly to the pantry. A list of donation items can be found on their Instagram as well as on the side of the box.
Lowe said the city is overall very supportive of the initiative despite the slowness of getting the locations approved.
"Slow moving bureaucracy is our main problem right now," Lowe said. 
Lowe said the pantry is working with Bowling Green's Parks & Recreation department to get micro pantries placed in parks. 
"We're also trying to look at some locations like the square or Circus Square Park — places where homeless people tend to congregate," Lowe said.
After the upcoming summer, the pantry wants to expand to introduce a refrigerated version of the micro pantry that would hold perishable items. Lowe said the issue right now is not finding refrigerators, but it is finding a place that will let them use the electricity.